We don't know about you but it takes our face a good hour or so to fall into place when we wake up in the morning - not so Holly Willoughby.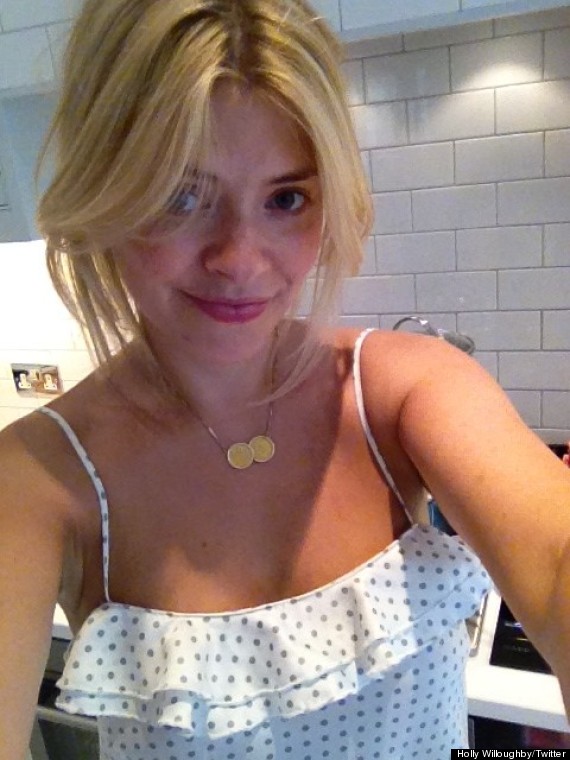 SEE ALSO: National Cleavage Day: Holly Willoughby Wins Best Breasts, With Scarlett Johansson And Beyonce In Hot Pursuit
The This Morning host posted this snap - sans make-up - on her Twitter page this weekend and we can confirm that she looks just as good without her face on as she does with a face full of slap.
Not fair!
The presenter revealed she was going to cook a slap up lunch yesterday but still wasn't out of her PJs.
She tweeted: "@MissNattyMea: Blimey you're early! I'm not out of my pj's yet! X" Lunch done,Me however still in nightie! Makeup!x."
@hollywills

Holly Willoughby
"@MissNattyMea: Blimey you're early! I'm not out of my pj's yet! X" Lunch done,Me however still in nightie! Makeup!x
http://t.co/4mbWNX6g
However, Holly wasn't feeling quite so cheery later on. After witnessing England lose on penalties in Euro 2012 she tweeted: '50 shades of shitsville! And that pretty much sums up my night! X'
@hollywills

Holly Willoughby
50 shades of shitsville! And that pretty much sums up my night! X
> IN PICS: MORE STARS WITHOUT SLAP

Loading Slideshow
Stars Without Make-Up

Pamela Anderson (Pic: WENN)

Stars Without Make-Up

Emma Watson (Pic: WENN)

Stars Without Make-Up

Jessica Alba (Pic: WENN)

Stars Without Make-Up

Myleene Klass (Pic: WENN)

Stars Without Make-Up

Kylie Minogue (Pic: WENN)

Stars Without Make-Up

Fearne Cotton (Pic: WENN)

Stars Without Make-Up

Amelia Lily (Pic: WENN)

Stars Without Make-Up

Marcia Cross (Pic: WENN)

Stars Without Make-Up

Eva Mendes (Pic: WENN)

Stars Without Make-Up

Edith Bowman (Pic: WENN)

Stars Without Make-Up

Helena Bonham Carter (Pic: WENN)

Stars Without Make-Up

Lesley Joseph (Pic: WENN)

Stars Without Make-Up

Carol McGiffin (Pic: WENN)

Stars Without Make-Up

Natalie Cassidy (Pic: WENN)

Stars Without Make-Up

Katy Perry (Pic: WENN)

Stars Without Make-Up

Vanessa White of The Saturdays (Pic: WENN)

Stars Without Make-Up

Beyonce (Pic: WENN)

Stars Without Make-Up

Kim Kardashian (Pic: WENN)

Stars Without Make-Up

Alexa Chung (Pic: WENN)

Stars Without Make-Up

Felicity Huffman (Pic: WENN)

Stars Without Make-Up

Gwyneth Paltrow (Pic: WENN)

Stars Without Make-Up

Mischa Barton (Pic: WENN)

Stars Without Make-Up

Sharon Osbourne (Pic: WENN)

Stars Without Make-Up

Madonna (Pic: WENN)

Stars Without Make-Up

Rihanna (Pic: WENN)

Stars Without Make-Up

Celine Dion (Pic: WENN)

Stars Without Make-Up

Kirsten Dunst (Pic: WENN)

Stars Without Make-Up

Kelly Brook (Pic: WENN)

Stars Without Make-Up

Kate Hudson (Pic: WENN)

Stars Without Make-Up

America Ferrera (Pic: WENN)

Stars Without Make-Up

Jessica Biel (Pic: WENN)

Stars Without Make-Up

Katie Holmes (Pic: WENN)

Stars Without Make-Up

Debra Messing (Pic: WENN)

Stars Without Make-Up

Jennifer Garner (Pic: WENN)

Stars Without Make-Up

Liza Minnelli (Pic: WENN)

Stars Without Make-Up

Claire Danes (Pic: WENN)

Stars Without Make-Up

Janice Dickinson (Pic: WENN)

Stars Without Make-Up

Whitney Port (Pic: WENN)
Also on HuffPost: