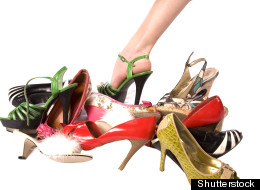 Forget the house, children and pets - when it comes to shoes, who gets custody when a marriage fails?
This bizarre question has arisen during a public divorce battle between a couple from the US who are currently fighting it out over an impressive collection of footwear.
Daniel Shak, a US hedge fund manager, is suing his ex-wife Beth over her £1 million shoe collection (consisting of an eye watering 1,200 pairs of heels - including 700 pairs of Christian Louboutins).
If Beth Shak's husband thought her shoe collection was dangerous - take a look at these scary-looking Christian Louboutin heels...
Why? Daniel reckons his ex-wife kept her bulging shoe closet a secret during their marriage and therefore demands 35% of her million-dollar shoe empire.
Although how Daniel failed to notice Beth's fit-to-burst wardrobe, blog about her love of shoes and appearance in a US TV show, God Save My Shoes, is a mystery...
But nevertheless, he is proceeding with the shoe-suing.
"Dan trusted his wife and was not inspecting his home to try to find inventory or 'secret rooms," a source told The New York Post.
However, people have battled over stranger things...
Celebrity Divorce Fights: Objects
Of the many accusations slung in Denise Richards' and Charlie Sheen's divorce battle, this one might just be the weirdest: In August 2007, Sheen told Entertainment Tonight that Richards wanted his sperm. According to the embattled star, Richards had e-mailed his then-fiance Brooke Mueller defending her obscure request. "Dear Brooke, I don't want to have a baby with Charlie," the supposed e-mail read. "I am having a baby in the next year. By myself ... my girlfriend suggested Charlie be the donor. So, I did bring this up to him. There are so many couples having unhealthy children. Charlie and I have very beautiful healthy children together. I was strictly looking for a sperm donor if it's any of your business. If it were him, I said we would sign a document that he couldn't come after me and I couldn't come after him. ... This wasn't to have sex with him, it was him donating. ... That's it. I didn't want him to tell you at this time because it was something very personal that I'm doing myself." Richards denied writing the e-mail on the Today Show. "That email is not legitimate," she said. "I would never send an email to his...girlfriend, and, at the time of that email I was with Richie [Sambora]. If I wanted anybody's sperm, I'd have asked for Richie's."

Dennis Hopper made headlines when he filed to divorce his estranged wife, Victoria Duffy, while on his deathbed in January 2010. In the bitter proceedings that followed--and continued up until the actor's death in May 2010--the pair fought over dozens of shared items, including sculptures by Robert Graham and Banksy, and a portrait by Andy Warhol. Duffy recently filed a lawsuit against Hopper's Trust, demanding that her exercise bike, butcher's block, juicer, rosebushes, and--wait for it--asparagus tongs be returned to her.

The chairman of Thomson Reuters served his second wife, Laurie Ludwick, with divorce papers on the day their son was born. A contentious and sensationalized divorce followed, during which Thompson "or his agents" were alleged to have "entered the family home (which Ludwick was occupying) and take jewelry, a Rolex watch, Christmas decorations, and Thomson's extensive collection of paintings, including Turners, Picassos, Rothkos, and Constables. According to court documents, Thomson accused his estranged wife of "threatening a Paul Klee and harming a Constable."

Ron Perelman's marriage to his fourth wife, actress Ellen Barkin, lasted five years, and netted Barkin a reported $20 to $60 million in the settlement. In return, Barkin was ordered to surrender her share of a mysterious, undisclosed "jointly owned asset," worth around $5 million. To this day, the "asset" is still unknown.
What do your shoes reveal about your personality? Find out here...
What Do Your Shoes Say About You?
New research suggest your shoes give away more than you might think about your personality.

Uncomfortable looking shoes are worn by calm personalities.

No surprises - you're an extrovert.

Functional footwear generally belongs to agreeable people.

This style tend to fit with more aggressive personalities.

A high-earner tends to wear their wealth on their feet.

Brand new and well cared for shoes can signal a person has 'attachment anxiety' or could be worried about their relationships generally.

Just like the hippy stereotype - you're a liberal thinker!
(WATCH) Are shoe's a woman's right? Watch this clip from Sex and the City...