Massive hailstones "the size of golf balls" have struck parts of the UK as a band of rare "super cell thunderstorms" swept across the Midlands today.
People in parts of Leicestershire affected posted pictures to Twitter of large balls of ice that had fallen to earth during the weather this afternoon.
Three people, were taken to Leicester Royal Infirmary with non-life-threatening injuries after accidents caused by the weather, Leicestershire Police said.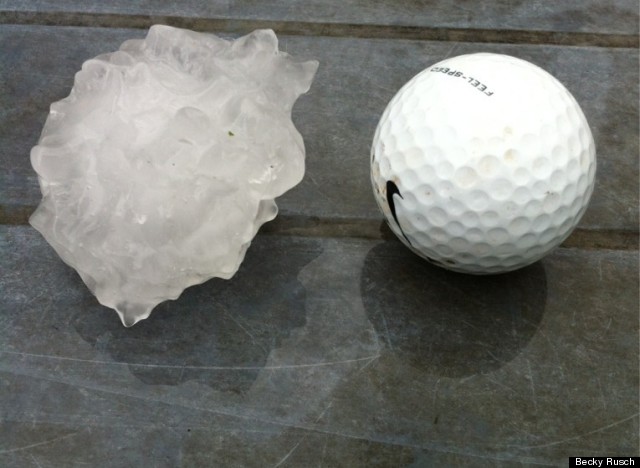 Becky Rusch posted this picture on Twitter
Super cell thunderstorms were common in areas like the plains of the US Midwest but made up just 1% of storms in the UK, according to Paul Knightly, senior forecaster with Meteogroup, the weather arm of the Press Association.
They can do "disproportionate damage" by bringing with them large hailstones, tornados, heavy rain and and high winds, he said.
Three of them had been caused by a "Spanish plume", a warm weather front heading north from Iberia which has risen over cooler Atlantic air as they meet over the British Isles, leading to powerful thunderstorms, he added.
SEE ALSO: Take Cover! 10 Scariest Lightning Strikes Caught On Film (VIDEOS)
"They (the plumes) happen from time to time and we get some massive thunderstorms and large hailstones," he said.
"But today had the added factor of high wind-shear (sideways movements). What that does is cause the thunderstorms to become more prolonged, and when that happens they can get more intense.
"Today they were rotating; it is called a super cell thunderstorm.
"To get one is pretty rare, to get three is very unusual indeed."
Freak weather has swept other part of the UK with flooding and electrical storms in many places.
People in areas affected by the hailstones tweeted about what they were seeing.
Alice Laffar posted pictures on the social media site of those falling in Birstall, near Leicester.
In a series of posts, she wrote: "Never seem (sic) anything like this my heart is pounding.
"I'm shaking it's actually crazy.
"Hailstones the size of golf balls in Birstall.
"Wouldn't like to be hit with one of these."
Mr Knightly said he had seen claims of hailstones the size of tennis balls.
"If anyone confirms 8-9cm hailstones that is up there with the largest ever recorded in this country," he added.