Students have announced fresh plans for a national demonstration amid growing concerns about youth unemployment, public sector cuts and "attacks" on the education system.
The National Union of Students (NUS) said on Thursday it is calling on members to take part in a march in London on Wednesday November 21.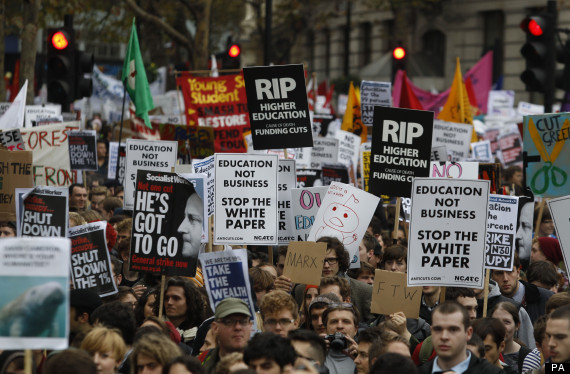 The student protest during 2011 was a mainly peaceful affair involving around 2000 students
Union president Liam Burns said there needs to be a new generation of activists to help set the agenda for the next general election.
In a video message to students at an NUS training event, Burns said: "You've got a lot to be angry about. You've had your education systematically attacked across the board by the coalition. And even if you get to the other end, what have you got to look forward to?
"Youth unemployment is at an all-time high, getting on the property ladder is next to impossible and we don't even have the safety net of pensions to look forward to any more.
"In a year in which there are no votes in Parliament and no legislation coming before politicians, it's about time we started setting the agenda."
Sally Hunt, general secretary of the University and College Union (UCU), which represents lecturers and academics, said: "We support the NUS demonstration and share many of the frustrations felt by students. At a time when other countries are investing in education our Government is cutting college and university places and making it more expensive to study. Ministers need to harness further and higher education to provide young people with opportunities and a future."
The demonstration will be the first national action that the NUS has called since the first fees protest in November 2010.
That protest descended into violence after a group of activists smashed windows, threw missiles and lit fires at 30 Millbank, the building housing Conservative Party headquarters. It led to more than 60 arrests and dozens injured and taken to hospital.
The NUS condemned the violence and said that the action, which had been organised jointly with the UCU, had been "hijacked" by a small minority.
Burns will be holding a Q&A session at 3pm on Thursday via Twitter - @nusuk
SEE ALSO:

Naked Students Protest Against Tuition Fees

Cambridge University Accused Of Silencing Student Protest