"We want Zynga to equal 'play', just like Google equals search and Amazon equals shop," Zynga's CTO Cadir Lee tells the Huffington Post UK.
"Our view is if we can can take what we've done well, and open that up as a platform for others, we can make gaming better everywhere."
It's a bold ambition. And as a profitable, $1bn company with 20 million+ daily gamers, a symbiotic relationship with social kings Facebook and several household-name brands (FarmVille, Words With Friends), you can see why Zynga would say so.
But from another point of view, the company also has some way to go - and a lot of tractors to upgrade. Ever since it went public last December, and earned $1bn in the process, the social gaming company's fortunes - and the buzz around its games - have been, from a certain point of view, on something of a slide.
On day one its shares fell 5%. 'Zynga IPO Goes Splatville' proclaimed Forbes. The $200m purchase OMGpop, developers of word-of-mouth hit Draw Something, was followed by a huge drop in the game's popularity - from 1st place in the iOS App Store, it now sits at 64th.
Now the stock is down to just over $5.50, from a high of $14, and has fallen further even after a week in which it announced a raft of new games (FarmVille 2, The Ville, Matching WIth Friends), partnerships (Atari, Majesco) and platforms (the Zynga With Friends network).
As a result while its many farmers, poker kings and pocket artists are largely oblivious, some investors remain concerned. They worry about Zynga's upcoming earnings announcement, as well as its dependence on Facebook where most of its games are played (and most of its money earned) - let alone the general volatility of the games market. Others remain bullish - but the stock hasn't recovered.
"Investors were looking for at least a few things that could mean significant growth soon," said Steve Peterson at Game Informerafter this week's announcement. "Not hearing any such thing, they sold the stock".
But for all the problems, or perhaps distractions, Zynga's top executives remain bullish on its future.
And one - Lee - has another surprising quality.
He is calm.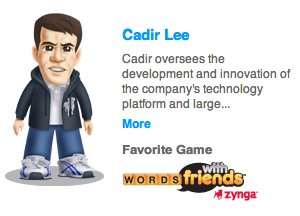 As CTO, Cadir Lee is the guy who keeps the Zynga machine running, building the inappropriately named 'cloud' out of bricks, mortar and data servers, or, as he puts it to the Huffington Post: "keeping track of all the strawberries and words and drawings that people have and making sure they're there on whatever device they log in from".
"A bad day for me is when something goes down."
HuffPost likens his role to that of a goalkeeper. When he lets a goal through, he's a villain. When he keeps a clean sheet, nobody cares. True?
"That sounds - it's not quite that bad! I do get to work on a lot of the fun pieces about how we build our games," he said. "But there is a tragic aspect."
For this Herculean task, which most agree he's done admirably well, Lee was recently named by the former Facebook CFO Gideon Yu into the 'Fortune Fantasy Executive Dream Team'. And indeed, Zynga's games are rarely known to fall over despite the often massive amount of traffic going through its servers (Diablo III, take note).
But as crucial as keeping Zynga's games running undoubtedly is, keeping gamers excited is a whole other problem.
While Lee insists its relationship with Facebook is as strong as ever ("We're always going to be close partners with Facebook... It's been great for us and great for them. I don't see that changing") he admits that the world of mobile has changed insanely fast, and appears to be just getting faster.
"In a short space of time almost the world of mobile devices has been transformed," he siad. "As CTO I get to think about what that mean for games, and what are we going to when devices get even more powerful."
The use of those devices is also maturing.
"It used to be that there were only a few apps - maybe you had Pandora or Words With Friends - but now it feels like people are routinely using more and more apps, more games, they're more used to that. For every five that come through maybe one sticks…" Above: FarmVille remains one of Zynga's most profitable and popular games

Exactly that is what makes many investors nervous. If Zynga is reliant on 'hits' like FarmVille- and despite its announcement of the Zynga network that will remain true for some time - it's got to find a way to make more (and not just buy them outright).
It's just... not that easy.
"There's always that risk," Lee said.
On Draw Something he said that the company hopes a recent update adding more languages and features will make a difference. ("There's a lot of things that still haven't been done. The thing we liked about that game was it's very much in our portfolio of free, social and accessible.") But Zynga - and Lee - are definitely aware it has to broaden its appeal and range of titles to stay on top.
"I'd love to have a Mario. So don't get me wrong - if we could have that it'd be great. But we are constantly trying with every game to see what we can do to expand.
"[But] the Zynga of the future is going to be a mix of a game development company where we make games but also a publishing platform company where we have this network of players and we facilitate other people to make great games."
What are those games likely to be?
"Maybe games we wouldn't develop - more hardcore games. Still social but maybe - we haven't done sports games so maybe sports games."
So what about the stock price? Is it a distraction - and if so, for whom?
"Before we went public we definitely knew that we were going to have a spotlight on us, and I think even more so because a lot of the numbers for our games are public. You can look at the App charts, you can look at App data and see exactly where our games are," Lee said.
"But we really told people to focus on the long term. As a group a lot of our senior executive team have been through other public companies and we know it's a long-term game. We know you're never as good as your stock says you are when your stock is high, and you're never as bad as you appear when your stock is low."
However Lee said the stock price "definitely distracts the newer employees".
"If it's there first time around they're like 'oh my god did you see the stock price' but if you've been through it a couple of times you know they go up and down and not always because of anything you did."
"The more interesting story is 'where is this business going' and I think we're still at the very early stages."