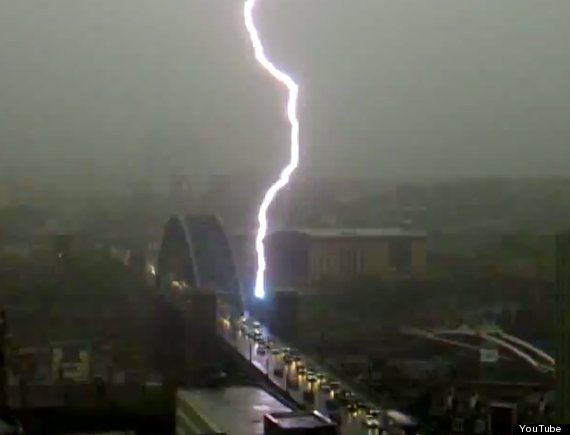 This electrifying sight was captured on Thursday in Newcastle-upon-Tyne
As Britain weathers another stormy lashing, we've gathered up the best lightning strikes caught on camera.
Take cover!
SEE ALSO:
Ten Best Lightning Strike Videos
Filmed by Marc Burton from Paul Somervilles Apartment Filmed using a BlackBerry phone from a penthouse in Newcastle as my friend filmed the opposite direction with an iPhone. Cars can barely pass through the flooded underpass. The clip has been played on Sky News, BBC News and ITV News. @burtonm92 @Somerville__

Lightning strike staten island NY close up.

If you like this video, please give it a thumbs up for me :) PLEASE SUBSCRIBE FOR MORE VIDS LIKE THIS! I UPLOAD SEVERAL PER WEEK! For anybody who doubts the credibility of this video, please view my newest video filmed with the same camera. I have slowed down every lightning strike, and you will see that is how my camera records lightning. YES, this is real. It's called ghost lightning. Look it up. It is a reflection of the lightning off my window, and not the actual bolt which must have struck down in the front of my house. It is cut off because lightning strikes faster than my camera was able to capture. This is a clip of about an hour long recording of the storm. I did not know the lightning was caught on camera until after I played the video back. It was just the thunder that startled me. My video description: There was a tornado today in New York, I was taping the rain because the storm was pretty intense and electrical, and I was actually hoping to catch some lightning on video. I just had no idea it'd be that good! Don't be confused though, because it's not the actual bolt you see striking, it's a reflection if you watch closely. It must have struck somewhere in my front yard because the lights following the video are the headlights of my car after the alarm was triggered by the thunder. Oh yeah, and sorry for my ridiculous scream and laugh, the thunder caught me off-guard...I didn't actually see the lightning until I played the video back later. From the news: A ...

Watch the footage that astounded the world of lightning science as bolts of light grow upward from the ground. (from Discovery Channel's "Raging Planet")

This massive clear air bolt (cloud-to-ground lightning bolt) hit about 200-250m away from our location. Here in Darwin, Australia these bolts can leap 15-20km away from the main storm striking a dry area surrounding the storm. You don't see me in the frame for good reason as I was in my car! :P :OA photo was captured using a Canon 1DMark IV and lightning trigger made by Stepping Stone Products, LLC - www.lightningtrigger.com Photo can be seen here: www.flickr.com The bolt hits near the base of the tree as a large puff of dust can be seen after the initial strike! Thanks to Jacci for providing some foreground entertainment! :D

Video of a near-miss lightning strike in Norman, OK in July 2007, as the cloud-to-ground stroke nearly struck storm chaser Curtis McDonald. This is one of the most incredible lightning videos I have ever seen! Check out TornadoVideos.net for extreme tornado footage, our live video streaming, and breaking weather news.

A Qantas flight about to land in Sydney is hit by lightning mid-air on the 5th of September 2004.

I caught three direct strikes to the Empire State Building lightning rod after midnight on 4/13/11 during a severe thunderstorm. I actually saw a fourth direct hit, but sadly wasn't filming at the time. I've never seen so many hits on the ESB in one night. It was ridiculous! But so much fun to watch. Whoever said lightning doesn't strike twice was wrong. :) ©NYCisMyMuse.com All Rights Reserved www.NYCisMyMuse.com Twitter: @NYCisMyMuse

Please hit the "Like" button if you like this video & subscribe if you like my channel. Thx for watching ! Exclusive video of an amazing lightning strike. At the 08 second mark you can see the plasma rising in the lightning bolt. I've slowed it down so you can see it. Lightning plasma is an ionized gas -- so the flash of light you see is static electricity 'charging' down from the cloud thru this ionized gas to make contact with the ground. During a strike, the air around this plasma becomes superheated to 55000 degrees fahrenheit (5 times hotter then the surface of the sun). Since hot air rises, this superheated air pulls up the plasma -- in effect creating a "plasma updraft". Notice how the bolt never hit the transformer, but hit 20 feet away and the immense voltage arced 20 feet to blow up the transformer -- not only that -- but the electrical current then traveled across the power line (above the road) to blow out the transformer on the other side of the road simultaneously.Feel free to check out our "Tornado" playlist showing video film footage of all types of tornadoes like elephant trunks, multiple-vortices, stovepipes, sidewinders and huge monster wedge tornadoes. Tornadoes from Aurora,NE ; Yazoo City, MS ; Campo,CO and Oberlin,KS for example. There's also video footage of tornado damage where buildings are blown completely off their foundations; people being rescued from collapsed buildings like in Yazoo City, MS where there was a deadly EF-4 tornado; truckers ...

On June 23rd, 2010 a line of nasty storms rolled through Chicago in the early evening hours. I stayed late at the office that night to work on some things and to avoid the rush hour chaos that was going on. Once I returned home I wasn't really paying attention to what was happening outside until my sisters boyfriend asked me if I was watching the lightning. I took a quick look out my window and saw some quick hits of lightning and ran back to my room to grab my camera and tripod. I was standing out there randomly hitting the record button and hoping I would catch some of the strikes. About 15 minutes in nothing was happening during my current recording so I reached to stop it and start a new one. At the moment I touched the camera three of the tallest buildings in Chicago were struck by lightning at the same time. Willis Tower (Tallest), Trump International Hotel and Tower (2nd Tallest) and the John Hancock Building(4th tallest). If you listen closely, you can hear me lightly say "yes!" after the triple strike happens. You can view the original posting of this over on my Vimeo account as well: vimeo.com Music: Sufjan Stevens - To the Workers of the Rock River Valley Region, I Have an Idea Concerning Your Predicament Directed filmed and edited by: Craig Shimala "Lightning strikes three of the tallest buildings in Chicago at the same time!" © 2010 Craig Shimala: ALL RIGHTS RESERVED. No use permitted without written consent from artist.