David Cameron has sought to reassure eurosceptics he is prepared to hold a referendum on Britain's relationship with Brussels - claiming the British are sick of Europe's "medding" and large amounts of EU legislation should be scrapped.
In a article published in the Sunday Telegraph, he writes: "The fact is the British people are not happy with what they have – and frankly neither am I.
"Put simply, for those of us outside the eurozone, far from being too little Europe there is too much of it. Too much cost, too much bureaucracy, too much meddling in issues that belong to nation states or civil society or, indeed, individuals.
"Whole swaths of legislation covering social issues, working time and home affairs should, in my view, be scrapped."
He says however that "tactical and strategic patience" is needed, stressing he is in coalition with the pro-EU Liberal Democrats.
The move comes a day after the PM risked a further rift with his own backbench MPs as he dismissed calls for a referendum on the UK's membership of the European Union (EU).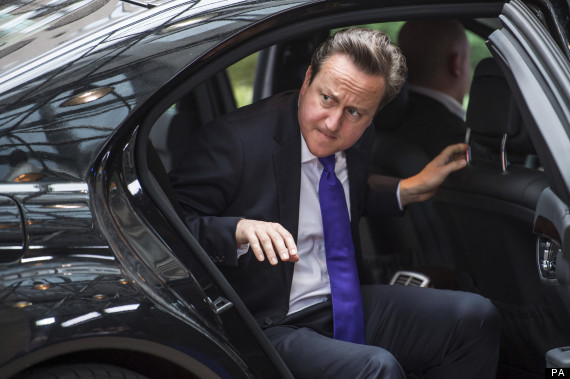 Cameron says he is willing to countenance a referendum on Europe
Cameron insisted that an immediate in/out referendum - which he is under mounting pressure from within his own party to deliver - was not what the vast majority of people wanted.
But, he acknowledged the need to ensure the UK's position within an evolving European Union has "the full-hearted support of the British people".
"There is more to come - further moves, probably further treaties - where we can take forward our interests, safeguard the single market and stay out of a federal Europe," he said.
"How do we take the British people with us on this difficult and complicated journey? How do we avoid the wrong paths of either meekly accepting the status quo or giving up altogether and preparing to leave? It will undoubtedly be hard going, but taking the right path in politics often is.
"As we get closer to the end point we will need to consider how best to get the full-hearted support of the British people, whether it is in a general election or a referendum.
"As I have said, for me the two words 'Europe' and 'referendum' can go together, particularly if we really are proposing a change in how our country is governed, but let us get the people a real choice first."
Cameron said he agrees with the "vast majority of the British people" who he said were not happy with the UK's relationship with the EU.
Nearly 100 Conservative MPs have written to Cameron urging him to make it a legal commitment to hold a poll on the UK's relationship with the EU during the next parliament.
Influential backbench Tory Mark Pritchard said on Saturday night: "The Tory grassroots and the British people are fed up of 'aluminium guarantees' promising a future referendum on Europe.
"There should be a referendum in this Parliament with events in Europe possibly overtaking all British political leaders."
Cameron's article comes after the latest EU summit to tackle the eurozone crisis ended yesterday with moves towards closer ties in the EU.
At the end of the gathering, he told reporters that he was not in favour of an in/out referendum, leading some observers to think he was ruling out a popular vote altogether.
Former defence secretary Liam Fox will set out his staunchly eurosceptic credentials on Monday when he declares that "life outside the EU holds no terror".
In a speech, the Tory MP will say: "I would like to see Britain negotiate a new relationship on the basis that, if we achieved it and our future relationship was economic rather than political, we would advocate acceptance in a referendum of this new dynamic.
"If, on the other hand, others would not accede to our requests for a rebalancing in the light of the response to the euro crisis, then we would recommend rejection and potential departure from the EU.
"For my own part, life outside the EU holds no terror. I believe globalisation will increasingly force countries to cooperate more closely on the basis of functional commonality rather than geographical proximity. It would, though, given our economic interdependence be to the advantage of all to create a more stable and mutually agreed compromise."