Chris Martin and Gwyneth Paltrow are usually a PDA free zone - until now that is.
During a Coldplay gig in Miami on Friday, the couple shocked the crowd when they had a good ol' smooch in front of them all.
Chris jumped off stage and ran into the crowd to find his wife, planting a massive smacker on her, much to the delight of those around them.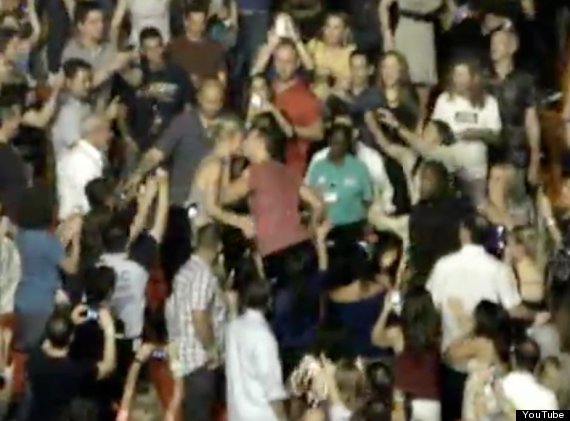 Cue a red face and embarrassed giggles from Gwynnie.
It didn't stop there either as Chris also dedicated the band's performance of Yellow to his "incredible wife Gwyneth".
N'awww.
The couple - who married in 2003 - haven't been seen kissing in public for 10 years and usually go to great lengths to not even be photographed together.
SEE ALSO: TomKat: A History Of Awkward PDAs (PICTURES)
Gwyneth recently opened up about her marriage in Harper's Bazaar and admitted it was tough at times.
She said: "I think you do fall in and out of love and you just keep going. And every time you go through a really difficult phase, you rediscover something new and it just gets better. We've been married for more than eight years now, and we're still into it."
> IN PICS: CELEB PDAs

Loading Slideshow
Get A Room! Celeb PDAs

Vanessa Feltz and Ben Ofoedu (Pic: WENN)

Get A Room! Celeb PDAs

David Walliams and James Corden (Pic: WENN)

Get A Room! Celeb PDAs

Denise Welch and Tim Healy (Pic: WENN)

Get A Room! Celeb PDAs

Sarah Harding and Tom Crane (Pic: WENN)

Get A Room! Celeb PDAs

Heidi Klum and Seal (Pic: WENN)

Get A Room! Celeb PDAs

Marc Anthony and Jennifer Lopez (Pic: WENN)

Get A Room! Celeb PDAs

Lewis Hamilton and Nicole Scherzinger (Pic: WENN)

Get A Room! Celeb PDAs

Marc Jacobs and Lorenzo Martone (Pic: WENN)

Get A Room! Celeb PDAs

Katy Perry and Russell Brand (Pic: WENN)

Get A Room! Celeb PDAs

Cy Waits and Paris Hilton (Pic: WENN)

Get A Room! Celeb PDAs

Nicky Hilton and David Katzenberg (Pic: WENN)

Get A Room! Celeb PDAs

Pamela Anderson and Tommy Lee (Pic: WENN)

Get A Room! Celeb PDAs

Katie Price and Peter Andre (Pic: WENN)

Get A Room! Celeb PDAs

Nickki Graham and Pete Bennet from Big Brother (Pic: WENN)

Get A Room! Celeb PDAs

Matt Willis and Emma Griffiths (Pic: WENN)

Get A Room! Celeb PDAs

Kirk Norcross and Lauren Pope (Pic: WENN)

Get A Room! Celeb PDAs

Wiz Khalifa and Amber Rose (Pic: WENN)