If Jennifer Aniston really has turned down Justin Theroux's proposal, there was no telling as they continued their romantic European adventure.
The couple soaked up the sun as they enjoyed a trip on a private yacht off the coast of the Italian island of Capri.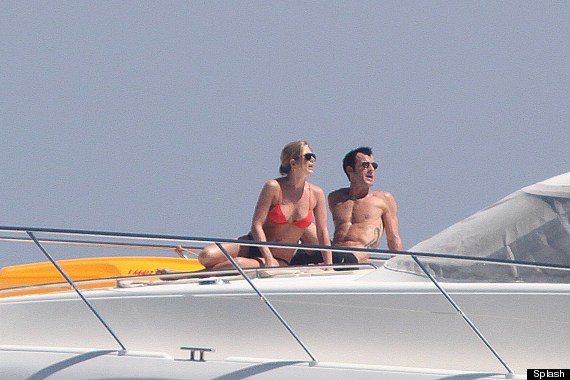 Jen and Justin seen in Italy last month, just days after she is said to have turned down his proposal
Jennifer - who showed off her stunning bikini body in a red two-piece - and a tattooed Justin sat on the deck of the $17,555-a-week yacht, just days after she is reported to have turned down a proposal from him during their stop in Paris. A source told US OK magazine that Jen said no after her beau got down on one knee - but only because she believed she had pushed him into proposing.
She reportedly had expected him to pop the question when they dined at the top of the Eiffel Tower in Paris on 13 June, but when he didn't they apparently had an argument about his commitment issues.
However, he supposedly surprised her by asking her to marry him when they were in Rome a few days later.
"Justin totally shocked her and proposed. She told him she loves him and wants to marry him, but she couldn't say yes," the source explained.
"She wants everything to feel right, not rushed. She told him she feels like he's not ready, but she is willing to wait for him."
They added: "She feels like she only got the proposal because she pushed for it. She doesn't want a guy marrying her because he feels some sort of pressure."
Get down the aisle already.
> IN PICS: BEACH BABES

Loading Slideshow
Beach Babes

Fearne Cotton

Beach Babes

Katy Perry

Beach Babes

Tulisa

Beach Babes

Kim Kardashian

Beach Babes

Lindsay Lohan

Beach Babes

Louise Redknapp

Beach Babes

Lydia, Lauren and Chloe (TOWIE)

Beach Babes

Naomi Watts

Beach Babes

Paris Hilton

Beach Babes

Rihanna

Beach Babes

Rosie Huntington-Whiteley

Beach Babes

Tulisa

Beach Babes

Denise Richards

Beach Babes

Amy Childs

Beach Babes

Anne Hathaway

Beach Babes

Coleen Rooney

Beach Babes

Michelle Rodriguez

Beach Babes

Gwen Stefani

Beach Babes

Janice Dickinson

Beach Babes

Nicky Hilton

Beach Babes

Michelle Rodriguez
> IN PICS: BEACH BOYS

Loading Slideshow
Beach Boys

Chris Hemsworth

Beach Boys

Hugh Jackman

Beach Boys

Matthew McConaughey

Beach Boys

Jamie Redknapp

Beach Boys

Marvin (JLS)

Beach Boys

Daniel Craig

Beach Boys

Tom Hardy

Beach Boys

Gavin Rossdale

Beach Boys

Gary Lineker

Beach Boys

Oritse (JLS)

Beach Boys

Jeff Brazier

Beach Boys

Aston (JLS)

Beach Boys

JB (JLS)

Beach Boys

Mark Wahlberg

Beach Boys

Eric Dane