Armed police have surrounded a Megabus coach on the M6 toll road near Lichfield after what experts say could be a potential chemical terror attack.
It is not clear whether the coach, which was travelling from Preston to London and carrying 48 passengers, was stopped by police or pulled over of its own accord.
The BBC's correspondent Danny Shaw tweeted that a "man was seen pouring liquid into bag which was smoking" on board the bus. However Staffordshire police said the incident is not a chemical spillage.
West Midlands counter terror unit has been involved with the operation, and the Royal Logistics Corp Bomb Disposal unit are at the scene. A spokeswoman for the Ministry of Defence said: "The Ministry of Defence is providing assistance to the police at their request under routine military procedure." Police were searching the coach passengers one by one.
@DannyShawBBC

Danny Shaw
Police op on M6 toll involving coach not linked to London terror arrests. Sources say man seen pouring liquid into bag which was smoking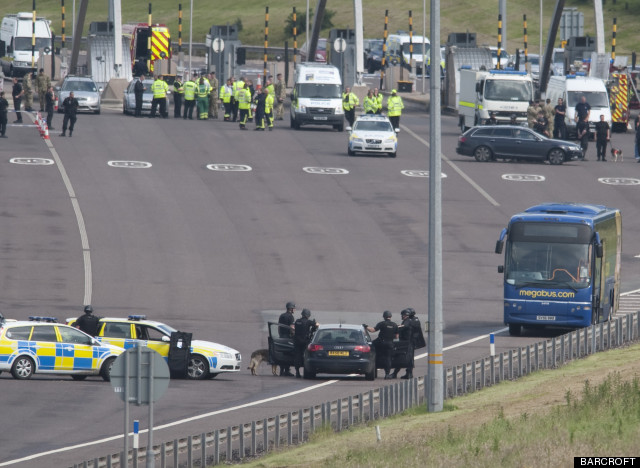 Men in combat fatigues, police sniffer dogs, and officers are are the scene.
Armed police officers could be seen surrounding the single-decker coach on the south-bound carriageway, as passengers were led off the vehicle one by one. Police dogs and more than 40 officers could be seen in the area around the coach. Men wearing combat fatigues and officers in helmets could also be seen at the scene.
Police lined up passengers, who can be seen sitting on the tarmac waiting to be screened. Officers are lined up along the embankment, appearing to guard the passengers who are sitting in rows along the evacuated motorway.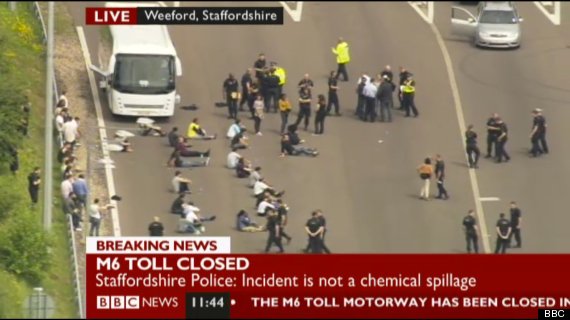 In aerial photos taken from BBC News, passengers can be seen in a specially cordoned off area, guarded by police.
A number of emergency service vehicles were parked at the toll plaza, about 200 metres from the coach. Someone wearing a protective suit has boarded the bus, accompanied by a man in combat fatigues.
Seven police vans arrived at the scene shortly before 11am.
A section of the M6 Toll road is closed in both directions, causing traffic chaos.

Fire engine and tents have been erected the other side of the M6 toll.

People have been tweeting pictures of the traffic chaos caused by the incident. Some motorists claimed to have been stranded for over an hour, according to the Birmingham Mail.
Eyewitness Nick Jones, who was stopped on the motorway for more than an hour and a half, told BBC News that police warned him to stay in his car, keep his windows closed and not to use air conditioning.
"I was beginning to feel a little uneasy," he said.
"I was beginning to look around for an escape route."
A spokeswoman for Staffordshire Police said: "There is currently an ongoing incident on the M6 Toll at Weeford, near Lichfield. Both lanes of the toll road have been closed while police deal with the incident."
Staffordshire police said they were called at 8.20am.
A spokeswoman for Megabus, which is operated by Stagecoach, said: "We are assisting police with their inquiries into an allegation made against a passenger who was travelling on board one of our services."

The closure of the toll road is likely to stay in place until the afternoon, according to the Highways Agency.
The incident is not thought to be linked to this morning's arrests of six people in London as part of a pre-planned counter terrorism operation.
Loading Slideshow
General view of the Mega Bus that has been stopped at the side on the M6 toll road by police on July 5, 2012 near to Lichfield, Staffordshire, England. (Photo credit: Barcroft)

M6 closed (Photo courtesy of Barry Jarvis/Twitter)

A general view of the scene by the M6 toll motorway near Weeford, Staffordshire, after it was shut following a "police-led incident". PRESS ASSOCIATION Photo. Picture date: Thursday July 5, 2012. Police closed off the road, near Birmingham, between junctions three and four in both directions, the Highways Agency said. (Photo credit: Phil Barnett/PA Wire)

A general view of the scene by the M6 toll motorway near Weeford, Staffordshire, after it was shut following a "police-led incident". PRESS ASSOCIATION Photo. Picture date: Thursday July 5, 2012. Police closed off the road, near Birmingham, between junctions three and four in both directions, the Highways Agency said. (Photo credit: Phil Barnett/PA Wire)

M6 Toll closed. (Photo courtesy of Rupert Evelyn/Twitter)

M6 Toll closed. (Photo courtesy of l4rk1n/Twitter)

M6 Toll closed. (Photo courtesy of l4rk1n/Twitter)