Essex Police have named a 64-year-old man they want to find in connection with a shooting in Clacton-on-Sea in which a police officer was shot dead.
Peter Reeve is described as white, around 5ft 10in tall with short greyish hair. He was wearing jeans and possibly glasses. He comes from the Clacton area and police are warning members of the public not to approach him as he is believed to be armed.
Armed officers are searching for Reeve who is believed to have shot dead a serving police officer and injured another man following a shooting off Redbridge Road in Clacton.
Police were contacted shortly after 3:30pm on Monday following reports of shotgun fire. They arrived to find one man dead and another with serious leg injuries lying in the street.
The force refused to comment on the identities of the victims, but the man who died has been named locally as Pc Ian Dibell, who lived nearby.
A spokesman for Essex Police said: "Residents are being urged to remain indoors while armed officers locate the gunman.
"Neighbourhood policing officers are maintaining a high-profile and visible presence in the community, supporting victims and witnesses.
"Members of the public are urged to contact police on 999 if they see the gunman who should not be approached."
It was earlier reported that a woman had been injured.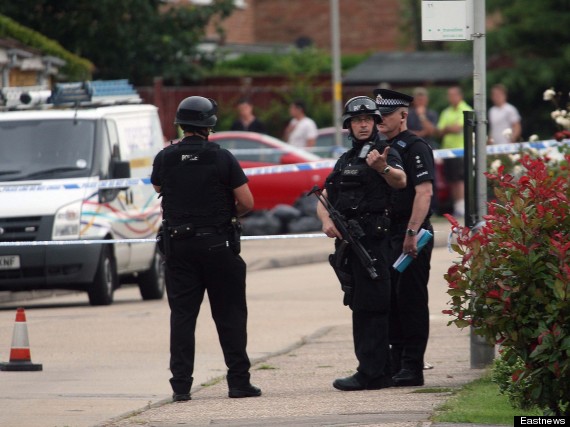 Armed police at Farlop Close in Clacton where the incident took place on Monday
Paul McKeever, chairman of the Police Federation of England and Wales, paid tribute to Pc Dibell, saying: "This is extremely tragic and devastating news. Police Constable Ian Dibell demonstrated remarkable courage and bravery whilst off-duty and has paid the ultimate price.
"The thoughts of the entire police service are with his family, friends and colleagues at this very difficult time."
Mark Smith, chairman of the Essex Police Federation, added: "This is a terrible tragedy and our thoughts and prayers are with Pc Ian Dibell's family, friends and colleagues at this extremely sad time.
"Constable Ian Dibell was a dedicated professional officer who, even though off duty, has paid the ultimate sacrifice for his bravery and selfless actions in trying to protect his local community.
"This appalling incident highlights the dangers that police officers face every day.
"No words can help those closest to Pc Dibell at this terribly distressing time but I hope they will find some comfort in knowing that the loss of this brave man is mourned by the entire police family throughout the United Kingdom."
Shadow home secretary Yvette Cooper said: "I am shocked and appalled by the terrible news from Essex tonight and our thoughts are with the family, friends and colleagues of Pc Ian Dibell.
"We are all reminded that police officers on or off duty put themselves in harm's way to protect the public and they have our greatest admiration for their bravery, for what they do and the risks they take daily to keep us safe.
"It is important to remember that the suspect in this shooting is still at large and police officers are still searching for him.
"We all wish this a speedy and safe resolution tonight."
At the scene a white tent had been erected in front of a house and more than 13 police vehicles were parked nearby, including a van full of armed officers.
A helicopter remained overhead as more police arrived at the scene.
One neighbour, who did not want to be named, said the gunman had crashed a car in an alleyway near a local doctor's surgery.
He said doctors later rushed out to help the injured men.
Another neighbour said: "The first indication I had was what sounded like car doors being slammed.
"I thought someone was coming here to the house.
"I went to look out into the street and there were all these police cars. All I could see were police cars and my friends were then phoning me telling me to stay inside and keep my doors and windows locked.
"It is a quiet area, we have some traffic but people keep themselves to themselves. This was a bolt from the blue, I couldn't believe it. I can't imagine what must have happened.
"Why would someone come up this street with a gun?"
Another local resident told the BBC that she and her next door neighbour heard a woman screaming then what they thought were gunshots.
"Then there was more shouting going on, screaming, from this woman, and then a man's voice shouting, quite really really loud shouting, then there was another series of gunshots, about five or six one after the other, then it went eerily quiet, just silence, and me and my next door neighbour just looked at each other, by then, and we thought, oh my gosh, was that actually gunshots we heard."
A group of 20 neighbours were led away from nearby houses by forensic officers and gave their details before leaving the scene.
Gary Sanderson, spokesman for the East of England Ambulance Service, said: "Sadly on our arrival a man was pronounced dead at the scene."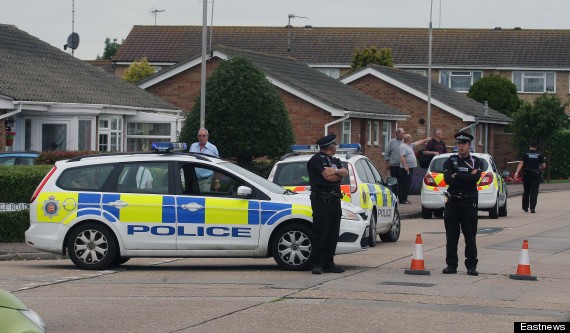 The gunman is still on the loose having shot dead one man and injured a woman
Teams of armed officers were spreading out across the town and a police helicopter has been deployed.
Updated: 19:50 9 July - off-duty police officer information
Updated: 20:50 9 July - identity of suspect
Updated: 21:30 9 July - comments from police officials
Updated: 22:23 9 July - Yvette Cooper comments