Brendan Rodgers gave his first briefing as Liverpool manager on Monday where confirmed he hoped to make at least one signing before the week is out. That first signing may well be AS Roma striker Fabio Borini.
Borini, 21, worked with Rodgers at the Chelsea academy and on loan at the Northern Irishman's former club Swansea City. The "exciting" and "terrific" player Rodgers spoke of yesterday is believed to be the Italian international and the Giallorossi are expected to fetch £8m from the deal.
As one striker arrives, does one depart? The Times, oft-accused of resembling a Liverpool fanzine (Tonys Evans and Barrett, Rory Smith) splashes on its back page that Andy Carroll "faces Rodgers axe".
Rumours of the Geordie leaving L4, which surfaced after Silvio Berlusconi's son said the England international would be a good signing for AC Milan last week, fail to cease. Rodgers failed to nip any murmurings in the bud when presented with the opportunity by the press.
Carroll, 23, was signed for £35m by Kenny Dalglish in January 2011 and has proven to be a disastrous signing despite a mini-resurgence at the tail-end of last season. Furthermore, his directness and dependency on his aerial prowess conflicts with Rodgers' on-the-deck passing ideology, which makes a transfer feasible either permanently or on loan.
Clint Dempsey was one of the Premier League's biggest success stories in the previous campaign, and now talk of him moving north to Merseyside is gathering pace. He certainly would fit into Rodgers' philosophy, and might he be The Second Man after Borini, the Mirror suggest.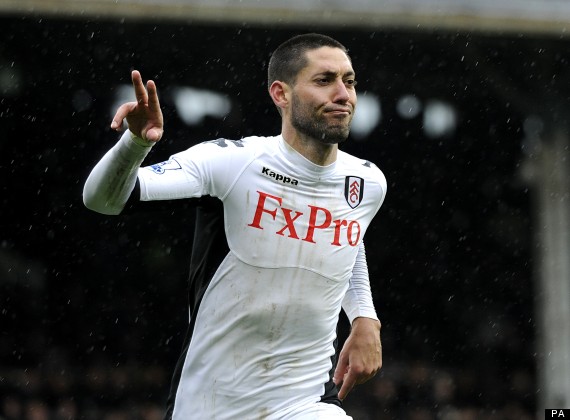 Another American at Anfield?
Tottenham Hotspur finalised the signing of Jan Vertonghen at the weekend, and now could be set to bolster their striking options with the arrival of Emmanuel Adebayor. The Sun report a £6m fee will see the Togolese make his loan move to White Hart Lane permanent, despite André Villas-Boas replacing Harry Redknapp.
Nuri Sahin has already claimed he has no interest in being a makeweight in any transfer that sees Luka Modrić head from north London to Real Madrid, so the new suggestion comes in the guise of 34-year-old Ricardo Carvalho, claim the Sun. Carvalho of course spent six trophy-laden years at Chelsea and despite his age, Spurs are in need of an experienced centre-back after Ledley King and William Gallas' contracts ended. Luka celebrates his new wage packet
Regarding Adebayor, shifting him off the wage bill will certainly help City finance a move for Robin van Persie apparently, despite Juventus' concrete interest in the Holland striker.
Even more helpful would be the long-mooted sale of Edin Džeko. AC Milan crop up in this morning's Mirror offering £26m.
Lucas Moura is one of Brazilian football's most in-demand talents, and the Mail claim a delegation representing Manchester United will arrive in Brazil on Tuesday in a bid to sign the Sao Paulo midfielder before he embarks on Olympic duty. Internazionale are also interested, but United's £423.3m debt may be a stumbling block...
Leighton Baines for £16m? The Daily Star certainly think so, as they write that the 27-year-old Evertonian's move to United nears completion. Blue to red?
Baines' exit may bring about the arrival of Reto Ziegler at Goodison Park. The former Tottenham left-winger-cum-left-back has been put up for sale by Serie A champions Juventus, say Metro.
Returning to extortion, Steven Fletcher is valued at £15m by Wolves, which could (should?) put Sunderland off making a bid for the handy Scot striker. That via the Mail again.
And another young Brazilian could be en route to the Premier League, according to the Mail. Oscar, 20, will join Chelsea for £25m after they beat Spurs to the punch, after they only offered £18m.