Tom Cruise has gone straight back to work after his lawyers reached a speedy divorce settlement with his estranged wife Katie Holmes.
Much as he continued working without a bump following his split from Nicole Kidman a decade ago, the actor has not let his tangled personal life interfere with his tight filming schedule.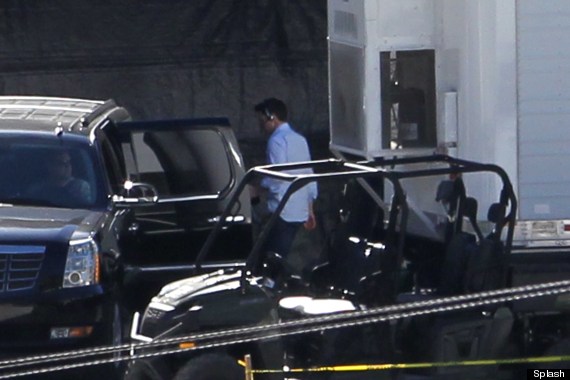 Tom Cruise back at work despite the hoo ha-ha going on around his divorce settlement
The Hollywood superstar was filming upcoming sci-fi movie Oblivion in Iceland when his wife of five years filed divorce papers in New York last month and he returned to the US days later.
He was photographed arriving in Mammoth Lakes, California on Monday afternoon to continue shooting Oblivion, while a representative for the production has confirmed Cruise will spend the next few days filming there.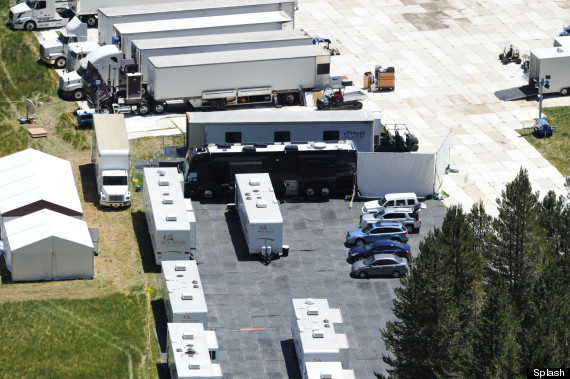 Cruise's understated location coach - reported to be a gift from Scientology leaders to their greatest ambassador
On Monday, the stars announced they had reached a settlement less than two weeks after Holmes moved to end the marriage, paving the way for their official separation, and the actor promptly headed back to work.

Holmes remains in the Big Apple with their six-year-old daughter, Suri.
>In pictures: Tom and Katie's romance

Loading Slideshow
Tom Cruise & Katie Holmes

Photos from their relationship: 2005-2012

Tom Cruise & Katie Holmes

Photos from their relationship: 2005-2012

Tom Cruise

Photos from their relationship: 2005-2012

Tom Cruise & Katie Holmes

Photos from their relationship: 2005-2012

Tom Cruise & Katie Holmes

Photos from their relationship: 2005-2012

Tom Cruise & Katie Holmes

Photos from their relationship: 2005-2012

Tom Cruise & Katie Holmes

Photos from their relationship: 2005-2012

Tom Cruise & Katie Holmes

Photos from their relationship: 2005-2012

Tom Cruise & Katie Holmes

Photos from their relationship: 2005-2012

Tom Cruise & Katie Holmes

Photos from their relationship: 2005-2012

Tom Cruise & Katie Holmes

Photos from their relationship: 2005-2012

Tom Cruise & Katie Holmes

Photos from their relationship: 2005-2012

Tom Cruise & Katie Holmes

Photos from their relationship: 2005-2012

Tom Cruise & Katie Holmes

Photos from their relationship: 2005-2012

Tom Cruise & Katie Holmes

Photos from their relationship: 2005-2012

Tom Cruise & Katie Holmes

Photos from their relationship: 2005-2012

Tom Cruise & Katie Holmes

Photos from their relationship: 2005-2012

Tom Cruise & Katie Holmes

Photos from their relationship: 2005-2012

Tom Cruise & Katie Holmes

Photos from their relationship: 2005-2012

Tom Cruise & Katie Holmes

Photos from their relationship: 2005-2012

Tom Cruise & Katie Holmes

Photos from their relationship: 2005-2012

Tom Cruise & Katie Holmes

Photos from their relationship: 2005-2012

Tom Cruise & Katie Holmes

Photos from their relationship: 2005-2012

Tom Cruise & Katie Holmes

Photos from their relationship: 2005-2012

Tom Cruise & Katie Holmes

Photos from their relationship: 2005-2012

Tom Cruise & Katie Holmes

Photos from their relationship: 2005-2012

Tom Cruise & Katie Holmes

Photos from their relationship: 2005-2012

Tom Cruise & Katie Holmes

Photos from their relationship: 2005-2012

Tom Cruise & Katie Holmes

Photos from their relationship: 2005-2012

Tom Cruise & Katie Holmes

Photos from their relationship: 2005-2012

Tom Cruise & Katie Holmes

Photos from their relationship: 2005-2012

Tom Cruise & Katie Holmes

Photos from their relationship: 2005-2012

Tom Cruise & Katie Holmes

Photos from their relationship: 2005-2012

Tom Cruise & Katie Holmes

Photos from their relationship: 2005-2012

Tom Cruise & Katie Holmes

Photos from their relationship: 2005-2012

Tom Cruise & Katie Holmes

Photos from their relationship: 2005-2012

Tom Cruise & Katie Holmes

Photos from their relationship: 2005-2012

Tom Cruise & Katie Holmes

Photos from their relationship: 2005-2012

Tom Cruise & Katie Holmes

Photos from their relationship: 2005-2012

Tom Cruise & Katie Holmes

Photos from their relationship: 2005-2012

Tom Cruise & Katie Holmes

Photos from their relationship: 2005-2012