The captain of the ill-fated Costa Concordia has apologised for the tragedy in which 32 people died, calling the disaster a "banal accident".
In his first TV interview since the cruise liner ran aground on rocks off the Tuscan coast in January, Francesco Schettino told Italy's Canale 5 television that the victims of the tragedy were constantly in his mind.
He broke down when asked about the five-year-old Dayana Arlotti, the youngest victim of the disaster, the BBC reported. The captain of the Costa Concordia cruise liner Francesco Schettino is escorted by an Italian policeman in Grosseto on 14 January

The disgraced captain said "I blame myself for being distracted," but insisted that another officer was in control of the ship at the time.
"I didn't have command, that's to say being in charge of sailing the ship, that was the officer," he told the channel, according to Reuters.
He added:"This is a banal accident in which destiny found space right in the interaction among human beings," reported the Telegraph.
Schettino was released from house arrest earlier this month, despite facing charges of multiple manslaughter, causing the cruise liner to sink and abandoning ship. Francesco Schettino was arrested and is awaiting trial

The former captain is under investigation with eight others after the Costa Concordia capsized with 4,200 passengers and crew onboard. At least 30 people died in the accident and another two people are still missing and are believed to be dead. However judges ruled that the house arrest had already served as a sufficient deterrent to Schettino.
Anger was directed at the captain in the wake of the disaster after it was alleged that Schettino abandoned ship and hailed a taxi home, while passengers were still on board.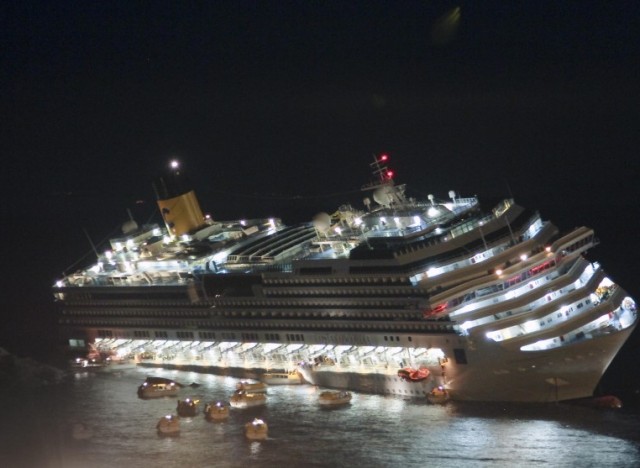 The Costa Concordia just hours after it struck rocks off the Italian island of Giglio

The timeline of events that took place the night the Costa Concordia sank are still unclear, with many blaming Schettino for sailing the ship too close to the island to make a "salute". The Costa Concordia can still be seen off the island of Giglio on the Tuscan coast
A pre-trial hearing was held in Florence in March, and a court hearing is due on 21 July when a probe of the ship's data recording "black box" will take place. However the latest reports suggest this information, so vital to determining Schettino's culpability, has gone missing.
There are also suggestions that watertight doors designed to prevent flooding, were left open on the night of the disaster.
The Costa Concordia can still be seen off the Tuscan island of Giglio.