He's been notoriously elusive about his lovelife after splitting from Katie Price, but Peter Andre has gone public with a new lady friend. Who's that girl, Pete?
The reality star took the Mysterious Girl (see what we did there) to the Magic Mike screening at the Mayfair Hotel in London last night.
She is the daughter of Dr Ru MacDonagh, who heads up Peter's Zanzibar charity.
Pete certainly looked pleased with himself as they climbed into a taxi, showing off the stunning brunette to waiting paps. Pete looked pleased as punch about his new lady
Back in February they visited Zanzibar, and Pete posted a picture to his Twitter account of them with the rest of the team.
"Here I am in Zanzibar working with my friend Dr Ru. We WILL make a difference," he tweeted.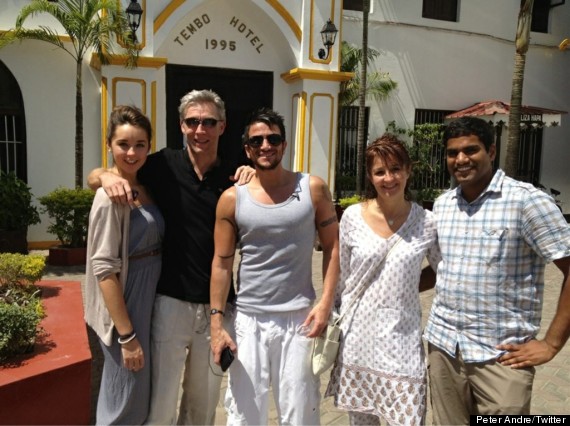 Pete and his new lady doing charity work earlier this year
Pete was coy when he spoke about the relationship in May, stating he was a "single guy having fun".
He wrote in his New! magazine column: "It's nothing serious, but I am enjoying myself. That's it, really. I think it's going to take me a long time to actually want to get in a relationship.
"I always think I'm ready, but then I think I'm trying too hard, so I back off. It is what it is."
At least now, hopefully we won't have to listen to him banging on about Katie...
> IN PICS: THE MAGIC MIKE PREMIERE

Loading Slideshow