Katie Holmes looked to have put all the drama of her divorce behind her last night, as the actress finally glammed up for an evening out.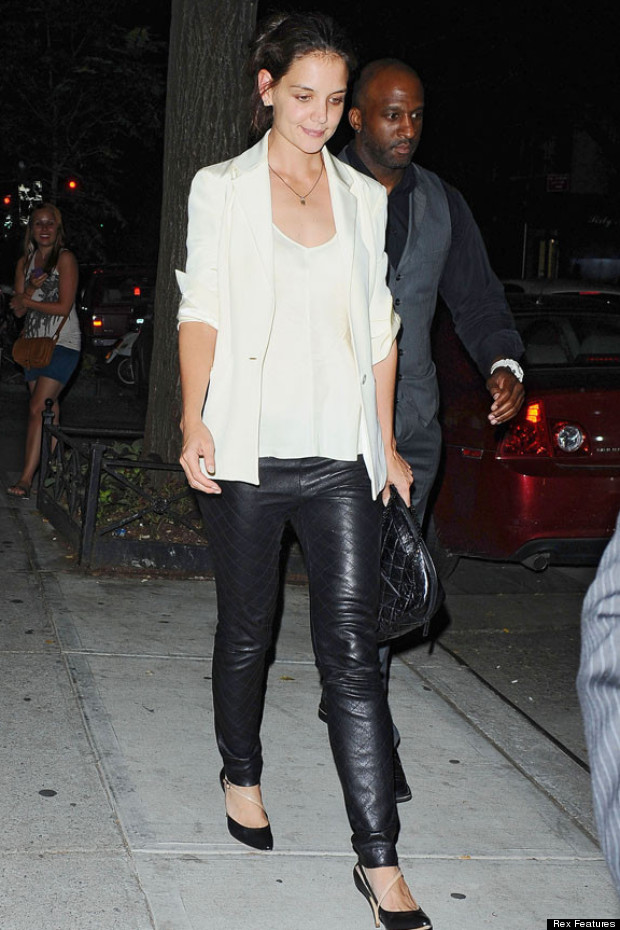 She dug out her best 'I'll show you I don't need a man' glad rags as she stepped out for dinner at The Lion restaurant in Manhattan, New York.
Katie - who filed for divorce from Tom Cruise two weeks ago - was uber on-trend too, with a pair of leather trousers and a cream blazer, with her hair tied back into a neat ponytail. Earlier in the day, she enjoyed a girly day out with daughter Suri at the zoo, where the pair looked inseparable as they petted the animals.
> IN PICS: KATIE AND SURI'S TRIP TO THE ZOO

Loading Slideshow
Suri Cruise's trip to the zoo

Suri Cruise's trip to the zoo

Suri Cruise's trip to the zoo

Suri Cruise's trip to the zoo

Suri Cruise's trip to the zoo

Suri Cruise's trip to the zoo

Suri Cruise's trip to the zoo

Suri Cruise's trip to the zoo

Suri Cruise's trip to the zoo

Suri Cruise's trip to the zoo

Suri Cruise's trip to the zoo

Suri Cruise's trip to the zoo

Suri Cruise's trip to the zoo

Suri Cruise's trip to the zoo

Suri Cruise's trip to the zoo

Suri Cruise's trip to the zoo

Suri Cruise's trip to the zoo

Suri Cruise's trip to the zoo

Suri Cruise's trip to the zoo

Suri Cruise's trip to the zoo

Suri Cruise's trip to the zoo

Suri Cruise's trip to the zoo

Suri Cruise's trip to the zoo

Suri Cruise's trip to the zoo

Suri Cruise's trip to the zoo

Suri Cruise's trip to the zoo

Suri Cruise's trip to the zoo

Suri Cruise's trip to the zoo

Suri Cruise's trip to the zoo

Suri Cruise's trip to the zoo

Suri Cruise's trip to the zoo

Suri Cruise's trip to the zoo

Suri Cruise's trip to the zoo

Suri Cruise's trip to the zoo

Suri Cruise's trip to the zoo

Suri Cruise's trip to the zoo

Suri Cruise's trip to the zoo

Suri Cruise's trip to the zoo

Suri Cruise's trip to the zoo

Suri Cruise's trip to the zoo

Suri Cruise's trip to the zoo

Suri Cruise's trip to the zoo
Also on HuffPost: