Just when you thought the dust around Tom Cruise and Katie Holmes' divorce was beginning to settle, think again.
The saga is set to continue as Cruise's lawyers threaten legal action against American publication National Enquirer for printing "one cruel lie after another" in its latest edition.
The Hollywood Reporter has posted a letter from Tom Cruise's lawyer, Bert Fields, to American Media Inc, the parent company of National Enquirer.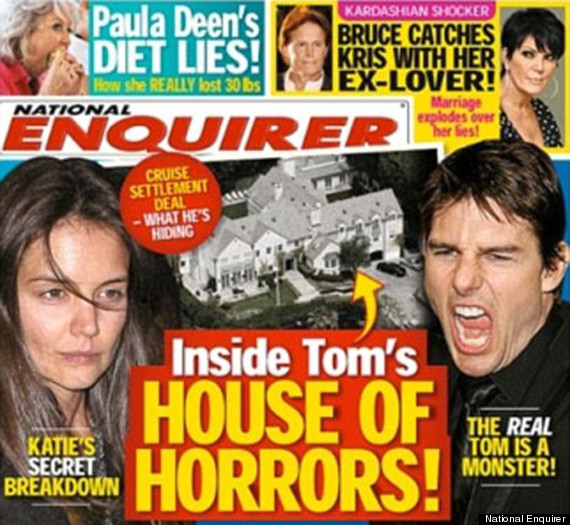 The National Enquirer's front cover
"As you were notified in advance, your current issue of National Enquirer makes numerous false and defamatory assertions about our client Tom Cruise," the letter reads.
Fields claims that the story, which contained a number of serious allegations against the actor, would cause Cruise "hundreds of millions of dollars of professional and personal damages".
The letter requests the National Enquirer to "immediately retract each and every one of your false assertions about Mr Cruise with the same prominence and emphasis as you gave your original false and defamatory assertions".
It isn't the first time Tom has taken out a lawsuit.
In 2001 Cruise sued magazine editor Michael Davis Sapir for $100m, after he claimed to have video evidence of the actor "engaged in a homosexual relationship" TMZ reports. Later that year a settlement was reached, with both parties denying the existence of such tape.
Tom and Katie reached their divorce settlement ten days after announcing their split.
The couple have kept reasons surrounding their divorce to themselves: "We want to keep matters affecting our family private and express our respect for each other's commitment to each of our respective beliefs and support each other's roles as parents."
> IN PICS: TOM AND KATIE'S ROMANCE

Loading Slideshow
Tom Cruise & Katie Holmes

Photos from their relationship: 2005-2012

Tom Cruise & Katie Holmes

Photos from their relationship: 2005-2012

Tom Cruise

Photos from their relationship: 2005-2012

Tom Cruise & Katie Holmes

Photos from their relationship: 2005-2012

Tom Cruise & Katie Holmes

Photos from their relationship: 2005-2012

Tom Cruise & Katie Holmes

Photos from their relationship: 2005-2012

Tom Cruise & Katie Holmes

Photos from their relationship: 2005-2012

Tom Cruise & Katie Holmes

Photos from their relationship: 2005-2012

Tom Cruise & Katie Holmes

Photos from their relationship: 2005-2012

Tom Cruise & Katie Holmes

Photos from their relationship: 2005-2012

Tom Cruise & Katie Holmes

Photos from their relationship: 2005-2012

Tom Cruise & Katie Holmes

Photos from their relationship: 2005-2012

Tom Cruise & Katie Holmes

Photos from their relationship: 2005-2012

Tom Cruise & Katie Holmes

Photos from their relationship: 2005-2012

Tom Cruise & Katie Holmes

Photos from their relationship: 2005-2012

Tom Cruise & Katie Holmes

Photos from their relationship: 2005-2012

Tom Cruise & Katie Holmes

Photos from their relationship: 2005-2012

Tom Cruise & Katie Holmes

Photos from their relationship: 2005-2012

Tom Cruise & Katie Holmes

Photos from their relationship: 2005-2012

Tom Cruise & Katie Holmes

Photos from their relationship: 2005-2012

Tom Cruise & Katie Holmes

Photos from their relationship: 2005-2012

Tom Cruise & Katie Holmes

Photos from their relationship: 2005-2012

Tom Cruise & Katie Holmes

Photos from their relationship: 2005-2012

Tom Cruise & Katie Holmes

Photos from their relationship: 2005-2012

Tom Cruise & Katie Holmes

Photos from their relationship: 2005-2012

Tom Cruise & Katie Holmes

Photos from their relationship: 2005-2012

Tom Cruise & Katie Holmes

Photos from their relationship: 2005-2012

Tom Cruise & Katie Holmes

Photos from their relationship: 2005-2012

Tom Cruise & Katie Holmes

Photos from their relationship: 2005-2012

Tom Cruise & Katie Holmes

Photos from their relationship: 2005-2012

Tom Cruise & Katie Holmes

Photos from their relationship: 2005-2012

Tom Cruise & Katie Holmes

Photos from their relationship: 2005-2012

Tom Cruise & Katie Holmes

Photos from their relationship: 2005-2012

Tom Cruise & Katie Holmes

Photos from their relationship: 2005-2012

Tom Cruise & Katie Holmes

Photos from their relationship: 2005-2012

Tom Cruise & Katie Holmes

Photos from their relationship: 2005-2012

Tom Cruise & Katie Holmes

Photos from their relationship: 2005-2012

Tom Cruise & Katie Holmes

Photos from their relationship: 2005-2012

Tom Cruise & Katie Holmes

Photos from their relationship: 2005-2012

Tom Cruise & Katie Holmes

Photos from their relationship: 2005-2012

Tom Cruise & Katie Holmes

Photos from their relationship: 2005-2012