Adam Holliokae, the former captain of the England one-day team, has told of the strain at being made bankrupt and is in court over £14m debts.
In a bid to alleviate the financial burden, the former Surrey all-rounder has taken to cage fighting in Australia after a catastrophic financial venture.
Hollioake was born in Australia, and since he pledged his allegiance to England when it came to cricket, he told the Daily Mail he is "less popular than the taxman" when he enters the ring.
The 40-year-old ended his cricket career in 2004 and relocated back to Australia to go into business. It was Hollioake's father John who suggested he could earn £100,000 a year if the pair collaborated on a property development company.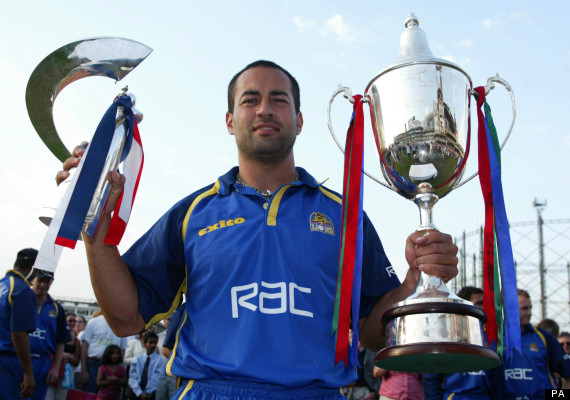 Happier days with Surrey in 2003
However he was made bankrupt last year, and this week's court appearance confirmed the total he owes to 40 creditors.
Former England and Surrey team-mate Alec Stewart is one of the listed creditors, with an estimated claim of over £400,000.
Yet the former cricketer vowed he is "no crook" and his life "is an open book".
"This is all I have left - just a few dollars," Hollioake explained. "Yet there have been claims that I've ripped people off, run away with their money, got it all tucked away, secretly loaded myself up."
Between 1997 and 2003 Hollioake captained Surrey to three County Championships. His brother Ben, also a one-day international for England, died in a car accident in 2002.