With all the extensions and the constant back-and-forth from redhead to blonde, Lindsay Lohan's hair has been put under a lot of pressure, and it was certainly showing signs of it yesterday.
The actress was sporting a bald patch on the back of her head as she stepped out last night. Her extensions had been given as much love and attention as Britney gave hers circa 2008, and looked poorly maintained as she arrived at E.Baldi restaurant in Beverly Hills to grab a takeaway. Balding due to the use of extensions (medically known as traction alopecia) is pretty common, and other celebs who have experienced bald patches include Katie Price, TOWIE's Jess Wright and Rihanna.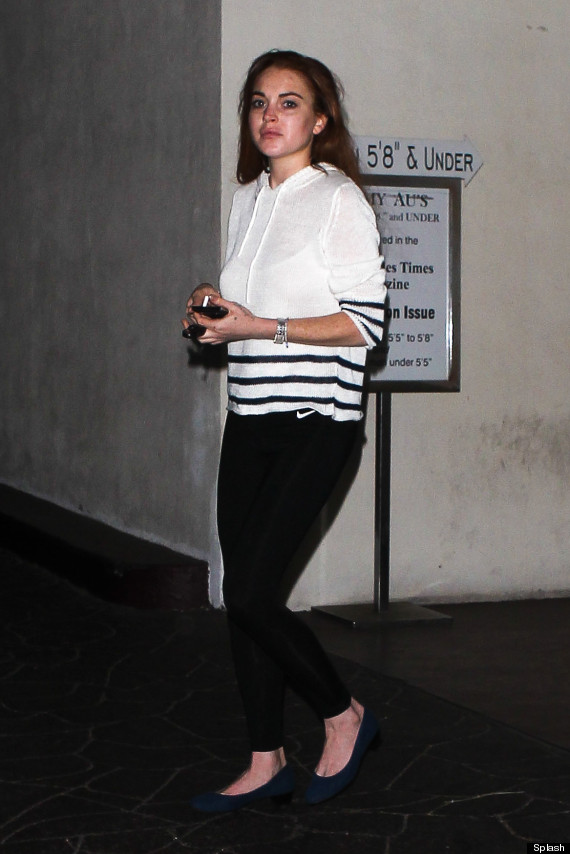 Lindsay seen leaving the E.Baldi restaurant
Earlier in the week, LiLo - who is currently filming her role as Elizabeth Taylor in a remake of Liz & Dick - enjoyed a sleepover with Lady Gaga and Lana Del Ray.
The trio enjoyed a night at the Château Marmont hotel in LA, and Gaga was seen posting on Twitter about Lindsay's odd diet.
She wrote: '@lindsaylohan when you ordered a cucumber and a knife to the bar last night i thought your were gonna perform a vasectomy #justaskinnyb***h.
Get a pie down you love!
> IN PICS: LINDSAY'S STYLE EVOLUTION

Loading Slideshow
1998

Getty Images

2001

Getty Images

2002

Getty Images

2002

Getty Images

2002

Getty Images

2002

Getty Images

2003

Getty Images

2004

Getty Images

2004

Getty Images

2004

Getty Images

2004

Getty Images

2004

Getty Images

2004

Getty Images

2004

Getty Images

2004

Getty Images

2004

Getty Images

2004

Getty Images

2005

Getty Images

2005

Getty Images

2005

Getty Images

2005

Getty Images

2005

Getty Images

2005

Getty Images

2005

Getty Images

2005

Getty Images

2005

Getty Images

2005

Getty Images

2005

Getty Images

2005

Getty Images

2005

Getty Images

2005

Getty Images

2006

Getty Images

2006

Getty Images

2006

Getty Images

2006

Getty Images

2006

Getty Images

2006

Getty Images

2006

Getty Images

2006

Getty Images

2006

Getty Images

2006

Getty Images

2006

Getty Images

2006

Getty Images

2006

Getty Images

2006

Getty Images

2006

Getty Images

2006

Getty Images

2006

Getty Images

2006

Getty Images

2007

Getty Images

2007

Getty Images
Also on HuffPost: