Aircraft that fail to comply with procedures within a restricted airspace zone around the Olympic site in London could be subject to "lethal force" from the military, it was revealed on Friday.
RAF Typhoon fast jets and RAF Puma helicopters with snipers armed with hi-tech rifles will be among the military aircraft patrolling the restricted zone which comes into force from Saturday.
Intercepted aircraft will be expected to comply with the directions of the military aircraft.
"As a last resort, we will have lethal force as an option," said Air Vice-Marshal Stuart Atha, the Olympics air security commander.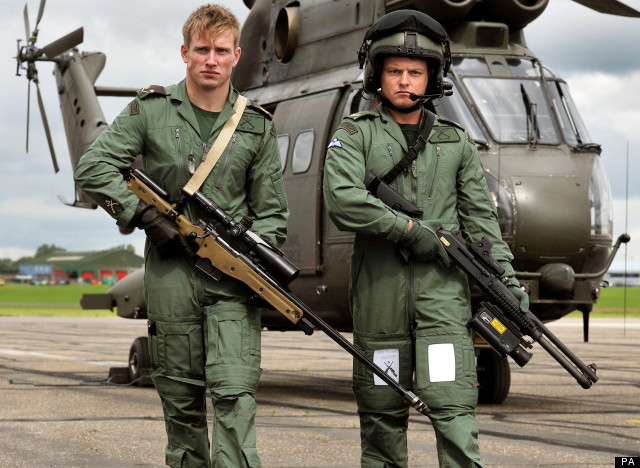 Highly-trained, heavily-armed snipers will operate out of Puma helicopters providing overwatch on the Olympic no-fly zone
Asked who would give the order for lethal force to be used, AVM Atha said: "The highest level of Government makes that decision."
AVM Atha was speaking at RAF Northolt in west London where some of the aircraft that will help patrol the restricted area were on display.
The restricted zone, in operation from midnight tonight to August 15, comprises a small inner zone covering central London and the Olympic site in Stratford, east London, and a large zone covering a swathe of south-east England.
The restricted zones are designed for general aviation which includes light aircraft, gliders and balloons. No commercial flights will be affected.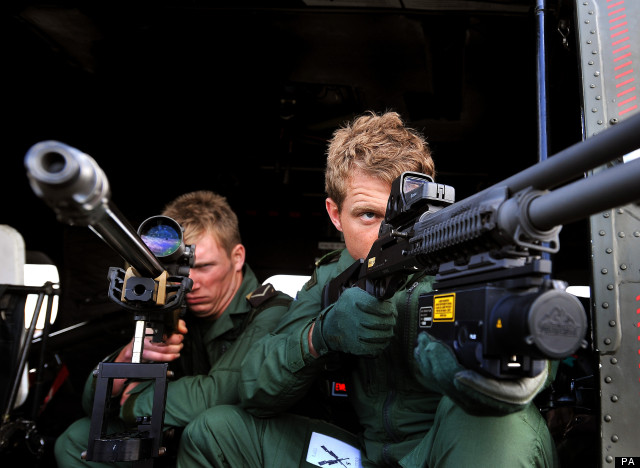 The RAF marksmen will form part of an extensive network of Olympic security
The air security plan includes:
RAF Typhoon fast jets based at Northolt
RAF Puma helicopters with sniper teams, based at Ilford in east London
Army Rapier and Starstreak ground-based air defence systems at six London sites
Royal Navy Sea King helicopters based at Northolt
Helicopter carrier HMS Ocean, the Navy's largest ship, which will be on the River Thames in London as a base for helicopter operations as well as accommodation for personnel
At Northolt today, a Home Office spokesman said that for the Olympics "we are planning on a terrorist threat environment that is severe".
He added that it was better to be at the severe level in case the threat level needed to be increased.
But he went on: "We are not suggesting that there is any particular threat or risk to the Games that we know about."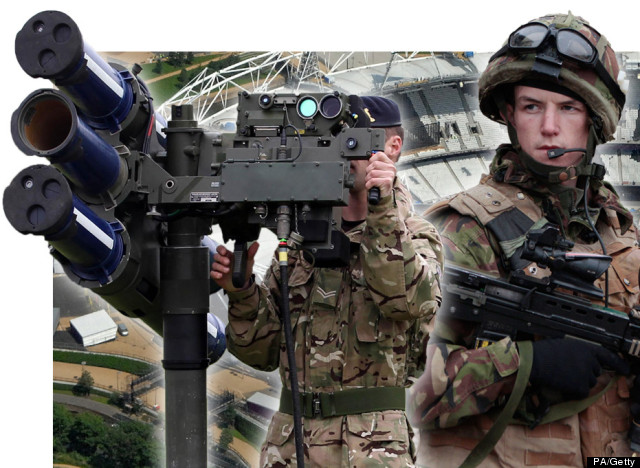 Olympic security is being ramped up ahead of the Games in two weeks' time
The Civil Aviation Authority has written to all private pilots and distributed more than 60,000 leaflets to warn about the restrictions.
Under the plan, general aviation will not be allowed in the inner zone, although passenger planes heading for Heathrow and London City Airports will not be affected.
Defence Secretary Philip Hammond said: "Whilst there is no reported threat to the London Olympics, the public expects that we put in place a range of measures aimed at ensuring the safety and security of this once-in-a-generation event.
"I am pleased to be able to confirm that the equipment necessary to operate our comprehensive, layered air security plan is now in place.
"I believe this will provide reassurance to residents of, and visitors to, London, and a powerful deterrent."
Loading Slideshow