Managers are suffering because of the "harmful" culture across British industry, working around 46 days of unpaid overtime a year, going to work while ill and suffering increased levels of stress and depression, according to a new report.
Research among 1,000 managers painted a "bleak" picture of bigger workloads, more ill-health and low levels of job satisfaction.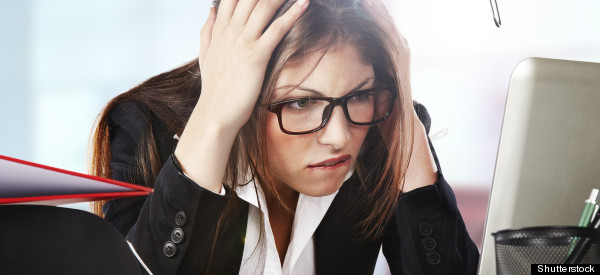 Is your job making you depressed?
The Chartered Institute of Management said its study also showed a number of "negative" management styles had emerged over the past few years, including overly bureaucratic or authoritarian.
The problems were holding back economic growth, hitting productivity and leading to business decline, the report warned.
Compared with 2007, managers were working longer hours, more likely to go to work while sick and increasingly suffering from stress and depression, the study found.
Most of the managers questioned said their organisation had been restructured in the past year, while almost half had seen compulsory redundancies.
Are you being bullied at work? Take a look at these top tips on beating workplace bullying...
"Make sure you keep any physical evidence of the bullying in the form of letters, memos, emails or text messages. This will help back your case if you decide to take matters further."

"Write everything down. Every incident counts and it might enable you to spot a pattern in the bullying and help you understand the motivations behind it. But make sure you keep the diary or journal safe and not at work, because if it gets into the wrong hands, you may be accused of misconduct in the workplace."

"If talking to the bully doesn't stop the bullying from happening, get help. There is no shame or failure in doing this. "There are many advice and support lines that specialise in dealing with workplace bullying, so take a look at SupportLine.org, DAWN (Dignity At Work Now) Just Fight On and Acas (Advisory, Conciliation and Arbitration Service). "Another good website is the TUC (Trade Union Congress), where it gives you information about how to join a union."

"The bullying may not be deliberate. If you can, talk to the person in question, who may not realise how their behaviour has been affecting you. Work out what to say beforehand. Describe what has been happening and why you object to it. Stay calm and be polite. If you don't want to talk to them yourself, ask someone else to do so for you."

"If you decide that you want to take it further and make an official complaint, obtain a copy of your employer's bullying and Harassment policy to ensure you file the complaint correctly. Making a formal complaint is the next step if you can't solve the problem informally. To do this you must follow your employer's grievance procedure."
The average manager now works around 46 days' unpaid overtime a year, six more than in 2007, because of increased workloads.
Howard Hughes, of health company SimplyHealth, which helped with the study, urged employers to encourage their staff to care for their health.
The report's author, Professor Les Worrall, of Coventry University, said: "The scale and impact of change over the last five years has been staggering as all of our key measures from the survey have deteriorated markedly since 2007.
"What is more worrying is that there seems to be no sign of economic conditions getting better - we are in for a worrying time if these trends persist into the future."
Is work stressing you out? Find out how to rewind outside of office hours...
How To Unplug And Recharge After Work
At home, set some rules about when and where you use your smart phone and never take your phone to bed with you as one of my clients, a well-known barrister, would do.  He actually slept with the phone switched on and tucked into his pyjama pocket. He had chronic insomnia and problems with alcohol which stemmed from his use of alcohol to help him get to sleep

Allow yourself at least 60mins technology free time before you go to bed to 'unload' the working memory before your head hits the pillow. This means not checking email or social networking before bedtime.   Never fall asleep with your laptop, iPad or smart phone switched on beside you. These measures will dramatically improve the quality of your sleep - you will need less REM (dreaming and information processing) sleep and have access to more nourishing, deep sleep.

Take regular breaks throughout the day and roughly on a 90-minute cycle. Get up stretch and go and talk to someone, eat something, focus your eyes on a different plane.  If you find this difficult to remember to do then set a timer or use a visual cue to remind you to take a break.

When you are on your laptop or smart phone avoid slumping over your desk or into the sofa. Pay attention to your posture, put both feet on the ground, breathe from your belly.

Research from chronobiology show that people who take lunch breaks - at least a 20min break away from technology - score higher on cognitive performance.

Take time to nurture real relationships that are free of technology - this means face to face contact or actually speaking over the phone. Human beings have evolved with a whole layer of the brain which differentiates us from other animals.  This layer is called the 'neocortex' and it is used for social engagement and forming relationships. It's where our 'emotional intelligence' comes from. Research is starting to show that people who merely interact by social networking are actually adversely changing the structure of these areas of the brain.

With instant access to information we seem to have lost the art of daydreaming. The daydreaming process is vital to the creativity process as well as reordering the working memory and rebalancing our energy levels.

Decide on the rules of how you are going to use the technology on holiday. Will you take your BlackBerry with you? Will your check your messages? If so, can you set a time to do this and stick to it so that it doesn't end up spilling over into your break.

Turn off your phone or laptop 15 to 20 minutes before you get home and use the time to daydream or think about what you are looking forward to when you get home.  Again this helps to empty the working memory and creates a vital transition between work and home so that you are able to really engage and be present to what is really important in your life.