Apple has an amazing new innovation: a staircase.
(Actually even those stairs are actually fairly complex, being made out of several large panes of glass and steel. The design is so novel it is actually patented.)
That's right - the full side panels of the staircase are made from one large piece (actually five, sandwiched together) of toughened, zig-zag glass - which is reportedly unheard of in architectural circles.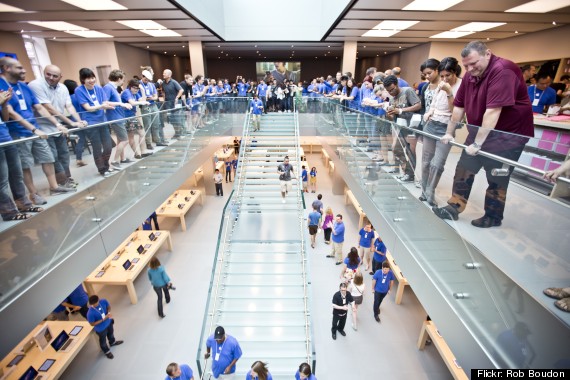 Apple is well known for innovating with glass - and not just on its iPhones. It recently opened a store in New York with a glass roof and walls, and its iconic 'cube' store, also in New York near Central Park, features 32-foot high glass panels.
Unfortunately not everyone is happy with Apple's innovative stairs. According to The Register, the Women's Affairs Committee in Hong Kong recently listed the Apple store as a blackspot for voyeurs.
According to the pro-Beijing committee, it's possible to use the glass stairs to try and see up ladies skirts, despite the fact that the glass is opaque.
SUBSCRIBE TO & FOLLOW UK TECH