Dressed casually in bermuda shorts, the person in this CCTV image looks just like any other tourist - but in fact is suspected of carrying out a horrifying suicide attack on Israeli holidaymakers at Burgas airport in Bulgaria, according to the country's interior minister, Tsvetan Tsvetanov.
The devastating blast left at least seven dead, including the suspected bomber, 34 injured and three buses completely burnt out.
Tsvetanov told reporters: "We have established there was a person who was a suicide bomber in this attack. This person had a fake driving licence from the United States, from the state of Michigan. An unidentified injured Israeli tourist is carried in front of Borgas hospital
"He looked like anyone else – a normal person with Bermuda shorts and a backpack."
Bulgarian officials say that six Israeli tourists died in the explosion, along with the suspected bomber and Bulgarian bus driver, while the Israeli government has said that five Israeli tourists were killed.
Reuters reported that Benjamin Netanyahu has blamed Iran for the attack, and the Israeli Prime Minister has promised a reaction.
In a statement Netanyahu said: "All the signs lead to Iran. Only in the past few months we have seen Iranian attempts to attack Israelis in Thailand, India, Georgia, Kenya, Cyprus and other places."
He added: "Eighteen years exactly after the blast at the Jewish community centre in Argentina, murderous Iranian terror continues to hit innocent people. This is an Iranian terror attack that is spreading throughout the entire world. Israel will react powerfully against Iranian terror."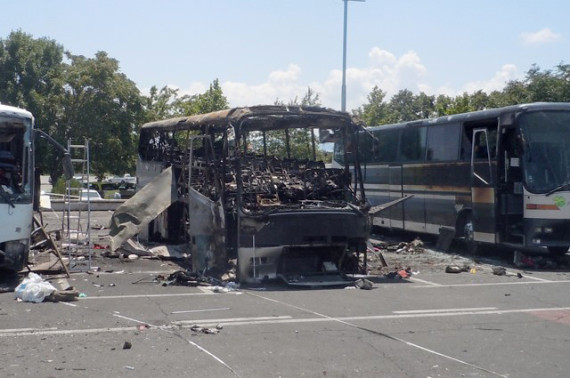 Wreckage: The bomb burnt out the buses
The targeted vehicle was one of three or four that had been assigned to ferry around 150 Israeli tourists to their hotel, an Israeli Embassy spokesman told the Huffington Post UK. The tourists had flown in from Israel on a charter flight.
Witnesses report that the explosion occurred at the front of one of the buses, leaving a scene of absolute carnage.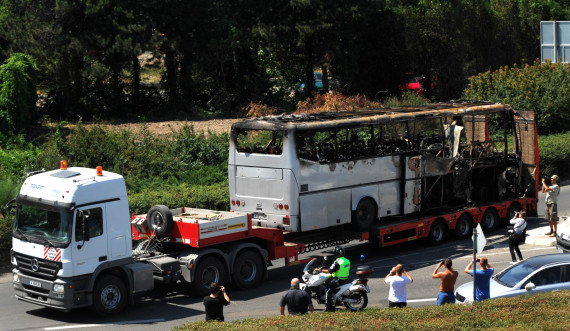 One of the buses is taken away to be examined
Bulgarian journalist Dobromir Dovkacharov told the BBC: "I saw three buses completely burnt out - just the metal bars were left.
"There were crowds of people around, very distressed. One man said he saw decapitated heads. Others spoke of body parts flying through the air."
Speaking on Wednesday evening, Foreign Secretary William Hague condemn the attack.
"The full tragedy of the attacks is not yet clear, but I would like to express my condolences to the friends and family of those injured and killed," he said.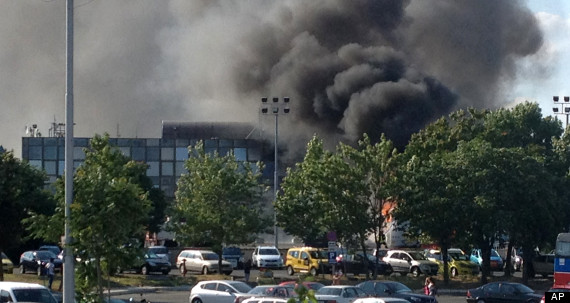 Smoke could be seen billowing in the aftermath of the explosion