A new mobile phone app, which allows users to have images of their suspicious moles, spots and skin lesions analysed via a step-by-step skin self-exam, has been developed.
Not only do our phones double up as an alarm, camera and organiser – it can also serve as your personal, on-the-go e-doctor.
Cancer screening just went mobile.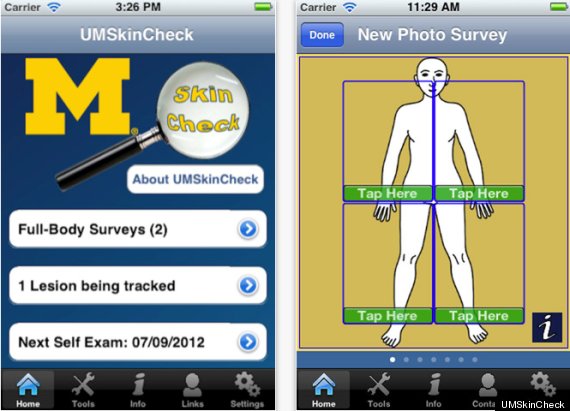 Mobile phone app that helps 'detect' skin cancer signs
The UMSkinCheck app, created by scientists from the University of Michigan Health System, guides users through a series of 23 photos, covering the body from head to toe.
Photos are stored within the app and serve as a baseline for future comparisons.
The app then sends automatic reminders so users can monitor changes to the skin over time and encourages them to repeat a skin self-exam on a regular basis.
If a mole appears to be changing or growing, the photos can then be shared with a dermatologist to help determine whether a biopsy is necessary.
"Whole body photography is a well-established resource for following patients at risk for melanoma. However, it requires a professional photographer, is not always covered by insurance, and can be an inconvenience," explains professor Michael Sabel. who helped create the app, said in a statement.
"Now that many people have digital cameras on their phones, it's more feasible to do this at home."
And if the warning sign indicator isn't enough, the app also calculates your individual cancer risk using personal data input.
Intrigued? Download the app here on iTunes.
Skin Cancer Breakthroughs
Aspirin may protect women from the most dangerous form of skin cancer, research has shown. The longer a woman takes the painkiller, the lower the risk of melanoma, scientists discovered. Read more here.

Taking daily vitamin A supplements could protect against deadly melanoma skin cancer, scientists claim. According to researchers from the Kaiser Permanente Northern California Division of Research, a compound found in vitamin A, (Retinol), is vital for protecting against skin cancer. Read the full story here.

A twice-daily skin cancer drug almost doubles the survival times of advanced cancer patients, American scientists have discovered. Researchers from the Jonsson Cancer Center at the University of California, found that advanced melanoma cancer sufferers lived on average of 16 months after receiving the vemurafenib drug. Read the full story here.

Italian scientists have discovered a new, non-surgical skin cancer treatment using radioactive 'paint' which could save up to 3,000 lives a year - and can be done in as little as two hours. Read the full story here.

A cancer charity has warned that four in 10 young people under the age of 25 are being 'encouraged' to use sunbeds by their friends. The Cancer Research UK discovered that 26% of 18 to 24-year olds have been given the push to use sunbeds by friends or a family member when using it for the first time. Read the full story here.

A tablet costing a mere five pence a day could be the key to stopping deadly cancer tumours developing, recent research published in the Cancer Epidemiology, Biomarkers & Prevention has found. Scientists from Ohio State University and Aarhus University Hospital in Denmark looked at the records of 4,000 people battling severe forms of cancer. Read the full story here.

Scientists have said an "encouraging" discovery has been made in the fight against the most dangerous form of skin cancer. A team from the Beatson Institute for Cancer Research in Glasgow said it has proved that a specific gene, P-Rex1, must be present before malignant melanoma can spread in a patient. Read the full story here.

Millions of women are putting their lives at risk because of a mistaken belief that a spray tan will protect them from the sun's harmful rays. One in six women believe that fake tan acts like a sunscreen while nearly half think their foundation and make-up provides them with UV protection. Read the full story here.