We're all at it. Recording and uploading the minutiae of our lives for everyone to see. Posting pictures of treasured pets, carefully tended gardens or the odd sunset. After all, they're snapshots of reality – as we know it.
UPDATE: Rich Kids Of Instagram, Annabel Schwartz Calls Tumblr Account 'Very Embarrassing'
So spare a thought for those for whom reality is an endless whirl of private jets, champagne and haute couture.
Yes, the inhabitants of such lofty societal echelons are as entitled as we are to broadcast their every thought and experience, and we really shouldn't hold it against them.
Scroll down for more pictures of Instagram excess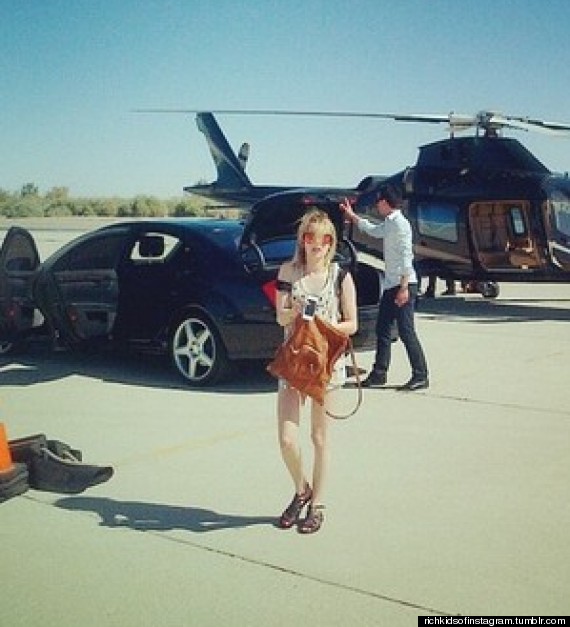 Tripping along the tarmac: A young woman disembarks from her private helicopter
If Paris Hilton's little brother Barron wants to chronicle a stroll across a deserted beach with a beautiful bikini-clad blonde, or if Tiffany Trump wants to provide pictorial evidence of her LA - NY journey via the family's private jet, all power to them.
Should you tire of searching for such naked displays of wealth and privilege, one site has helpfully collated this lifestyle niche – naming it Rich Kids Of Instagram.
Framing each "look at me " snap in an ornate gold border, the site offers the simple explanation: "They have more money than you and this is what they do."
Quite.
@annabellewallis WOOOOOOO by chloebartoli

#drake deserves it....#xiv by lbddd

by michaelavedon

by christycham

Thank god our best friend is wearing a seatbelt by christycham

suite bosses by bigappleboy

All black everything by chloebartoli

@miamoretti privé by jloganhorne

Done by alanshekhter

A walk on the beach ☀ by barronhilton

Breakfast in bed by nickhissom

#hamptons #saveme by adwarren

#fatitalian eating #burgerking and #champagne by zackissilly

@berenicebriet @peter_brantii by alexassouline

by alexassouline

Round 2 of @biancearielle by chelsealeyland

@peter_brantii by alexassouline http://instagr.am/p/MoFqLJyfiY/

Cigs on the spinny thing by matthewmorton

LA ✈ NY by tiffanytrump

Because sitting in a car hungover just took too much effort #sttropez #welcometosttropez @annabelschwartz @j_moshy @szaitz #cora by adwarren

Best birthday present ever. Best friend ever @djtheory #sundayfunday by evanpow

by jaybi_

Coming back from Vegas with a souvenir #domrose #privatejet by pburrows

En route ✈✈✈ East Hampton @matthewmorton by sshayan

Enjoying a spiced Orange Smash & waiting for unveiling of new Futura Hennessy bottle by arrestedmotion

My man @EliMizrahi swagger out in Tom Ford by genevieve_jones

Off the bricks and badder than ever, I present, Goldie Barracuda by nat_sap

Sunday BBQ @davidalagem by dwanngg

Treading in the divots at half time. With champers in hand, of course. by cocorocha

Tubing battles @annabelschwartz @tonylobel @tmateen @g_mort #PMO in the back by matthewmorton

We're off ⛵☀😊 @emmagray26 @aschirr by abe_linken93

Welcome to St. Tropez by annabelschwartz

#metball #bradbradworld by bradleygpeltz

Chilling in WASP-land AKA Greenwich CT haha #prep by peter_brantii

Dinner time by bradleygpeltz

Finals done right. #thehomies by jfar5

Summer #rkoi #newyork #summer #manhattan #hamptons #party #estate #house #seattle #sweden by plengier

Love my new ride!!!