An Oldham couple convicted of planning a terror attack in the Jewish neighbourhood of Manchester have been pictured for the first time, along with their bomb-making paraphernalia.
Shasta Khan, 38, and her husband, Mohammed Sajid Khan, 33, bought substances and equipment from supermarkets to assemble an improvised explosive device, pictures of which have now been released.
The couple are pictured smiling together on a boat, while the Greater Manchester Police also released pictures of various wires they said could be used to make an explosive device.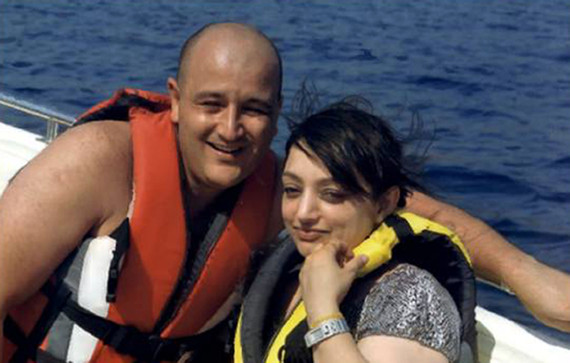 Convicted: Mohammed Sajid Khan and Shasta Khan
British-born Muslim Shasta Khan was convicted by a majority ruling of 11-1 on the main charge of preparing for acts of terrorism.
Police found a cache of terror-related material after being called to a domestic dispute at the couple's home in Oldham, Greater Manchester, last July.
Beheading videos, propaganda glorifying Osama bin Laden and bomb-making guides were seized along with peroxide and bleach, used by Shasta Khan in her hairdressing work, which together with electrical equipment were being readied to make a bomb.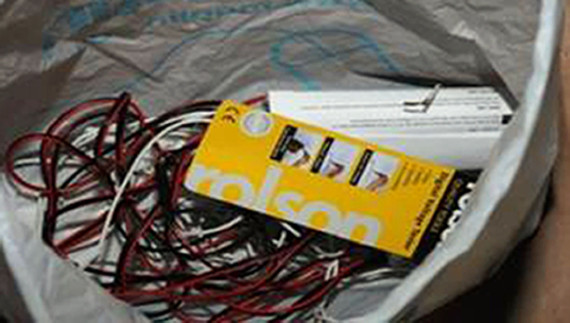 Evidence: Wiring that could be used to make bombs, found at the couple's house
Chemicals used in Mrs Khan's work, such as bleach, acetone and peroxide liquid, were also capable of being transformed into the ingredients of explosives along with other household items such as salt and sugar.
Ground-up fire lighters, safety goggles, a funnel, needles and syringes were also part of the paraphernalia which could be used to make a home-made bomb, the court heard.
The jury was told that one of the most significant finds was the contents of a plastic bag from the electrical shop Maplins.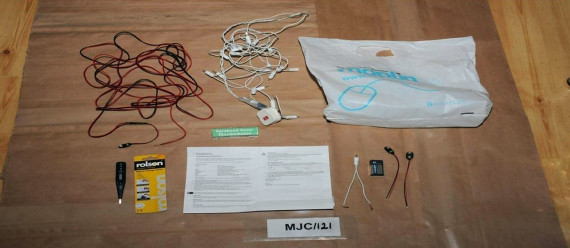 The equipment found was mentioned in a terror-handbook article about bomb-making
Inside were electrical wires, Christmas tree lights, bulbs and a battery.
An article from an al Qaida magazine entitled Make a bomb in the kitchen of your Mom offered a step-by-step guide, from how to get ingredients without raising suspicion, to building a bomb, incorporating the use of Christmas lights.
A satnav from her Peugeot 305 vehicle showed they had been on multiple trips to Jewish populated areas around Manchester, looking for targets to attack.
The jury was told that IED ingredients listed in the guide matched the items found at the defendant's home.
A jury at Manchester Crown Court found Shasta Khan guilty of engaging in conduct in preparation for acts of terrorism and two counts of possessing information useful for committing or preparing for an act of terrorism. She was cleared of a third count of the latter charge.
Her husband pleaded guilty at an earlier hearing to engaging in conduct in preparation for acts of terrorism Both will be sentenced at 2pm tomorrow.