A 64-year-old man was found guilty on Friday of murdering a teenager in 1966.
David Burgess, of Beenham, Berkshire, killed nanny Yolande Waddington, 17, days after she arrived in the village.
The jury at Reading Crown Court returned a majority verdict of 11 to one. Burgess was previously convicted of murdering two nine-year-old girls in the same village in 1967.
Yolande was last seen alive at the Six Bells pub on the evening of Friday October 28 1966. At 10pm that night, she walked from the home where she was working as a nanny into the village to post a letter to her boyfriend.
While there, she went into the pub to buy some Players No 6 cigarettes but did not stay for a drink. It was the last time anyone saw her alive and her naked body was found in a ditch beside an isolated farmer's barn, in an area frequented by "courting couples" two days later, prosecutor John Price QC said during the trial, which began last month.
A bloodstained beige jumper believed to have belonged to Yolande was found in the barn. She had suffered two stab wounds to her chest and back but they did not cause her death.
The sweater also contained bloodstains from a different person, which led police to take blood samples from every male inhabitant aged between 15 and 50 in the village in one of the earliest examples of scientific screening in an investigation, Mr Price said.
They took more than 200 specimens in late 1966 and early 1967. Four men were found to have blood types that matched the blood at the scene, including Burgess's brother John, but other evidence excluded them as suspects.
Burgess's blood matched that at the scene in three out of the four aspects tested but it was not a complete match. The investigation began to wind down in early 1967 but was never closed.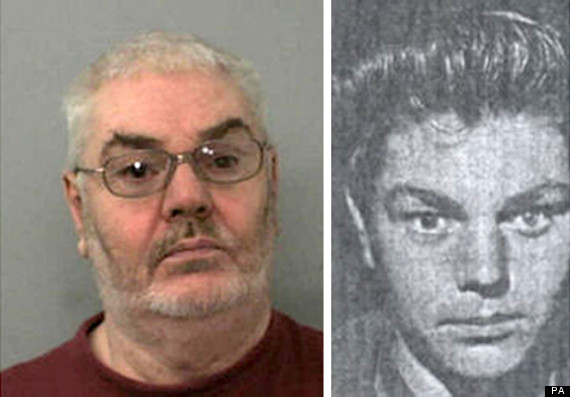 Police photo of David Burgess, 65, who has been found guilty of murdering Yolande Waddington in 1966
Burgess confessed to the murder while in jail, but told police officers during an interview in December 1969 that they would have to prove that he had done so.
He was finally arrested on November 15 last year and charged the following day after DNA samples taken from items found at the murder scene matched his genetic profile.
There was a smaller than one in a billion chance that the DNA belonged to someone other than Burgess, the trial heard.
Burgess will be sentenced at a later date.
Superintendent Barry Halliday, the senior investigating officer on the case, said: "We hope that this conviction will bring some comfort after all these years to the Waddington family.
"Although they now have the knowledge that the person who killed Yolande is being punished for his despicable crime, they have still lost a much loved daughter and sister and my thoughts remain with them.
"My thoughts are also with the families of Jeanette Wigmore and Jacqueline Williams, the two nine-year-old girls who Burgess murdered in 1967, as this case has inevitably brought this tragedy back into the public arena.
"They have shown continued bravery and support for the police investigation."