It's good to know that if their music career ever dries up for One Direction (let's not even THINK about that) they'll always have a back-up career.
The boys demonstrated their skills as flight attendants over the weekend, making the most handsome trolley dollies we've ever clapped eyes on. Zayn, Harry, Louis, Niall and Liam tended to a bunch of competition winners aboard a British Airways flight to raise money for Comic Relief.
The boys pulled their best 'Anything from the trolley madam?' poses as they worked the cabin on the special flight - nicknamed BA1D - from London to Manchester.
One Direction turn flight attendants
Loius and Liam were on drinks duties, while that scamp Harry busied himself by making announcements on the plane's tannoy system. No jokes about him wanting to join the mile high club please.
The band have helped to raise £50,000 as part of the airline's charity partnership with Comic Relief. The boys later performed at the Echo Arena in Liverpool, where Harry was left less than impressed by the items left in his dressing room - a set of colouring books and pens.
"I know we're young but I feel like colouring books in the dressing room is a little far," he tweeted.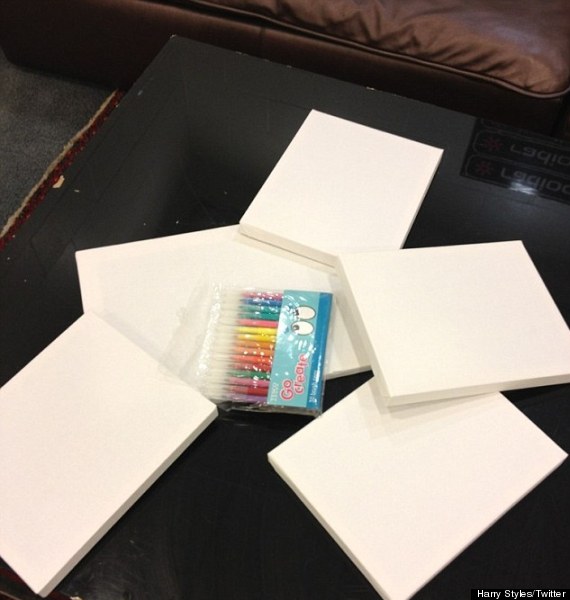 Meanwhile things got a bit hairy for Louis as he got his barnet coiffed ahead of the performance.
Harry tweeted a snap of him looking just a little terrified as he had his fringe tended to by a stylist.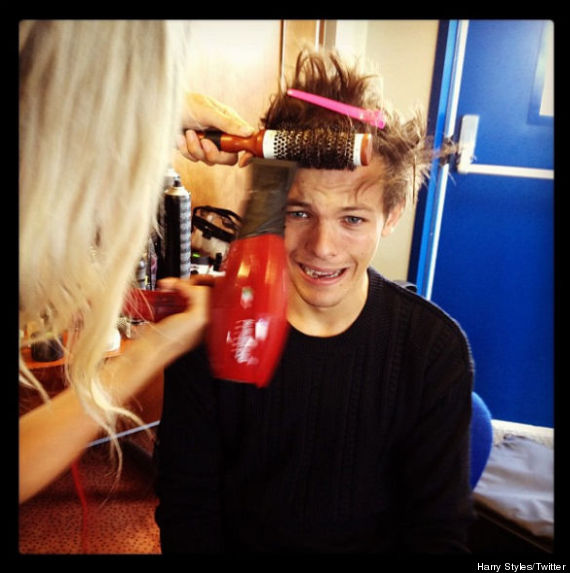 Errrr, beautiful as ever Louis...
He's recently been forced to hit back at gay rumours about his and Harry's friendship.
Louis went on an online rant, asking fans to stop making jokes that he and Harry are in a relationship, as it is making things difficult between him and girlfriend Eleanor Calder.
"This is a subject that was funny at first but now is actually hard to deal with, as I am in a relationship"
"Me and Harry are best friends. People look into our every move - it is actually affecting the way me and Harry are in public."
"We want to joke around, but there seems to be a different rumour every time we do anything. I act the same way with Harry as I do any of the other boys."
He added: "I'm a one-woman man with Eleanor. I'm a very loyal boyfriend."
That's us told, then.
> IN PICS: ONE DIRECTION'S ROAD TO WORLD DOMINATION
One Direction's Road To World Domination