A woman whose husband was critically injured in the Aurora shooting last week has given birth to the couple's first baby.
Katie Medley, 21, was with husband Caleb Medley, 23, when a masked gunman strode into a Colorado cinema and began firing during a midnight screening of The Dark Knight Rises.
Mr Medley was shot in the head, while his heavily-pregnant wife escaped injury.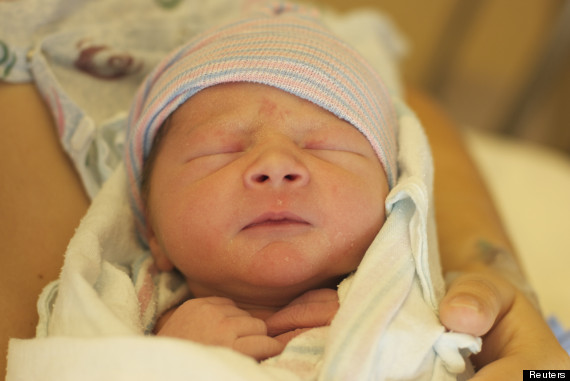 Baby Hugo was born in the same hospital where his father lies in a coma
On Tuesday, Mrs Medley gave birth to baby Hugo at University of Colorado Hospital in Aurora, the same hospital where his father remains unconscious.
Mr Medley is in a medically-induced coma but his brother, Seth, told the Telegraph he had responded to the presence of the child by "moving his hand toward the baby, trying to feel his son."
James Holmes, the man suspected of carrying out the attack which killed 12 and wounded 58, appeared in court on Monday for an arraignment hearing.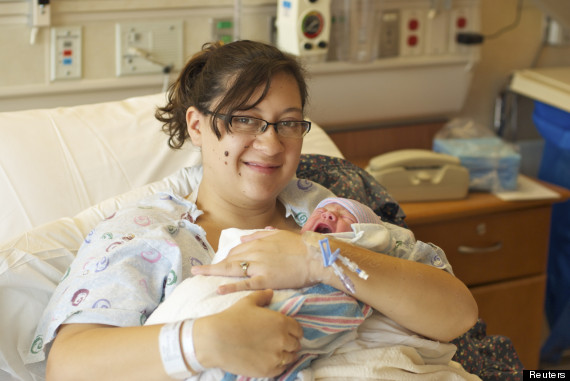 Katie Medley with her newborn son
Sporting dyed orange hair, he appeared somewhat dazed, occasionally nodding his head and rolling his eyes. He is expected to face at least 12 charges of first degree murder.
No bail was granted and formal charges will be filed against him on Monday.
On Tuesday actor Christian Bale, who appears in all three of Christopher Nolan's Batman films, visited injured victims in hospital.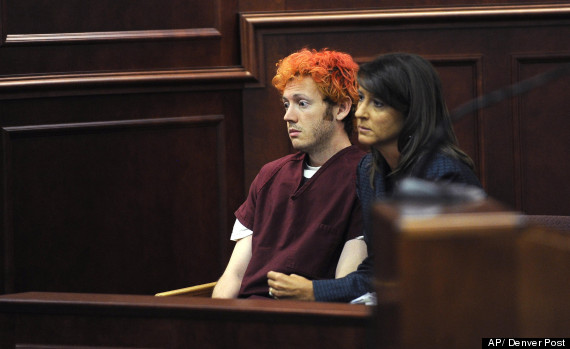 James Holmes appeared in court on Monday suspected of murdering 12 people
Scroll down for more pictures

READ MORE:

Loading Slideshow
Tom Sullivan , holds a photograph of his son, Alex Sullivan, as he pleads with the media to help him find his son, outside Gateway High School on Friday, July 20, 2012 in Aurora, Colo. Alex Sullivan, was celebrating his 27th birthday by attending midnight premiere of the Batman movie Friday night. A gunman wearing a gas mask set off an unknown gas and fired into the crowded movie theater killing 12 people and injuring at least 50 others, authorities said. (Photo credit: AP Photo/Barry Gutierrez)

A woman cries outside Gateway High School where witness were brought for questioning after a gunman opened fire at a midnight premiere of The Dark Knight Rises Batman movie Friday, July 20, 2012 in Aurora, Colo. A gunman wearing a gas mask set off an unknown gas and fired into the crowded movie theater killing 12 people and injuring at least 50 others, authorities said. (Photo credit: AP Photo/Barry Gutierrez)

Tom Sullivan, center, embraces family members outside Gateway High School where he has been searching frantically for his son Alex Sullivan who celebrated his 27th birthday by going to see "The Dark Knight Rises," movie where a gunman opened fire Friday, July 20, 2012, in Aurora, Colo. (Photo credit: AP Photo/Barry Gutierrez)

Eyewitness Chandler Brannon, 25, sits outside Gateway High School where witnesses were brought for questioning after a shooting at a movie theater showing the Batman movie "The Dark Knight Rises," Friday, July 20, 2012 in Aurora. A gunman wearing a gas mask set off an unknown gas and fired into the crowded movie theater killing 12 people and injuring at least 50 others, authorities said. (Photo credit: AP Photo/Barry Gutierrez)

A small group prays outside Gateway High School where witness were brought for questioning Friday, July 20, 2012 in Aurora, Colo. A gunman wearing a gas mask set off an unknown gas and fired into the crowded movie theater killing 12 people and injuring at least 50 others, authorities said. (Photo credit: AP Photo/Barry Gutierrez)

Family and friends wait outside Gateway High School where witnesses were brought for questioning after a shooting at a movie theater showing the Batman movie "The Dark Knight Rises," Friday, July 20, 2012 in Aurora, Colo. A gunman wearing a gas mask set off an unknown gas and fired into the crowded movie theater killing 12 people and injuring at least 50 others, authorities said. (Photo credit: AP Photo/Barry Gutierrez)

Eyewitness Jacob Stevens, 18, hugs his mother Tammi Stevens after being interview by police outside Gateway High School where witnesses were brought for questioning Friday, July 20, 2012 in Aurora, Colo. A gunman wearing a gas mask set off an unknown gas and fired into the crowded movie theater killing 12 people and injuring at least 50 others, authorities said. (Photo credit: AP Photo/Barry Gutierrez)

Eyewitness Isaiah Bow hugs his mother Shamecca Davis after being questioned by police outside Gateway High School where witnesses were brought in, Friday, July 20, 2012 in Aurora, Colo. After leaving the theater Bow went back in to find his girlfriend. "I didn't want to leave her in there. But she's ok now," Bow said. A gunman wearing a gas mask set off an unknown gas and fired into the crowded movie theater killing 12 people and injuring at least 50 others, authorities said. (Photo credit: AP Photo/Barry Gutierrez)

Emma Goos, 19, hugs her mother, Judy Goos, outside Gateway High School where witnesses were brought for questioning Friday, July 20, 2012, in Aurora, Colo. Emma was in the third row of the theater of the new Batman movie when the shooter entered. She helped apply pressure to a man's head who was injured. (Photo credit: AP Photo/Barry Gutierrez)

Police cars in front of the Century 16 theater in Aurora, Colorado where a gunman opened fire during the opening of the new Batman movie "The Dark Knight Rises" killing at least 15 people and wounding 50 others on the morning of July 20, 2012. The shooting suspect in custody after at least 12 people were shot dead and around 50 were wounded at a movie screening in the United States has been identified as 24-year-old James Holmes, US media said Friday. Television networks cited the FBI as saying that Holmes, from the town of Aurora, Colorado, scene of the midnight shooting at a screening of the Batman movie "The Dark Knight Rises," did not appear to have any known terrorism connections. (Photo credit: AFP PHOTO/JONATHAN CASTNER JONATHAN CASTNER/AFP/GettyImages)

Police tape cordons off the parking area around the Century 16 movie theater in Aurora, Colorado, July 20, 2012 where a gunman opened fire during the showing of the new Batman movie. At least 12 people were killed and around 50 wounded in the cinema shooting. (Photo credit: AFP PHOTO JONATHAN CASTNERJONATHAN CASTNER/AFP/GettyImages)

Police cars in front of the Century 16 theater in Aurora, Colorado where a gunman opened fire during the opening of the new Batman movie "The Dark Knight Rises" killing at least 15 people and wounding 50 others on the morning of July 20, 2012. The shooting suspect in custody after at least 12 people were shot dead and around 40 were wounded at a movie screening in the United States has been identified as 24-year-old James Holmes, US media said Friday. Television networks cited the FBI as saying that Holmes, from the town of Aurora, Colorado, scene of the midnight shooting at a screening of the Batman movie "The Dark Knight Rises," did not appear to have any known terrorism connections. (Photo credit: AFP PHOTO/JONATHAN CASTNERJONATHAN CASTNER/AFP/GettyImages)

Police cars in front of the Century 16 theater in Aurora, Colorado where a gunman opened fire during the opening of the new Batman movie "The Dark Knight Rises" killing at least 15 people and wounding 50 others on the morning of July 20, 2012. The shooting suspect in custody after at least 12 people were shot dead and around 50 were wounded at a movie screening in the United States has been identified as 24-year-old James Holmes, US media said Friday. Television networks cited the FBI as saying that Holmes, from the town of Aurora, Colorado, scene of the midnight shooting at a screening of the Batman movie "The Dark Knight Rises," did not appear to have any known terrorism connections. (Photo credit: AFP PHOTO/JONATHAN CASTNERJONATHAN CASTNER/AFP/GettyImages)

Police cars are seen in the parking area around the Century 16 movie theater in Aurora, Colorado, July 20, 2012 where a gunman opened fire during the showing of the new Batman movie. At least 12 people were killed and around 50 wounded in the cinema shooting. (Photo credit: AFP PHOTO JONATHAN CASTNERJONATHAN CASTNER/AFP/GettyImages)

Police use a video camera to look inside an apartment where the suspect in a shooting at a movie theatre lived in Aurora, Colo., Friday, July 20, 2012. As many as 12 people were killed and 50 injured at a shooting at the Century 16 movie theatre early Friday during the showing of the latest Batman movie. (Photo credit: AP Photo/Ed Andrieski)

Police break out a window of an apartment where the suspect in a shooting at a movie theatre lived in Aurora, Colo., Friday, July 20, 2012. As many as 12 people were killed and 50 injured at a shooting at the Century 16 movie theatre early Friday during the showing of the latest Batman movie. (Photo credit: AP Photo/Ed Andrieski)

Shamecca Davis hugs her son Isaiah Bow, who was an eye witness to the shooting, outside Gateway High School where witness were brought for questioning Friday, July 20, 2012 in Denver. After leaving the theater Bow went back in to find his girlfriend. " I didn't want to leave her in there. But she's ok now," Bow said. A gunman wearing a gas mask set off an unknown gas and fired into a crowded movie theater at a midnight opening of the Batman movie "The Dark Knight Rises," killing at least 12 people and injuring at least 50 others, authorities said. (Photo credit: AP Photo/Barry Gutierrez)

Judy Goos, second from left, hugs her daughters friend, Isaiah Bow, 20, while eye witnesses Emma Goos, 19, left, and Terrell Wallin, 20, right, gather outside Gateway High School where witness were brought for questioning Friday, July 20, 2012 in Denver. A gunman wearing a gas mask set off an unknown gas and fired into a crowded movie theater at a midnight opening of the Batman movie "The Dark Knight Rises," killing at least 12 people and injuring at least 50 others, authorities said. (Photo credit: AP Photo/Barry Gutierrez)

A SWAT team officer stands watch near an apartment house where the suspect in a shooting at a movie theatre lived in Aurora, Colo., Friday, July 20, 2012. As many as 14 people were killed and 50 injured at a shooting at the Century 16 movie theatre early Friday during the showing of the latest Batman movie. (Photo credit: AP Photo/Ed Andrieski)

Police gather near an apartment house where the suspect in a shooting at a movie theatre lived in Aurora, Colo., Friday, July 20, 2012. As many as 12 people were killed and 50 injured at a shooting at the Century 16 movie theatre early Friday during the showing of the latest Batman movie. (Photo credit: AP Photo/Ed Andrieski)

A SWAT team officer stands watch near an apartment house where the suspect in a shooting at a movie theatre lived in Aurora, Colo., Friday, July 20, 2012. As many as 12 people were killed and 50 injured at a shooting at the Century 16 movie theatre early Friday during the showing of the latest Batman movie. (Photo credit: AP Photo/Ed Andrieski)

Jacob Stevens, 18, hugs his mother Tammi Stevens after being interview by police outside Gateway High School where witness were brought for questioning after a shooting at a movie theater, Friday, July 20, 2012 in Denver. A gunman wearing a gas mask set off an unknown gas and fired into a crowded movie theater at a midnight opening of the Batman movie "The Dark Knight Rises," killing at least 12 people and injuring at least 50 others, authorities said. (Photo credit: AP Photo/Barry Gutierrez)

(Credit: Sky News)

(Credit: Sky News)

(Credit: Sky News)

(Credit: Sky News)

Police are pictured outside of a Century 16 movie theatre where as many as 12 people were killed and many injured at a shooting during the showing of a movie at the in Aurora, Colo., Friday, July 20, 2012. (Photo credit: AP Photo/Ed Andrieski)

Police are pictured outside of a Century 16 movie theatre where as many as 12 people were killed and many injured at a shooting during the showing of a movie at the in Aurora, Colo., Friday, July 20, 2012. (Photo credit: AP Photo/Ed Andrieski)

Aurora Police Chief Daniel Oates talks to media at Aurora Mall where as many as 12 people were killed and many injured at a shooting at the Century 16 movie theatre in Aurora, Colo., Friday, July 20, 2012. (Photo credit: AP Photo/Ed Andrieski)

Aurora Police Chief Daniel Oates talks to media at the Aurora Mall where as many as 14 people were killed and many injured at a shooting at the Century 16 movie theatre in Aurora, Colo., Friday, July 20, 2012. (Photo credit: AP Photo/Ed Andrieski)

Police are pictured outside of a Century 16 movie theatre where as many as 12 people were killed and many injured at a shooting during the showing of a movie at the in Aurora, Colo., Friday, July 20, 2012. (Photo credit: AP Photo/Ed Andrieski)

Police are pictured outside of a Century 16 movie theatre where as many as 12 people were killed and many injured at a shooting during the showing of a movie at the in Aurora, Colo., Friday, July 20, 2012. (Photo credit: AP Photo/Ed Andrieski)

People gather outside the Century 16 movie theatre in Aurora, Colo., at the scene of a mass shooting early Friday morning, July 20, 2012. Police Chief Dan Oates says 12 people are dead following the shooting at the suburban Denver movie theater. He says 50 others were injured when gunfire erupted early Friday at the Aurora theater. Oates says a gunman appeared at the front of one of the Century 16 theaters. <em>Photo Credit: Karl Gehring, <a href="http://www.huffingtonpost.com/news/exposure/" target="_hplink">Denver Post</a>. </em> / AP

(Photo credit: 7NewsMorning/Twitter)

(Photo credit: 7NewsMorning/Twitter)

(Photo credit: Faunte Thompson/Twitter)

(Photo credit: 7NewsMorning/Twitter)

(Photo credit: Brandon Rittiman/Twitter)

(Photo credit: 7NewsMorning/Twitter)

(Photo credit: Jakeob Bame/Twitter)
Loading Slideshow
James Holmes makes his first court appearance at the Arapahoe County on July 23, 2012 in Centennial, Colorado. According to police, Holmes killed 12 people and injured 58 others during a shooting rampage at an opening night screening of "The Dark Knight Rises" July 20, in Aurora, Colorado. (Photo by RJ Sangosti-Pool/Getty Images)

James Holmes makes his first court appearance at the Arapahoe County on July 23, 2012 in Centennial, Colorado. According to police, Holmes killed 12 people and injured 58 others during a shooting rampage at an opening night screening of "The Dark Knight Rises" July 20, in Aurora, Colorado. (Photo by RJ Sangosti-Pool/Getty Images)

Carol Chambers

Carol Chambers, Arapahoe County District Attorney, arrives at the county courthouse, Monday, July 23, 2012, in Centennial, Colo., the day of the first court appearance of James E. Holmes, who is being held on suspicion of first-degree murder, and who could also face additional counts of aggravated assault and weapons violations, stemming from a mass shooting last Friday in a movie theater in Aurora, Colo., that killed 12 and injured dozens of others. (AP Photo/Ted S. Warren)

First Court Hearing Held For Alleged CO Movie Theater Shooter

Members of the news media wait for the arrival of family members of the victims of last Friday's movie theater mass shooting arrive at the Arapahoe County Courthouse for James Holmes' first court appearance July 23, 2012 in Centennial, Colorado. According to Aurora, Colorado, police, Holmes killed 12 people and injured 58 others during a shooting rampage at an opening night screening of 'The Dark Knight Rises.' (Photo by Kevork Djansezian/Getty Images)

First Court Hearing Held For Alleged CO Movie Theater Shooter

Families members and friends of the victims of last Friday's movie theater mass shooting arrive at the Arapahoe County Courthouse for James Holmes' first court appearance July 23, 2012 in Centennial, Colorado. According to Aurora, Colorado, police, Holmes killed 12 people and injured 58 others during a shooting rampage at an opening night screening of 'The Dark Knight Rises.' (Photo by Kevork Djansezian/Getty Images)

First Court Hearing Held For Alleged CO Movie Theater Shooter

People stand near a cart full of paperwork labeled for the courtroom at Arapahoe County Courthouse for James Holmes' first court appearance July 23, 2012 in Centennial, Colorado. According to Aurora, Colorado, police, Holmes killed 12 people and injured 58 others during a shooting rampage at an opening night screening of 'The Dark Knight Rises.' (Photo by Kevork Djansezian/Getty Images)

First Court Hearing Held For Alleged CO Movie Theater Shooter

Families members and friends of the victims of last Friday's movie theater mass shooting arrive at the Arapahoe County Courthouse for James Holmes' first court appearance July 23, 2012 in Centennial, Colorado. According to Aurora, Colorado, police, Holmes killed 12 people and injured 58 others during a shooting rampage at an opening night screening of 'The Dark Knight Rises.' (Photo by Kevork Djansezian/Getty Images)

First Court Hearing Held For Alleged CO Movie Theater Shooter

Families members of the victims of last Friday's movie theater mass shooting arrive at the Arapahoe County Courthouse for James Holmes' first court appearance July 23, 2012 in Centennial, Colorado. According to Aurora, Colorado, police, Holmes killed 12 people and injured 59 others during a shooting rampage at an opening night screening of 'The Dark Knight Rises.' (Photo by Chip Somodevilla/Getty Images)

First Court Hearing Held For Alleged CO Movie Theater Shooter

Families members and friends of the victims of last Friday's movie theater mass shooting arrive at the Arapahoe County Courthouse for James Holmes' first court appearance July 23, 2012 in Centennial, Colorado. According to Aurora, Colorado, police, Holmes killed 12 people and injured 58 others during a shooting rampage at an opening night screening of 'The Dark Knight Rises.' (Photo by Chip Somodevilla/Getty Images)

First Court Hearing Held For Alleged CO Movie Theater Shooter

Families members of the victims of last Friday's movie theater mass shooting arrive at the Arapahoe County Courthouse for James Holmes' first court appearance July 23, 2012 in Centennial, Colorado. According to Aurora, Colorado, police, Holmes killed 12 people and injured 58 others during a shooting rampage at an opening night screening of 'The Dark Knight Rises.' (Photo by Chip Somodevilla/Getty Images)

First Court Hearing Held For Alleged CO Movie Theater Shooter

Families members of the victims of last Friday's movie theater mass shooting arrive at the Arapahoe County Courthouse for James Holmes' first court appearance July 23, 2012 in Centennial, Colorado. According to Aurora, Colorado, police, Holmes killed 12 people and injured 58 others during a shooting rampage at an opening night screening of 'The Dark Knight Rises.' (Photo by Chip Somodevilla/Getty Images)

First Court Hearing Held For Alleged CO Movie Theater Shooter

Families members of the victims of last Friday's movie theater mass shooting arrive at the Arapahoe County Courthouse for James Holmes' first court appearance July 23, 2012 in Centennial, Colorado. According to Aurora, Colorado, police, Holmes killed 12 people and injured 58 others during a shooting rampage at an opening night screening of 'The Dark Knight Rises.' (Photo by Chip Somodevilla/Getty Images)

First Court Hearing Held For Alleged CO Movie Theater Shooter

Families members and friends of the victims of last Friday's movie theater mass shooting arrive at the Arapahoe County Courthouse for James Holmes' first court appearance July 23, 2012 in Centennial, Colorado. According to Aurora, Colorado, police, Holmes killed 12 people and injured 58 others during a shooting rampage at an opening night screening of 'The Dark Knight Rises.' (Photo by Chip Somodevilla/Getty Images)

First Court Hearing Held For Alleged CO Movie Theater Shooter

Families members and friends of the victims of last Friday's movie theater mass shooting arrive at the Arapahoe County Courthouse for James Holmes' first court appearance July 23, 2012 in Centennial, Colorado. According to Aurora, Colorado, police, Holmes killed 12 people and injured 58 others during a shooting rampage at an opening night screening of 'The Dark Knight Rises.' (Photo by Chip Somodevilla/Getty Images)

First Court Hearing Held For Alleged CO Movie Theater Shooter

Families members and friends of the victims of last Friday's movie theater mass shooting arrive at the Arapahoe County Courthouse for James Holmes' first court appearance July 23, 2012 in Centennial, Colorado. According to Aurora, Colorado, police, Holmes killed 12 people and injured 58 others during a shooting rampage at an opening night screening of 'The Dark Knight Rises.' (Photo by Chip Somodevilla/Getty Images)
Loading Slideshow
Blennes Quientana

Blennes Quientana writes a message on a cross at a memorial for the victims in the shooting across the street from the Century 16 movie theater in Aurora, Colo., Sunday, July 22, 2012. James Eagen Holmes has been charged in the shooting at the Aurora theater early Friday that killed twelve people and injured more than 50.He is scheduled to appear in court Monday morning. (AP Photo/Ed Andrieski)

Anne Marie Hochhalter, 30, bottom, and her friend Roxy Chesser, 30, second from right, attend a prayer vigil, held to remember the lost and injured in Friday's mass shooting at a movie theater, in a park outside the Aurora Municipal Center in Aurora, Colo., Sunday July 22, 2012. Hochhalter, a paralyzed victim of the Columbine High School tragedy over 12 years ago, and other survivors of the 1999 massacre reached out to people who survived the theater shooting. Twelve people were killed and dozens were injured in a shooting attack during a showing of the Batman movie, "The Dark Knight Rises." Police have identified the suspected shooter as James Holmes. (AP Photo/Barry Gutierrez)

Family members of the victims of Friday's mass shooting in Aurora, Colo., comfort each other, Sunday, July 22, 2012, in Aurora, Colo., during a prayer vigil for the victims. Twelve people were killed and dozens were injured in a shooting attack Friday at the packed theater during a showing of the Batman movie, "The Dark Knight Rises." Police have identified the suspected shooter as James Holmes, 24. (AP Photo/Ted S. Warren)

Family members of the victims of Friday's mass shooting in Aurora, Colo., comfort each other, Sunday, July 22, 2012, in Aurora, Colo., during a prayer vigil for the victims. Twelve people were killed and dozens were injured in a shooting attack Friday at the packed theater during a showing of the Batman movie, "The Dark Knight Rises." Police have identified the suspected shooter as James Holmes, 24. (AP Photo/Ted S. Warren)

A woman carries a wreath, Sunday, July 22, 2012, in Aurora, Colo., during a prayer vigil for the victims of Friday's mass shooting at a movie theater. Twelve people were killed and dozens were injured in a shooting attack Friday at the packed theater during a showing of the Batman movie, "The Dark Knight Rises." Police have identified the suspected shooter as James Holmes, 24. (AP Photo/Ted S. Warren)

A group of friends with various connections to the deceased and wounded gather at a prayer vigil outside the Aurora Municipal Center in Aurora, Colo., Sunday July 22, 2012. The vigil was held to remember the dead and injured in the shooting rampage Friday at movie theater in in Aurora. (AP Photo/Barry Gutierrez)

Erica Jones

A tearful Erica Jones writes a message on a cross dedicated to Alex Sullivan at a memorial for the victims across the street from the Century 16 movie theater in Aurora, Colo., Sunday, July 22, 2012. She was friends with Alex Sullivan who died while celebrating his 27th birthday at the movie. James Eagen Holmes has been charged in the shooting at the Aurora theater early Friday that killed twelve people and injured more than 50. He is scheduled to appear in court Monday morning. (AP Photo/Ed Andrieski)

Jovandy Juarez, Angelica Chacon-Valdez

Jovandy Juarez, left, and Angelica Chacon-Valdez visit a memorial for the victims in the shooting across the street from the Century 16 movie theater in Aurora, Colo., Sunday, July 22, 2012. James Eagen Holmes has been charged in the shooting at the Aurora theater early Friday that killed twelve people and injured more than 50. He is scheduled to appear in court Monday morning. (AP Photo/Ed Andrieski)

In this overview, the Living Hope Baptist Church choir sing to start the a vigil for the victims of Friday's mass shooting at a movie theater, Sunday, July 22, 2012, at the Aurora Municipal Center campus in Aurora, Colo. Twelve people were killed and dozens were injured in a shooting attack early Friday at the packed theater during a showing of the Batman movie, "The Dark Knight Rises." Police have identified the suspected shooter as James Holmes, 24. (AP Photo/The Denver Post, Joe Amon, Pool)

A woman carries a balloon that says "Missed by many, forgotten by none," as she walks to a memorial display, Sunday, July 22, 2012, in Aurora, Colo., during a prayer vigil for the victims of Friday's mass shooting at a movie theater. Twelve people were killed and dozens were injured in a shooting attack early Friday at the packed theater during a showing of the Batman movie, "The Dark Knight Rises." Police have identified the suspected shooter as James Holmes, 24. (AP Photo/Ted S. Warren)

U.S. Navy officers salute Sunday, July 22, 2012, in Aurora, Colo., after they left items at a memorial display at a prayer vigil for the victims of Friday's mass shooting at a movie theater. (AP Photo/Ted S. Warren)

A man holds his face in his hands in front of a memorial after a prayer vigil Sunday, July 22, 2012 in Aurora, Colo. Twelve people were killed and over 50 wounded in a shooting attack early Friday at the packed theater during a showing of the Batman movie, "The Dark Knight Rises." Police have identified the suspected shooter as James Holmes, 24. (AP Photo/Alex Brandon)
Loading Slideshow
Stills from the film

Loading Slideshow
Christian Bale as Bruce Wayne, left, and Anne Hathaway as Selina Kyle in a scene from the action thriller "The Dark Knight Rises." (Photo credit: AP Photo/Warner Bros. Pictures, Ron Phillips)

Christian Bale as Bruce Wayne, left, and Michael Caine as Alfred in a scene from the action thriller "The Dark Knight Rises." (Photo credit: AP Photo/Warner Bros. Pictures, Ron Phillips)

Christian Bale as Batman in a scene from the action thriller "The Dark Knight Rises." (Photo credit: AP Photo/Warner Bros. Pictures, Ron Phillips)

Joseph Gordon-Levitt as John Blake, left, and Gary Oldman as Commissioner Gordon in a scene from the action thriller "The Dark Knight Rises." (Photo credit: AP Photo/Warner Bros. Pictures, Ron Phillips)

Anne Hathaway as Catwoman in a scene from the action thriller "The Dark Knight Rises." (Photo credit: AP Photo/Warner Bros. Pictures, Ron Phillips)

Morgan Freeman as Lucius Fox, left, and Christian Bale as Bruce Wayne in a scene from the action thriller "The Dark Knight Rises." (Photo credit: AP Photo/Warner Bros. Pictures, Ron Phillips)

Tom Hardy as Bane in a scene from the action thriller "The Dark Knight Rises." (Photo credit: AP Photo/Warner Bros. Pictures, Ron Phillips)