A teacher at one of the country's most prestigious public schools has been jailed for 11 years after he was found guilty of sexually abusing five young boys.
Bruce Roth, who taught maths at £30,000-a-year Wellington College, groomed and performed sex acts on three boys at the boarding school and two at King's School in Rochester, Kent, where he taught previously.
Roth strenuously denied the 17 charges against him, accusing his victims of conspiring against him because they did not like him as a teacher.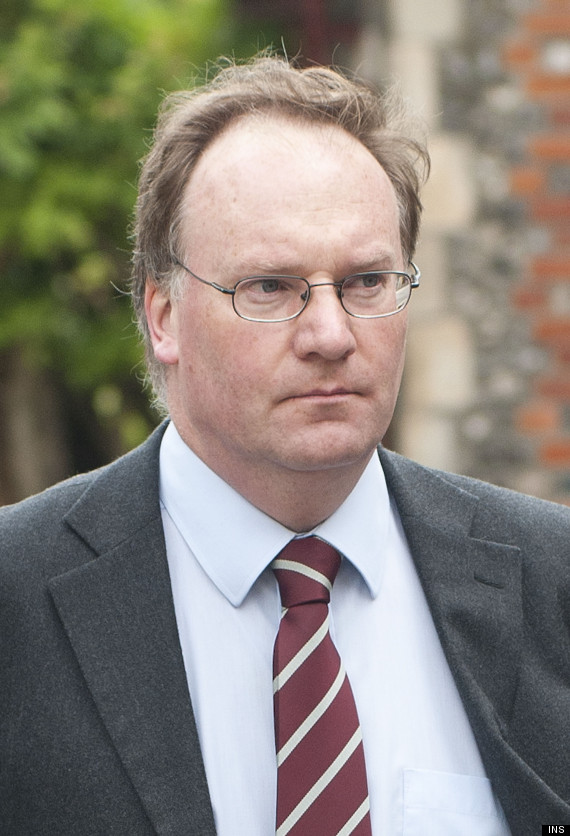 Roth was a housemaster at Wellington College, which counts Will Young among its alumni
He remained impassive in the dock, apart from occasionally shaking his head, as the jury at Reading Crown Court returned guilty verdicts on all counts.
The trial heard that two complaints were made against Roth over claims that he sexually touched one boy and repeatedly abused another, both aged between eight and 10, while an assistant housemaster at King's School between 1987 and 1994.
After an internal investigation cleared him of wrongdoing, he left the school and went to Wellington, where he taught until his arrest in 2010.
The Wellington victims were teenagers, some from vulnerable backgrounds.
In each case there was a clear progression from grooming through to sexual touching and performing sex acts on the boys.
Judge Simon Davis described Roth as a "plausible, intelligent man", who was capable of being highly manipulative.
His behaviour at the college in Crowthorne might have been shaped by his being exonerated of wrongdoing at the previous school in Kent, the judge said.
"You have impressed some schoolboys, some parents, some teachers in high and influential positions, who are all convinced you are a good, kind and pastoral teacher, a professional man," he said.
"You have a number of other sides to your character besides those.
"I find you do have an interest in young boys/men in their adolescent years. A worrying facet in these proceedings."
Judge Davis attacked Roth for what he said were attempts to character-assassinate his victims in what he said was a "sad and dreadful case".
"In the face of clear evidence from all five complainants, you maintained first to the police and then to this court that each and every one of the allegations of which you have been convicted were fabricated," he said.
"You were not able to deceive this jury.
"Your choice, namely to contest the case, meant that every individual complainant came to this court to relive the events to which you had subjected them over the past 20 years or so.
"As the law presently stands, I am not able to penalise you for putting those witnesses through the ordeal of giving evidence."
Roth told his trial that the former pupils had got together in an "old boys' den and made things up" after reading in a newspaper in 2010 about his arrest.
He told the jury he was "shell-shocked" by the accusations against him.
Detective Constable Stephen Middleweek, of Thames Valley Police's child abuse investigation unit, said: "Roth was in a position of trust and abused this position to target young boys, touching them in their beds, in his classroom and his living quarters.
"I would like to pay tribute to the victims. The bravery they have shown has been remarkable considering the ordeal they have been through.
"I hope that today's result will go some way towards helping them put this traumatic experience behind them.
"We have worked closely with the schools involved, in particular Wellington College, and I thank them for their open approach and assistance during the investigation."
Baljit Ubhey, the Crown Prosecution Service chief prosecutor, who worked on the case, said: "Not only did he breach the trust of the pupils at the school, their parents and the staff, he also abused his position of authority in order to gain access to these vulnerable victims.
"It was only due to the great courage of all the victims that Roth's abuse was brought to light, and the full extent of his behaviour revealed.
"The sentence imposed today recognises the seriousness of the offences and the vulnerability of the victims.
"I hope that today's outcome gives some sense of closure to the victims involved, so that they can now put this unpleasant episode behind them and move on with their lives."
Anthony Seldon, master of Wellington College, which counts broadcaster Peter Snow, comedian and impressionist Rory Bremner, pop star Will Young and journalist and author Sebastian Faulks among its alumni, said: "The whole staff at Wellington, who work tirelessly to nurture and protect the pupils at the college, are angered and saddened that a staff member could have committed these vile crimes.
"This abuse represents a terrible betrayal of trust - that Roth could have preyed on vulnerable boys who were in his care is unforgivable.
"As head of this school, which is trying to provide education and care of the highest standard, I am deeply sickened and appalled by what has happened.
"The very day a former pupil of the college came forward with his accusations, we immediately suspended Roth and reported our concerns to the police and social services."
He added: "Unfortunately, no vetting system can ever guarantee that every paedophile is identified. I am happy that Wellington offers the greatest possible protection to its pupils."