CONTROL THE FATE OF OUR WRITER FOR A DAY!
This month, cult novel The Dice Man was given a modern reboot.
'Dicing' - a process by which you surrender your life to the random whim of a dice like the book's protagonist - is now possible using a mobile phone app called Dice Life.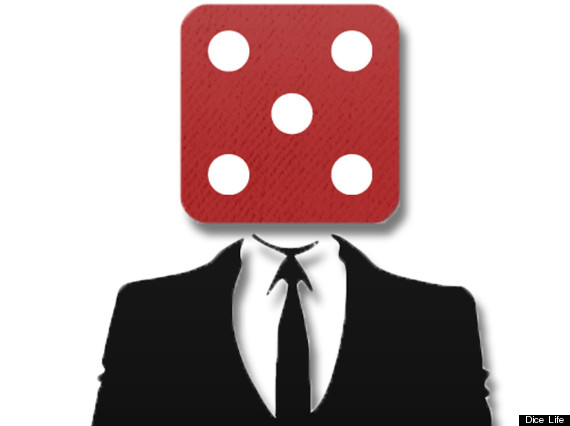 But can an app really be more user-friendly than a cube you roll on a table? And more importantly, is there anything we can learn about living a happier life by following the book's teachings, 41 years after it was first published?
CLICK HERE OR SCROLL DOWN FOR LIVE UPDATES
We've decided to give our review of the Dice Life app a modern reboot of its own by live blogging our experience as we test it out for a day.
This Saturday 28 July your intrepid reporter (and his friend) will wake up, ask the dice what to do and then obey it until midnight.
As the day unfolds, we'll be keeping you updated and asking you to Tweet or leave suggestions on the live blog as to where we go and what we do next. Think of us as your puppets, and youself - and the dice - as our Gods.
Background
Luke Rhinehart's 1971 novel The Dice Man came with the subheading 'Few novels can change your life. This one will' - but it was no touchy-feely self-help book.
Instead, it was the wickedly funny tale of a depressed psychologist who accidentally stumbles over the idea of living the rest of his life by the random whim of a dice - and through it discovers the liberation of surrendering your personality, action and future to chance.
Based on Rhinehart's own experiences of using dice to makes decisions while studying psychology, the book soon developed a cult following of people around the world who wanted to follow his example.
For one day, we aim to discover if The Dice Man was right...
29/07/2012 13:50 BST
Signing off...
@ HPUKCulture :

Personality experiments are going well. Will report properly in the morning #DiceDay
Check back on Monday for the full story of #DiceDay!
29/07/2012 13:48 BST
@ HPUKCulture :

...We will roll again every hour, and if so decreed, dramatically change our personalities in an instant #DiceDay
29/07/2012 13:48 BST
@ HPUKCulture :

The Dice has picked 'Positive' for Sam, meaning be relentlessly upbeat and love everything mentioned in conversation #DiceDay
29/07/2012 13:43 BST
@ HPUKCulture :

The Dice has picked 'Serious' for Carl. That means focusing on the sombre and bringing any jovial conversation back to heavy topics...
29/07/2012 13:42 BST
@ HPUKCulture :

Persona options for tonight's party: 1. Complimentary man 2. Arrogant 3. Positive 4. Negative 5. Serious 6. Obsessive #DiceDay Let's roll...
28/07/2012 20:16 BST
After a day spent
...singing to, drawing, and approaching strangers to ask about their beards, we're leaving Brighton and returning to London for tonight's party.
Check in later to see how living by the Dice Life shapes our evening.
28/07/2012 20:14 BST
To beardly go...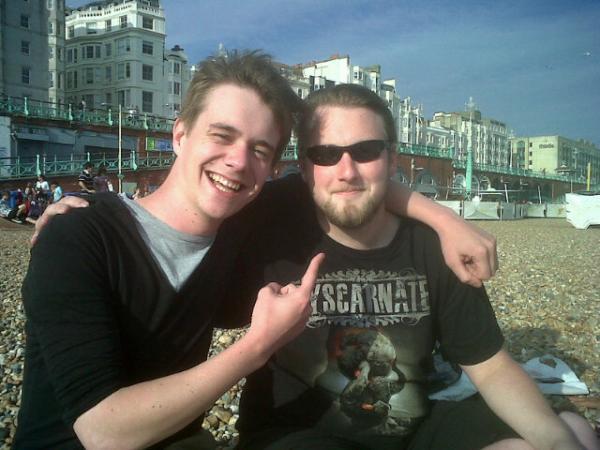 Jim, 24, grew his beard to "annoy my ex-girlfriend,"
"Unfortunately it worked a little too well - we split up not long afterwards."
And the good news for your beardless reporter?
"I don't think girls like beards particularly. You're not missing much."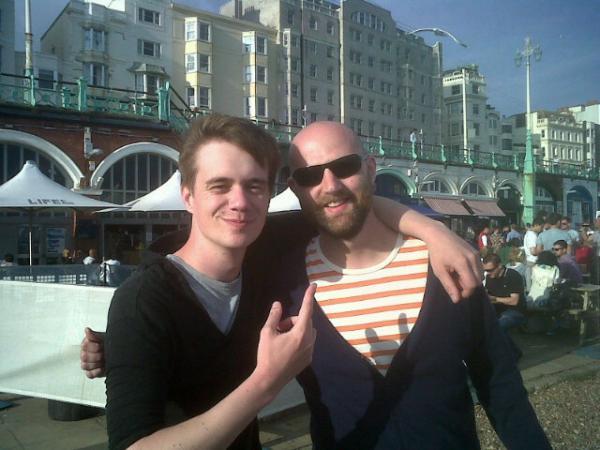 36-year-old Richard grew his beard a couple of years ago.
"It was to compensate for losing what I had on top, if I'm honest
"You're OK - you've got plenty of hair" he reassured me.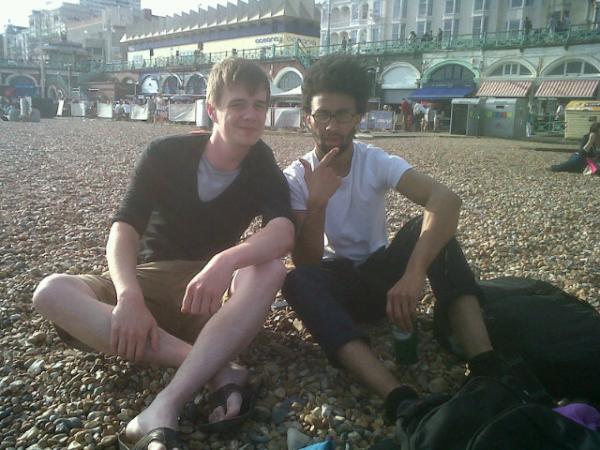 Bukky, 23, took a philosophical stance on facial hair.
"It help me get served in shops easier, but it also feeds into how you feel about yourself.
"If having a beard makes you feel more confident, you will become more confident. I'm keeping mine for now."
So what did the Dice teach us this time round? That men are surprisingly open to talking about their facial hair - and that a beard doesn't necessarily make a man feel more 'masculine'...
28/07/2012 18:14 BST
The quest for mustaches...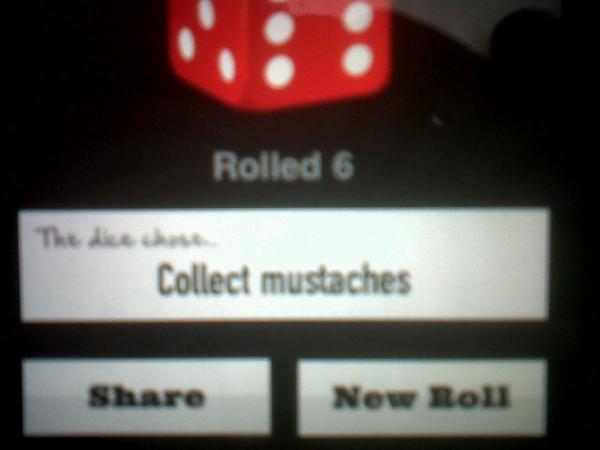 The Dice has decided to send us on a voyage of discovery before we leave Brighton.
Anyone who knows this author personally will be aware that he has the complexion of a small child - despite longing for a Hemingway-style beard since adolescence.
To better understand what it is to be a man with facial fuzz, we're setting out to speak to the best-bearded men in Brighton, hoping to come to terms with our own follicle failure.
Back soon with our findings.
28/07/2012 17:58 BST
Dice me up baby...
Convince people we're lost Olympic athletes

Hit the beach in the most embarrassing costumes we can find
Ride a donkey
Do a shot of the dreaded vodka
Take a dip in the (freezing cold) ocean
Talk to some men about their mustaches
28/07/2012 17:50 BST
Pretending to be artists...
"We're aspiring artists looking to start a new business as caricaturists," was the line.
"Would you like your picture drawn for free?"
The worst bit of this Dice task was turning the pad around at the end and revealing the absolute monsters we'd made out of a succession of perfectly good looking and pleasant people.
However, once we explained it was a 'abstract impression' most seemed bemused, but not too upset.
Generally speaking we spend our lives sticking to the things we know we're good at. For the second time today, the Dice forced us to try something we couldn't do well, in public. Maybe this is something people should do more often, if only to feel humble.
Currently we're enjoying a lunch (selected by the dice) of beefburgers and chips. We DID include some unappealing dinner options (candy floss, the cheapest fried chicken in Brighton) but mercifully, the Dice led us to an Irish bar for a great slab of beef and the first Guinness of the day, perhaps taking pity on us for the first time.
Next up: one last adventure in Brighton, then back to the bright lights of London...
SUBSCRIBE TO & FOLLOW UK DAILY BRIEF