Hello to all Huffington Post readers. In short today is a big day. Actually, it's the biggest of all days as the eyes of the world are on London for the final countdown to the start of the 2012 Olympics.
We'll be live blogging the entire live event here and tweeting from @huffpostuk with Olympic sized efforts from HuffPostUK's deputy news editor @paulvale, executive editor @hullstephen and picture editor @elliotwagland.
Please get involved in the conversation and we hope you enjoy.
28/07/2012 00:52 BST
WELCOME TO LONDON - WE HOPE YOU ENJOY IT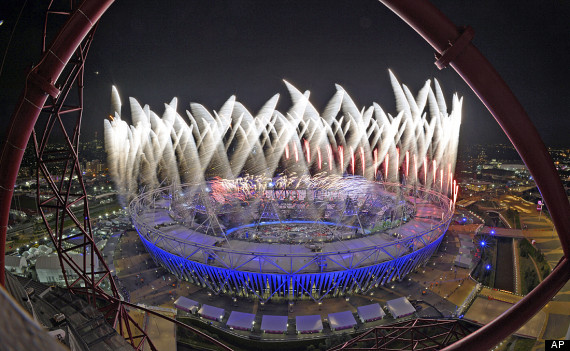 That was one hell of an evening. We hope you enjoyed our coverage and keep coming back for more.
Goodnight all
Team HuffPostUK
28/07/2012 00:26 BST
IT'S REDGRAVE
Britain's greatest Olympian, Steve Redgrave gets to light the final cauldron.
28/07/2012 00:22 BST
ALI
Possibly the biggest cheer of the night for Mohammed Ali
28/07/2012 00:11 BST
TEAM GB
Here they are - the GB athletes entering the stadium.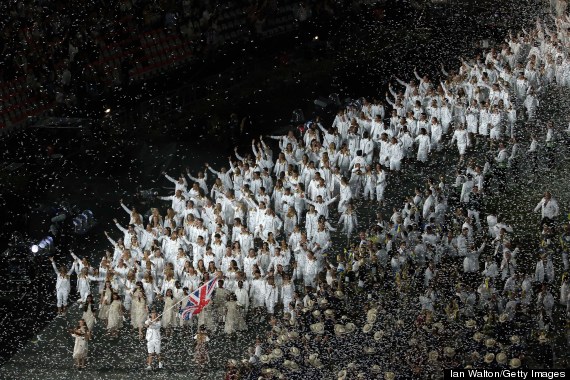 28/07/2012 00:08 BST
SEB
Lord Coe on the stage... Hats off to the former politician for pulling this all together. "Welcome to London," he says. "I have never been so proud to be British and to be part of the Olympic movement as I am today".
28/07/2012 00:06 BST
COME TOGETHER
Arctic Monkeys doing a cover of the Beatles classic. What a tune. John Lennon - truly one of the greatest Brits ever.
28/07/2012 00:01 BST
THEY'RE ALL IN
Athletes in the stadium, Arctic Monkeys on the stage...
27/07/2012 23:57 BST
BRITS, BRITS, BRITS
The home team enters the stadium. Not a dry eye. Actually, loads of dry eyes, but still great to see. Team GB enter to Heroes by the Thin White Duke.
Could it be Bowie lighting the flame?
27/07/2012 23:55 BST
BREAKING
More information on the final torch bearer.
HuffPost UK can confirm that Bill Maynard, best known for his turn as Greengrass in Heartbeat, will not be lighting the cauldron.
27/07/2012 23:51 BST
AMERICA IN THE HOUSE
Here they come - massive team over from the US, replete with Frank Spencer-style berets.
Here's a shout out to our HuffPost colleagues in New York.
SUBSCRIBE TO & FOLLOW UK DAILY BRIEF