The country's hopes of a first home Olympic gold medal were dashed as cyclist Mark Cavendish missed out on a podium finish amid dramatic scenes.
Thousands of people waving Union Flags lined the route and the nation's hopes had rested on Cavendish to continue the feel-good factor after a UK TV audience of 26.9 million people watched last night's stunning opening ceremony.
However in the end, it was Kazakhstan's Alexander Vinokourov who took home the gold medal.
Cavendish told the BBC of his frustration at other teams' "negative tactics" which blocked his efforts.
He added: "It just seems like most teams are happy not to win as long as we don't win.
"It's the story of our lives - it shows what a strong nation we are, so we should take that as a positive."
@MarkCavendish

Mark Cavendish
Gutted. After 250km, less than a minute to 20guys. My guys were INCREDIBLE & there was nothing more we could do. Victims of our own success.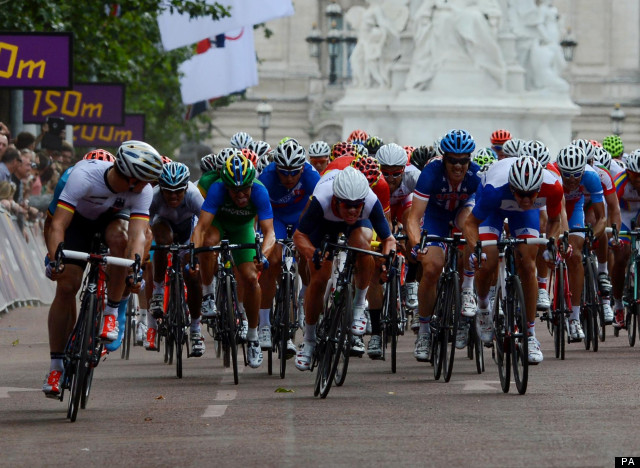 Cavendish sprints with the peloton but it was far too late as the winners had already crossed the lines
Cavendish added: "We may not have won a medal but I'm completely proud of my team and completely proud of my country."


@MarkCavendish

Mark Cavendish
@MarkCavendish

Mark Cavendish
Also, very proud to be British today. The support along the whole 250km was beyond belief. Absolutely incredible. Thank you to everyone.
Hannah Miley also missed out on a gold medal at the 400 metres individual medley at the aquatics arena .
Miley won a silver medal at last year's World Championships and many had hoped she would help Team GB finish the day on a high.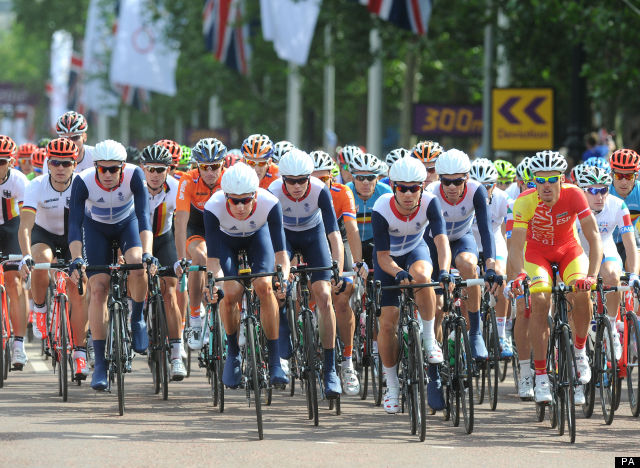 Cavendish and his Team GB teammates, including Tour de France winner Bradley Wiggins
Cavendish had been a favourite at the start of the 250-kilometre race but crowds experienced early nerves as a 12-man breakaway group led by more than five minutes early on.
He lagged behind the front group as the riders re-entered Richmond Park as the race neared its end.
But a key moment offered a ray of hope as half a dozen leaders misjudged a corner and crashed out of the race.
Cavendish had already been anointed champion in many people's eyes but earlier in the day he admitted on Twitter: "I am nervous."
Loading Slideshow