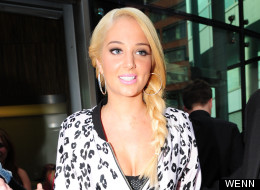 The man who created the Spice Girls and was axed from The X Factor after he was sued over Tulisa Contostavlos' sex tape has apologised to the singer.
Chris Herbert, a former aide to Simon Cowell, was hired as a music consultant on the new series of the talent show, until it was discovered that he was being sued by Tulisa over the leaked explicit footage featuring her and his client Justin Edwards.
However, he claims he was not attempting to cash in on the steamy vid, and tried to persuade Edwards not to release the clip.
He told The Sunday Sun: "My reputation and business has been ruined by these unsavoury people. I never tried to make a penny. I am so sorry to her for any part I may have played in this horrible saga. I was disgusted by the whole thing and from day one advised Justin not to do anything with the tape. I even got a lawyer to tell him he would be sued. I tried to protect him because he was my client but I never made or asked for a penny. To be honest, I wish I'd never set eyes on the idiot. I can explain everything to Tulisa in person."
While Herbert has been fired from The X Factor he manages four-piece band JukeBoxx, who wowed the judges during their auditions on the show and are being tipped as early favourites.
An insider told The Sun earlier this week: "It is fair to say there is no love lost between Tulisa and Chris. She won't be happy at the news he still has involvement with the show. But she is a pro and won't allow this news to cloud her judgement."

Earlier this month, a rep for the show said: "Due to an ongoing legal dispute involving Tulisa Contostavlos and Chris Herbert, we decided it is in everyone's interest for Mr Herbert to not be involved in the forthcoming series on a music consultancy role. This however does not affect the positions of any act that have auditioned for the show that are represented by Chris."