London 2012 Olympics: New Zealand Cyclist Robert Forstemann Shows Off Monster thighs (PICTURE)
Britain's Chris Hoy may have earned the moniker "Golden Thighs" for his 27 inch limbs, but these specimens are truly eye-watering.
The owner of the bulging pair on the right is German cyclist Robert Forstemann, who posed up alongside fellow compatriot Andre Greipel.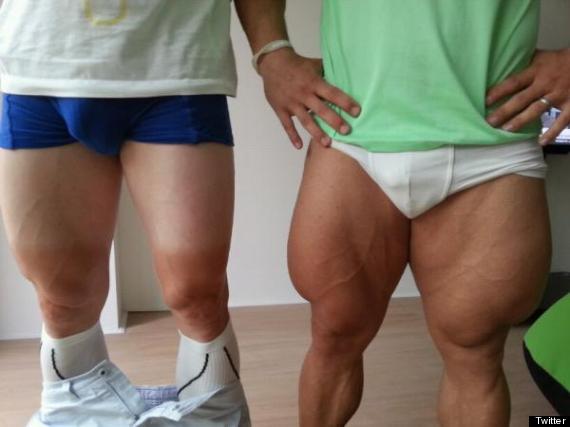 Look out for the Ad just below here
Aye carumba: Robert Forstemann (left) wins this 'quad off' against Andre Greipel hands down
New Zealand cyclist Greg Henderson documented the "quad off" on his Twitter feed, noting: "You thought Greipel has a big set of legs…"
And judging by those tan lines, Forstemann has either been on a spray tan binge or is training in only the briefest of briefs. More tea vicar?
@Greghenderson1

Greg Henderson
You thought Greipel has a big set of legs. There was a quad off in the German camp today. Greipel lost.
http://t.co/91Y7S7ps
London 2012 Pictures: The Action From Day Three Of The Olympics
Louis Smith of Great Britain competes on the pommel horse in the Artistic Gymnastics Men's Team final at North Greenwich Arena. (Ronald Martinez/Getty Images)

Peter Waterfield (left) and Tom Daley of Great Britain compete in the Men's Synchronised 10m Platform Diving at the Aquatics Centre. (Clive Rose/Getty Images)

Fanlong Meng of China (right) in action with Ahmed Barki of Marocco (left) during their Men's Heavy (81kg) Boxing at ExCeL. (Scott Heavey/Getty Images)

China attack the Spain goal during the Women's Water Polo preliminary match between Spain and China at Water Polo Arena. (Stu Forster/Getty Images)

Zoe Smith of Great Britain competes during the women's 58kg weightlifting competition at the 2012 Summer Olympics. (AP Photo/Mike Groll)

Britain's Zara Phillips riding High Kingdom competes in the Cross Country phase of the Eventing competition of the 2012 London Olympic Games at the Equestrian venue in Greenwich Park. (JOHN MACDOUGALL/AFP/GettyImages)

Laura Robson of Great Britain smiles ahead of her Women's Singles win against Lucie Safarova of Czech Republic at the All England Lawn Tennis and Croquet Club in Wimbledon. (Photo by Jamie Squire/Getty Images)

Heather Watson of Great Britain celebrates match point during the Women's Singles against Silvia Soler Espinosa of Spain at the All England Lawn Tennis and Croquet Club in Wimbledon. (Jamie Squire/Getty Images)

Ugo Legrand of France reacts to losing to Hussein Hafiz of Egypt in the Men's 73kg Judo at ExCeL. (Alexander Hassenstein/Getty Images)

Great Britain's Tom Daley (left) and Peter Waterfield practice before the Men's Synchronised 10m Platform Final during day three of the 2012 Olympic Games at the Aquatics Centre, Olympic Park. (PA)

Zoe Smith (left) of Great Britain is introduced alongside other competitors before participating in the Women's 58kg Weightlifting at ExCeL in London. (Laurence Griffiths/Getty Images)

Michael Phelps of the United States competes in heat 5 of the Men's 200m Butterfly of the London 2012 Olympic Games at the Aquatics Centre. (Clive Rose/Getty Images)

Uzbekistan's Navruz Jurakobilov (white) competes with Nauru's Sled Dowabobo (blue) during their men's 73kg judo contest match of the London 2012 Olympic Games at the ExCel arena in London. (JOHANNES EISELE/AFP/Getty Images)

Angola's Marcelina Kiala vies with an croatian player during the women's preliminaries Group A handball match Angola vs Croatia for the London 2012 Olympics Games at the Copper Box in London. (JAVIER SORIANO/AFP/Getty Images)

The Great Britain Men's Eight team practices on Day 3 of the London 2012 Olympic Games at Eton Dorney in Windsor, England. (zra Shaw/Getty Images)

Feliciano Lopez of Spain plays a forehand during the Men's Singles Tennis match against Dmitry Tursunov of Russian Federation at the All England Lawn Tennis and Croquet Club in Wimbledon. (Clive Brunskill/Getty Images)

Lenka Hajeckova from Czech Republic dives for a ball during the Beach Volleyball match against Mauritius at the 2012 Summer Olympics in London. (AP Photo/Petr David Josek)

Great Britain's Richard Brickell during Day One of the Skeet Qualification Round at the Royal Artillery Barracks, London. (Martin Rickett/PA)

Great Britain's Hannah Miley competes in the Women's 200m Individual Medley Heats at the Aquatics Centre in the Olympic Park, London. (PA)

Great Britain's Anna Watkins (right) and Katherine Grainger (left) compete in the women's double sculls heats of the rowing event during the London 2012 Olympic Games at Eton Dorney Rowing Centre. (ERIC FEFERBERG/AFP/Getty Images)

China's Wang Xin plays against United States' Rena Wang at a women's singles match of the 2012 Summer Olympics in London. (AP Photo/Saurabh Das)

Turkey's Gulden Kayalar Kuzubasioglu dives for the ball during a women's volleyball preliminary match against China at the 2012 Summer Olympics. (AP Photo/Chris O'Meara)

Federica Pellegrini of Italy, Missy Franklin (centre) of the United States and Veronika Popova of Russia compete in heat 3 of the Women's 200m Freestyle at the Aquatics Centre. (Photo by Al Bello/Getty Images)

Julian Justus of Germany competes in Men's 10m Air Rifle qualification at The Royal Artillery Barracks in London. (Lars Baron/Getty Images)

Great Britain's Daniel Williams (right) competes with Tajikistan's Rasul Boqiev in their Men's 73kg Judo bout at the ExCel North Arena 2, London, on the third day of the London 2012 Olympics.

Germany's Imke Duplitzer (right) faces Venezuela's Maria Martinez in a women's individual epee fencing round of 64 at the 2012 Summer Olympics in London. (AP Photo/Andrew Medichini)

Great Britain's Caitlin McClatchey celebrates winning her heat in the Women's 200m Freestyle heats at the Aquatics Centre in the Olympic Park. (Tony Marshall/PA)

India's Devi Bombayia Laisharm competes during the women's individual event between India and Greece at Lord's Cricket Ground. (JEWEL SAMAD/AFP/Getty Images)

Manuel Minginfel off Micronesia competes during the mens 62kg weightlifting competition at the 2012 Summer Olympics in London. (AP Photo/Mike Groll)

Jun Mizutani of Japan returns the ball during his Men's Singles Table Tennis third round match against Elsayed Lashin of Egypt at ExCeL in London. (Feng Li/Getty Images)

Ilona Burgrova (center) and Eva Viteckova (right) of Czech Republic attmpet to steal the bal from Birsel Vardarli (number 6) of Turkey during their Women's preliminary round match. (Christian Petersen/Getty Images)

Australia's midfielder Jamie Dwyer (right) falls over South Africa's goalkeeper Erasmus Pieterse during the preliminary round men's field hockey match of the London 2012 Olympic Games between Australia and South Africa (INDRANIL MUKHERJEE/AFP/Getty Images)

The fleet at the start line of the first race of the Men's 49ers sailing on the waters off Weymouth and Portland. (PA)

Great Britain's Sarah Clark after losing to France's Automne Pavia during their Women's 57kg Judo bout at the ExCel North Arena 2. (PA)

Members of the Uruguayan Olympic Football team including Liverpool players Luis Suarez (second left) and Sebastian Coates (third left) run a short warm up exercise inside the Olympic Village. (John Stillwell/WPA Pool/Getty Images)

Britain's Kate Walsh falls to the ground after being hit on the chin by Japan's Akane Shibata (left) during their women's hockey preliminary match at the 2012 Summer Olympics. Britain won 4-0. (AP Photo/Bullit Marquez)