The Duchess of Cambridge dazzled as she was greeted by the Prime Minister at a star-studded reception for the arts on Monday night.
Kate was heralded by a brass trio as she walked down the red carpet at the Royal Academy of Arts wearing a dove grey dress, matching heels and glittering hooped earrings before being met by David Cameron.
The Duchess, who had her hair tied back, arrived at the arts institution in central London for a reception celebrating the best of British music, film, art and entertainment after spending part of the day watching Zara Phillips compete in the Olympics.
The Duchess's dress was designed by Roksanda Ilincic, Clarence House confirmed.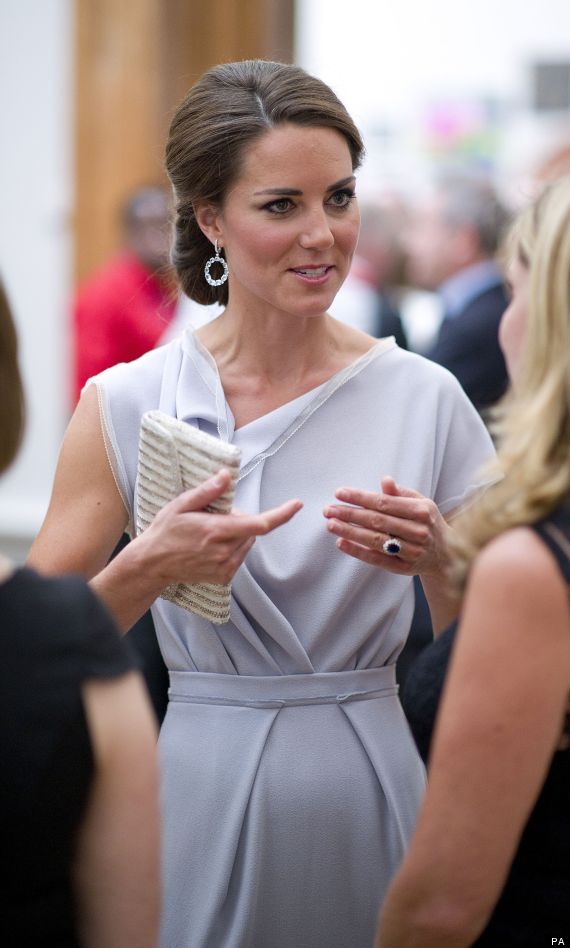 'I'm this excited about this Olympics!': Kate at the arts reception
Among the 800 guests were Tracey Emin, Roger Daltrey, Stella McCartney, Terry Gilliam, Katy B, Frank Skinner and Lily Cole, as well as many other luminaries of the creative industries.
The Duchess, carrying a white and gold clutch bag, shared a laugh with Mr Cameron before he made his speech.
The Prime Minister drew laughs from the crowd when he recalled a conversation with the Duke of Cambridge at the Olympics opening ceremony.
Mr Cameron said: "One of the highlights of the Olympic ceremony for me was during that very wow musical interlude when your husband leaned over and said, 'I don't know if you know this Prime Minister, but my grandmother is a big fan of Dizzee Rascal'."
Addressing a crowd also made up of potential overseas investors in Britain's creative industries, the Prime Minister went on: "I think a very simple message today is that if you are involved in the creative industries, now is the time to come and invest in Britain.
"I think you can see that from the people who are in the room tonight. You can see it from that incredible opening ceremony that Danny Boyle and Stephen Daldry and others produced.
"Also, I think you can see it in some of the extraordinary facts about the creativity of British art, television, music, drama, literature and cultural industries.
"Not many people know this but, if you want superstars, of course all the big actors currently playing Batman, Spiderman or Superman are all actually British.
"If it's storytelling you are after, three of the best movie franchises of all time - Bond, Lord Of The Rings and Harry Potter - are all British.
"If it's music you're after, of course Adele had the bestselling album this year.
"If it's television you're after, you need look no further than the fact that the president of the United States' favourite TV programme is overwhelmingly starring British actors, in of course Homeland."
During the reception, the Duchess was introduced to guests including Culture Secretary Jeremy Hunt and Apple designer Sir Jonathan Ive.
She appeared to share a warm conversation with fashion designer Stella McCartney, who was also name-checked in Mr Cameron's speech.
The reception was part of the GREAT campaign, designed to showcase Britain's capabilities and bring in investment and visitors.
SUBSCRIBE AND FOLLOW
Get top stories and blog posts emailed to me each day. Newsletters may offer personalized content or advertisements.
Learn more