A penthouse in New York's CitySpire has gone on the market for $100million.
Occupying three floors and boasting 11,000 interior and exterior square feet, this "one-of-a-kind gem ranks among the most elite homes in America," according to estate agents Prudential Douglas Elliman.
Perched on the 73rd floor, it also boasts 360 degree views of Manhattan's Midtown neighbourhood, thanks to wrap-around terraces around what is believed to be the highest apartment of its kind in New York City.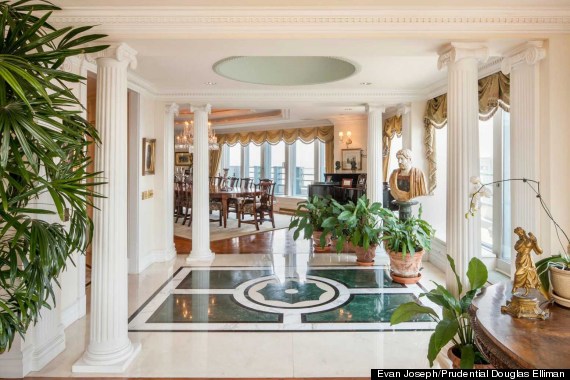 Marble floors and elegant columns feature throughout
Designed by Juan Pablo Molyneux, the property is listed by Raphael De Niro (son of the Hollywood great) and owned by Long Island real estate developer Steven Klar, the New York Daily News revealed.
However according to The Real Deal, "many industry experts raised a collective eyebrow" at the hefty price, with Frank Ragusa going so far as to say: "It's probably closer to a $50 million listing."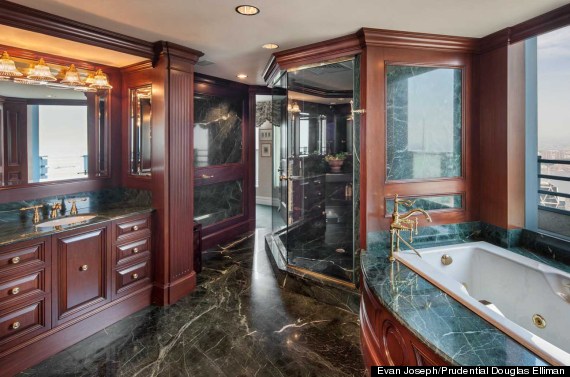 One of the nine bathrooms - with a jacuzzi tub and a shower for two
If you were wondering just what $100m gets you these days, feast your eyes on our slideshow below.
Perks to note include:

Six bedrooms and nine bathrooms
Dining room with seating for 20+
Silver closet
Private internal elevator
Versailles pattered chestnut flooring
Time-controlled shades
SEE ALSO:
Loading Slideshow
$100 Million Penthouse

This trophy penthouse is the crown jewel set atop the celebrated City Spire condominium. Designed by the renowned Juan Pablo Molyneux, a member of Architectural Digest's AD100, this one-of-a-kind gem ranks amongst the most elite homes in America. Occupying the top three floors, this magnificent residence in the sky is the ultimate private getaway, soaring over 70 stories above Manhattan's vibrant and culturally rich Midtown neighborhood. Offering over 11,000 interior and exterior square feet, enjoy the stunning 360 degree views from the highest terraced apartment in New York City. Upon entering the home, on the 73rd floor, be warmly welcomed into a gracious, formal entry foyer adorned with beautiful inlaid marble floors, elegant columns, generous closets and a powder room. From there, classically-inspired interiors await. A Versailles patterned chestnut floor compliments the ornate crown moldings and coffered ceilings. The breathtaking panoramic views are enjoyed from the wraparound terrace, with the rivers, bridges, Central Park and more on display. Also on this floor are the luxurious living room, eat in chef's kitchen with butler's pantry, large media room, dining room with seating for 20 , silver closet and two additional powder rooms. Ascend one flight up via the striking mahogany railed staircase or by the private internal elevator, onto the 74th floor where you will find three spacious guest bedrooms, each with an en suite bathroom. This floor also includes another wraparound terrace further showcasing Manhattan's picturesque views. A formal gallery, conference room and elegant private study with en suite bathroom complete this level. The grand master suite on the 75th floor, with extraordinary views north over Central Park and a gracious sitting room, is the ideal retreat from the bustling city below. The master bath is crafted with hunter green marble, mahogany finishes and bronze fixtures highlighting the double sink vanity, deep soaking tub and extra-large steam shower for two. Also on this level is yet a third private wraparound terrace to enjoy from the privacy of your master bedroom floor. Another added luxury is the penthouse's separate guest or staff apartment on the 72nd floor which can be accessible via a service entrance, and is complete with kitchenette and en suite bath. Also on this level is a large wine cellar with ample bottle capacity. Creatively designed in a circular configuration, literally every room of this exclusive property feature dramatic vistas of the city and beyond. The home is equipped with state-of-the-art Crestron and Lutron systems, integrated speakers, electronically time-controlled shades and very generous storage throughout. A private, internal elevator services the 73rd, 74th and 75th floors. The external common elevators can be locked at your discretion for added security. The City Spire condominium, designed by Helmut Jahn, conveniently sits in the true heart of New York City. This full-service building offers impressive amenities such as a 24-hour doorman/concierge, live-in Resident Manager, fitness center with 50-foot pool, play room, conference room, and garage. Neighboring Carnegie Hall, Central Park, Fifth Avenue's famed shopping and some of the world's finest restaurants, practically everything New York has to offer is at your doorstep. This listing courtesy of Douglas Elliman

$100 Million Penthouse

This trophy penthouse is the crown jewel set atop the celebrated City Spire condominium. Designed by the renowned Juan Pablo Molyneux, a member of Architectural Digest's AD100, this one-of-a-kind gem ranks amongst the most elite homes in America. Occupying the top three floors, this magnificent residence in the sky is the ultimate private getaway, soaring over 70 stories above Manhattan's vibrant and culturally rich Midtown neighborhood. Offering over 11,000 interior and exterior square feet, enjoy the stunning 360 degree views from the highest terraced apartment in New York City. Upon entering the home, on the 73rd floor, be warmly welcomed into a gracious, formal entry foyer adorned with beautiful inlaid marble floors, elegant columns, generous closets and a powder room. From there, classically-inspired interiors await. A Versailles patterned chestnut floor compliments the ornate crown moldings and coffered ceilings. The breathtaking panoramic views are enjoyed from the wraparound terrace, with the rivers, bridges, Central Park and more on display. Also on this floor are the luxurious living room, eat in chef's kitchen with butler's pantry, large media room, dining room with seating for 20 , silver closet and two additional powder rooms. Ascend one flight up via the striking mahogany railed staircase or by the private internal elevator, onto the 74th floor where you will find three spacious guest bedrooms, each with an en suite bathroom. This floor also includes another wraparound terrace further showcasing Manhattan's picturesque views. A formal gallery, conference room and elegant private study with en suite bathroom complete this level. The grand master suite on the 75th floor, with extraordinary views north over Central Park and a gracious sitting room, is the ideal retreat from the bustling city below. The master bath is crafted with hunter green marble, mahogany finishes and bronze fixtures highlighting the double sink vanity, deep soaking tub and extra-large steam shower for two. Also on this level is yet a third private wraparound terrace to enjoy from the privacy of your master bedroom floor. Another added luxury is the penthouse's separate guest or staff apartment on the 72nd floor which can be accessible via a service entrance, and is complete with kitchenette and en suite bath. Also on this level is a large wine cellar with ample bottle capacity. Creatively designed in a circular configuration, literally every room of this exclusive property feature dramatic vistas of the city and beyond. The home is equipped with state-of-the-art Crestron and Lutron systems, integrated speakers, electronically time-controlled shades and very generous storage throughout. A private, internal elevator services the 73rd, 74th and 75th floors. The external common elevators can be locked at your discretion for added security. The City Spire condominium, designed by Helmut Jahn, conveniently sits in the true heart of New York City. This full-service building offers impressive amenities such as a 24-hour doorman/concierge, live-in Resident Manager, fitness center with 50-foot pool, play room, conference room, and garage. Neighboring Carnegie Hall, Central Park, Fifth Avenue's famed shopping and some of the world's finest restaurants, practically everything New York has to offer is at your doorstep. This listing courtesy of Douglas Elliman

$100 Million Penthouse

This trophy penthouse is the crown jewel set atop the celebrated City Spire condominium. Designed by the renowned Juan Pablo Molyneux, a member of Architectural Digest's AD100, this one-of-a-kind gem ranks amongst the most elite homes in America. Occupying the top three floors, this magnificent residence in the sky is the ultimate private getaway, soaring over 70 stories above Manhattan's vibrant and culturally rich Midtown neighborhood. Offering over 11,000 interior and exterior square feet, enjoy the stunning 360 degree views from the highest terraced apartment in New York City. Upon entering the home, on the 73rd floor, be warmly welcomed into a gracious, formal entry foyer adorned with beautiful inlaid marble floors, elegant columns, generous closets and a powder room. From there, classically-inspired interiors await. A Versailles patterned chestnut floor compliments the ornate crown moldings and coffered ceilings. The breathtaking panoramic views are enjoyed from the wraparound terrace, with the rivers, bridges, Central Park and more on display. Also on this floor are the luxurious living room, eat in chef's kitchen with butler's pantry, large media room, dining room with seating for 20 , silver closet and two additional powder rooms. Ascend one flight up via the striking mahogany railed staircase or by the private internal elevator, onto the 74th floor where you will find three spacious guest bedrooms, each with an en suite bathroom. This floor also includes another wraparound terrace further showcasing Manhattan's picturesque views. A formal gallery, conference room and elegant private study with en suite bathroom complete this level. The grand master suite on the 75th floor, with extraordinary views north over Central Park and a gracious sitting room, is the ideal retreat from the bustling city below. The master bath is crafted with hunter green marble, mahogany finishes and bronze fixtures highlighting the double sink vanity, deep soaking tub and extra-large steam shower for two. Also on this level is yet a third private wraparound terrace to enjoy from the privacy of your master bedroom floor. Another added luxury is the penthouse's separate guest or staff apartment on the 72nd floor which can be accessible via a service entrance, and is complete with kitchenette and en suite bath. Also on this level is a large wine cellar with ample bottle capacity. Creatively designed in a circular configuration, literally every room of this exclusive property feature dramatic vistas of the city and beyond. The home is equipped with state-of-the-art Crestron and Lutron systems, integrated speakers, electronically time-controlled shades and very generous storage throughout. A private, internal elevator services the 73rd, 74th and 75th floors. The external common elevators can be locked at your discretion for added security. The City Spire condominium, designed by Helmut Jahn, conveniently sits in the true heart of New York City. This full-service building offers impressive amenities such as a 24-hour doorman/concierge, live-in Resident Manager, fitness center with 50-foot pool, play room, conference room, and garage. Neighboring Carnegie Hall, Central Park, Fifth Avenue's famed shopping and some of the world's finest restaurants, practically everything New York has to offer is at your doorstep. This listing courtesy of Douglas Elliman

$100 Million Penthouse

This trophy penthouse is the crown jewel set atop the celebrated City Spire condominium. Designed by the renowned Juan Pablo Molyneux, a member of Architectural Digest's AD100, this one-of-a-kind gem ranks amongst the most elite homes in America. Occupying the top three floors, this magnificent residence in the sky is the ultimate private getaway, soaring over 70 stories above Manhattan's vibrant and culturally rich Midtown neighborhood. Offering over 11,000 interior and exterior square feet, enjoy the stunning 360 degree views from the highest terraced apartment in New York City. Upon entering the home, on the 73rd floor, be warmly welcomed into a gracious, formal entry foyer adorned with beautiful inlaid marble floors, elegant columns, generous closets and a powder room. From there, classically-inspired interiors await. A Versailles patterned chestnut floor compliments the ornate crown moldings and coffered ceilings. The breathtaking panoramic views are enjoyed from the wraparound terrace, with the rivers, bridges, Central Park and more on display. Also on this floor are the luxurious living room, eat in chef's kitchen with butler's pantry, large media room, dining room with seating for 20 , silver closet and two additional powder rooms. Ascend one flight up via the striking mahogany railed staircase or by the private internal elevator, onto the 74th floor where you will find three spacious guest bedrooms, each with an en suite bathroom. This floor also includes another wraparound terrace further showcasing Manhattan's picturesque views. A formal gallery, conference room and elegant private study with en suite bathroom complete this level. The grand master suite on the 75th floor, with extraordinary views north over Central Park and a gracious sitting room, is the ideal retreat from the bustling city below. The master bath is crafted with hunter green marble, mahogany finishes and bronze fixtures highlighting the double sink vanity, deep soaking tub and extra-large steam shower for two. Also on this level is yet a third private wraparound terrace to enjoy from the privacy of your master bedroom floor. Another added luxury is the penthouse's separate guest or staff apartment on the 72nd floor which can be accessible via a service entrance, and is complete with kitchenette and en suite bath. Also on this level is a large wine cellar with ample bottle capacity. Creatively designed in a circular configuration, literally every room of this exclusive property feature dramatic vistas of the city and beyond. The home is equipped with state-of-the-art Crestron and Lutron systems, integrated speakers, electronically time-controlled shades and very generous storage throughout. A private, internal elevator services the 73rd, 74th and 75th floors. The external common elevators can be locked at your discretion for added security. The City Spire condominium, designed by Helmut Jahn, conveniently sits in the true heart of New York City. This full-service building offers impressive amenities such as a 24-hour doorman/concierge, live-in Resident Manager, fitness center with 50-foot pool, play room, conference room, and garage. Neighboring Carnegie Hall, Central Park, Fifth Avenue's famed shopping and some of the world's finest restaurants, practically everything New York has to offer is at your doorstep. This listing courtesy of Douglas Elliman

$100 Million Penthouse

This trophy penthouse is the crown jewel set atop the celebrated City Spire condominium. Designed by the renowned Juan Pablo Molyneux, a member of Architectural Digest's AD100, this one-of-a-kind gem ranks amongst the most elite homes in America. Occupying the top three floors, this magnificent residence in the sky is the ultimate private getaway, soaring over 70 stories above Manhattan's vibrant and culturally rich Midtown neighborhood. Offering over 11,000 interior and exterior square feet, enjoy the stunning 360 degree views from the highest terraced apartment in New York City. Upon entering the home, on the 73rd floor, be warmly welcomed into a gracious, formal entry foyer adorned with beautiful inlaid marble floors, elegant columns, generous closets and a powder room. From there, classically-inspired interiors await. A Versailles patterned chestnut floor compliments the ornate crown moldings and coffered ceilings. The breathtaking panoramic views are enjoyed from the wraparound terrace, with the rivers, bridges, Central Park and more on display. Also on this floor are the luxurious living room, eat in chef's kitchen with butler's pantry, large media room, dining room with seating for 20 , silver closet and two additional powder rooms. Ascend one flight up via the striking mahogany railed staircase or by the private internal elevator, onto the 74th floor where you will find three spacious guest bedrooms, each with an en suite bathroom. This floor also includes another wraparound terrace further showcasing Manhattan's picturesque views. A formal gallery, conference room and elegant private study with en suite bathroom complete this level. The grand master suite on the 75th floor, with extraordinary views north over Central Park and a gracious sitting room, is the ideal retreat from the bustling city below. The master bath is crafted with hunter green marble, mahogany finishes and bronze fixtures highlighting the double sink vanity, deep soaking tub and extra-large steam shower for two. Also on this level is yet a third private wraparound terrace to enjoy from the privacy of your master bedroom floor. Another added luxury is the penthouse's separate guest or staff apartment on the 72nd floor which can be accessible via a service entrance, and is complete with kitchenette and en suite bath. Also on this level is a large wine cellar with ample bottle capacity. Creatively designed in a circular configuration, literally every room of this exclusive property feature dramatic vistas of the city and beyond. The home is equipped with state-of-the-art Crestron and Lutron systems, integrated speakers, electronically time-controlled shades and very generous storage throughout. A private, internal elevator services the 73rd, 74th and 75th floors. The external common elevators can be locked at your discretion for added security. The City Spire condominium, designed by Helmut Jahn, conveniently sits in the true heart of New York City. This full-service building offers impressive amenities such as a 24-hour doorman/concierge, live-in Resident Manager, fitness center with 50-foot pool, play room, conference room, and garage. Neighboring Carnegie Hall, Central Park, Fifth Avenue's famed shopping and some of the world's finest restaurants, practically everything New York has to offer is at your doorstep. This listing courtesy of Douglas Elliman

$100 Million Penthouse

This trophy penthouse is the crown jewel set atop the celebrated City Spire condominium. Designed by the renowned Juan Pablo Molyneux, a member of Architectural Digest's AD100, this one-of-a-kind gem ranks amongst the most elite homes in America. Occupying the top three floors, this magnificent residence in the sky is the ultimate private getaway, soaring over 70 stories above Manhattan's vibrant and culturally rich Midtown neighborhood. Offering over 11,000 interior and exterior square feet, enjoy the stunning 360 degree views from the highest terraced apartment in New York City. Upon entering the home, on the 73rd floor, be warmly welcomed into a gracious, formal entry foyer adorned with beautiful inlaid marble floors, elegant columns, generous closets and a powder room. From there, classically-inspired interiors await. A Versailles patterned chestnut floor compliments the ornate crown moldings and coffered ceilings. The breathtaking panoramic views are enjoyed from the wraparound terrace, with the rivers, bridges, Central Park and more on display. Also on this floor are the luxurious living room, eat in chef's kitchen with butler's pantry, large media room, dining room with seating for 20 , silver closet and two additional powder rooms. Ascend one flight up via the striking mahogany railed staircase or by the private internal elevator, onto the 74th floor where you will find three spacious guest bedrooms, each with an en suite bathroom. This floor also includes another wraparound terrace further showcasing Manhattan's picturesque views. A formal gallery, conference room and elegant private study with en suite bathroom complete this level. The grand master suite on the 75th floor, with extraordinary views north over Central Park and a gracious sitting room, is the ideal retreat from the bustling city below. The master bath is crafted with hunter green marble, mahogany finishes and bronze fixtures highlighting the double sink vanity, deep soaking tub and extra-large steam shower for two. Also on this level is yet a third private wraparound terrace to enjoy from the privacy of your master bedroom floor. Another added luxury is the penthouse's separate guest or staff apartment on the 72nd floor which can be accessible via a service entrance, and is complete with kitchenette and en suite bath. Also on this level is a large wine cellar with ample bottle capacity. Creatively designed in a circular configuration, literally every room of this exclusive property feature dramatic vistas of the city and beyond. The home is equipped with state-of-the-art Crestron and Lutron systems, integrated speakers, electronically time-controlled shades and very generous storage throughout. A private, internal elevator services the 73rd, 74th and 75th floors. The external common elevators can be locked at your discretion for added security. The City Spire condominium, designed by Helmut Jahn, conveniently sits in the true heart of New York City. This full-service building offers impressive amenities such as a 24-hour doorman/concierge, live-in Resident Manager, fitness center with 50-foot pool, play room, conference room, and garage. Neighboring Carnegie Hall, Central Park, Fifth Avenue's famed shopping and some of the world's finest restaurants, practically everything New York has to offer is at your doorstep. This listing courtesy of Douglas Elliman

$100 Million Penthouse

This trophy penthouse is the crown jewel set atop the celebrated City Spire condominium. Designed by the renowned Juan Pablo Molyneux, a member of Architectural Digest's AD100, this one-of-a-kind gem ranks amongst the most elite homes in America. Occupying the top three floors, this magnificent residence in the sky is the ultimate private getaway, soaring over 70 stories above Manhattan's vibrant and culturally rich Midtown neighborhood. Offering over 11,000 interior and exterior square feet, enjoy the stunning 360 degree views from the highest terraced apartment in New York City. Upon entering the home, on the 73rd floor, be warmly welcomed into a gracious, formal entry foyer adorned with beautiful inlaid marble floors, elegant columns, generous closets and a powder room. From there, classically-inspired interiors await. A Versailles patterned chestnut floor compliments the ornate crown moldings and coffered ceilings. The breathtaking panoramic views are enjoyed from the wraparound terrace, with the rivers, bridges, Central Park and more on display. Also on this floor are the luxurious living room, eat in chef's kitchen with butler's pantry, large media room, dining room with seating for 20 , silver closet and two additional powder rooms. Ascend one flight up via the striking mahogany railed staircase or by the private internal elevator, onto the 74th floor where you will find three spacious guest bedrooms, each with an en suite bathroom. This floor also includes another wraparound terrace further showcasing Manhattan's picturesque views. A formal gallery, conference room and elegant private study with en suite bathroom complete this level. The grand master suite on the 75th floor, with extraordinary views north over Central Park and a gracious sitting room, is the ideal retreat from the bustling city below. The master bath is crafted with hunter green marble, mahogany finishes and bronze fixtures highlighting the double sink vanity, deep soaking tub and extra-large steam shower for two. Also on this level is yet a third private wraparound terrace to enjoy from the privacy of your master bedroom floor. Another added luxury is the penthouse's separate guest or staff apartment on the 72nd floor which can be accessible via a service entrance, and is complete with kitchenette and en suite bath. Also on this level is a large wine cellar with ample bottle capacity. Creatively designed in a circular configuration, literally every room of this exclusive property feature dramatic vistas of the city and beyond. The home is equipped with state-of-the-art Crestron and Lutron systems, integrated speakers, electronically time-controlled shades and very generous storage throughout. A private, internal elevator services the 73rd, 74th and 75th floors. The external common elevators can be locked at your discretion for added security. The City Spire condominium, designed by Helmut Jahn, conveniently sits in the true heart of New York City. This full-service building offers impressive amenities such as a 24-hour doorman/concierge, live-in Resident Manager, fitness center with 50-foot pool, play room, conference room, and garage. Neighboring Carnegie Hall, Central Park, Fifth Avenue's famed shopping and some of the world's finest restaurants, practically everything New York has to offer is at your doorstep. This listing courtesy of Douglas Elliman

$100 Million Penthouse

This trophy penthouse is the crown jewel set atop the celebrated City Spire condominium. Designed by the renowned Juan Pablo Molyneux, a member of Architectural Digest's AD100, this one-of-a-kind gem ranks amongst the most elite homes in America. Occupying the top three floors, this magnificent residence in the sky is the ultimate private getaway, soaring over 70 stories above Manhattan's vibrant and culturally rich Midtown neighborhood. Offering over 11,000 interior and exterior square feet, enjoy the stunning 360 degree views from the highest terraced apartment in New York City. Upon entering the home, on the 73rd floor, be warmly welcomed into a gracious, formal entry foyer adorned with beautiful inlaid marble floors, elegant columns, generous closets and a powder room. From there, classically-inspired interiors await. A Versailles patterned chestnut floor compliments the ornate crown moldings and coffered ceilings. The breathtaking panoramic views are enjoyed from the wraparound terrace, with the rivers, bridges, Central Park and more on display. Also on this floor are the luxurious living room, eat in chef's kitchen with butler's pantry, large media room, dining room with seating for 20 , silver closet and two additional powder rooms. Ascend one flight up via the striking mahogany railed staircase or by the private internal elevator, onto the 74th floor where you will find three spacious guest bedrooms, each with an en suite bathroom. This floor also includes another wraparound terrace further showcasing Manhattan's picturesque views. A formal gallery, conference room and elegant private study with en suite bathroom complete this level. The grand master suite on the 75th floor, with extraordinary views north over Central Park and a gracious sitting room, is the ideal retreat from the bustling city below. The master bath is crafted with hunter green marble, mahogany finishes and bronze fixtures highlighting the double sink vanity, deep soaking tub and extra-large steam shower for two. Also on this level is yet a third private wraparound terrace to enjoy from the privacy of your master bedroom floor. Another added luxury is the penthouse's separate guest or staff apartment on the 72nd floor which can be accessible via a service entrance, and is complete with kitchenette and en suite bath. Also on this level is a large wine cellar with ample bottle capacity. Creatively designed in a circular configuration, literally every room of this exclusive property feature dramatic vistas of the city and beyond. The home is equipped with state-of-the-art Crestron and Lutron systems, integrated speakers, electronically time-controlled shades and very generous storage throughout. A private, internal elevator services the 73rd, 74th and 75th floors. The external common elevators can be locked at your discretion for added security. The City Spire condominium, designed by Helmut Jahn, conveniently sits in the true heart of New York City. This full-service building offers impressive amenities such as a 24-hour doorman/concierge, live-in Resident Manager, fitness center with 50-foot pool, play room, conference room, and garage. Neighboring Carnegie Hall, Central Park, Fifth Avenue's famed shopping and some of the world's finest restaurants, practically everything New York has to offer is at your doorstep. This listing courtesy of Douglas Elliman

$100 Million Penthouse

This trophy penthouse is the crown jewel set atop the celebrated City Spire condominium. Designed by the renowned Juan Pablo Molyneux, a member of Architectural Digest's AD100, this one-of-a-kind gem ranks amongst the most elite homes in America. Occupying the top three floors, this magnificent residence in the sky is the ultimate private getaway, soaring over 70 stories above Manhattan's vibrant and culturally rich Midtown neighborhood. Offering over 11,000 interior and exterior square feet, enjoy the stunning 360 degree views from the highest terraced apartment in New York City. Upon entering the home, on the 73rd floor, be warmly welcomed into a gracious, formal entry foyer adorned with beautiful inlaid marble floors, elegant columns, generous closets and a powder room. From there, classically-inspired interiors await. A Versailles patterned chestnut floor compliments the ornate crown moldings and coffered ceilings. The breathtaking panoramic views are enjoyed from the wraparound terrace, with the rivers, bridges, Central Park and more on display. Also on this floor are the luxurious living room, eat in chef's kitchen with butler's pantry, large media room, dining room with seating for 20 , silver closet and two additional powder rooms. Ascend one flight up via the striking mahogany railed staircase or by the private internal elevator, onto the 74th floor where you will find three spacious guest bedrooms, each with an en suite bathroom. This floor also includes another wraparound terrace further showcasing Manhattan's picturesque views. A formal gallery, conference room and elegant private study with en suite bathroom complete this level. The grand master suite on the 75th floor, with extraordinary views north over Central Park and a gracious sitting room, is the ideal retreat from the bustling city below. The master bath is crafted with hunter green marble, mahogany finishes and bronze fixtures highlighting the double sink vanity, deep soaking tub and extra-large steam shower for two. Also on this level is yet a third private wraparound terrace to enjoy from the privacy of your master bedroom floor. Another added luxury is the penthouse's separate guest or staff apartment on the 72nd floor which can be accessible via a service entrance, and is complete with kitchenette and en suite bath. Also on this level is a large wine cellar with ample bottle capacity. Creatively designed in a circular configuration, literally every room of this exclusive property feature dramatic vistas of the city and beyond. The home is equipped with state-of-the-art Crestron and Lutron systems, integrated speakers, electronically time-controlled shades and very generous storage throughout. A private, internal elevator services the 73rd, 74th and 75th floors. The external common elevators can be locked at your discretion for added security. The City Spire condominium, designed by Helmut Jahn, conveniently sits in the true heart of New York City. This full-service building offers impressive amenities such as a 24-hour doorman/concierge, live-in Resident Manager, fitness center with 50-foot pool, play room, conference room, and garage. Neighboring Carnegie Hall, Central Park, Fifth Avenue's famed shopping and some of the world's finest restaurants, practically everything New York has to offer is at your doorstep. This listing courtesy of Douglas Elliman

$100 Million Penthouse

This trophy penthouse is the crown jewel set atop the celebrated City Spire condominium. Designed by the renowned Juan Pablo Molyneux, a member of Architectural Digest's AD100, this one-of-a-kind gem ranks amongst the most elite homes in America. Occupying the top three floors, this magnificent residence in the sky is the ultimate private getaway, soaring over 70 stories above Manhattan's vibrant and culturally rich Midtown neighborhood. Offering over 11,000 interior and exterior square feet, enjoy the stunning 360 degree views from the highest terraced apartment in New York City. Upon entering the home, on the 73rd floor, be warmly welcomed into a gracious, formal entry foyer adorned with beautiful inlaid marble floors, elegant columns, generous closets and a powder room. From there, classically-inspired interiors await. A Versailles patterned chestnut floor compliments the ornate crown moldings and coffered ceilings. The breathtaking panoramic views are enjoyed from the wraparound terrace, with the rivers, bridges, Central Park and more on display. Also on this floor are the luxurious living room, eat in chef's kitchen with butler's pantry, large media room, dining room with seating for 20 , silver closet and two additional powder rooms. Ascend one flight up via the striking mahogany railed staircase or by the private internal elevator, onto the 74th floor where you will find three spacious guest bedrooms, each with an en suite bathroom. This floor also includes another wraparound terrace further showcasing Manhattan's picturesque views. A formal gallery, conference room and elegant private study with en suite bathroom complete this level. The grand master suite on the 75th floor, with extraordinary views north over Central Park and a gracious sitting room, is the ideal retreat from the bustling city below. The master bath is crafted with hunter green marble, mahogany finishes and bronze fixtures highlighting the double sink vanity, deep soaking tub and extra-large steam shower for two. Also on this level is yet a third private wraparound terrace to enjoy from the privacy of your master bedroom floor. Another added luxury is the penthouse's separate guest or staff apartment on the 72nd floor which can be accessible via a service entrance, and is complete with kitchenette and en suite bath. Also on this level is a large wine cellar with ample bottle capacity. Creatively designed in a circular configuration, literally every room of this exclusive property feature dramatic vistas of the city and beyond. The home is equipped with state-of-the-art Crestron and Lutron systems, integrated speakers, electronically time-controlled shades and very generous storage throughout. A private, internal elevator services the 73rd, 74th and 75th floors. The external common elevators can be locked at your discretion for added security. The City Spire condominium, designed by Helmut Jahn, conveniently sits in the true heart of New York City. This full-service building offers impressive amenities such as a 24-hour doorman/concierge, live-in Resident Manager, fitness center with 50-foot pool, play room, conference room, and garage. Neighboring Carnegie Hall, Central Park, Fifth Avenue's famed shopping and some of the world's finest restaurants, practically everything New York has to offer is at your doorstep. This listing courtesy of Douglas Elliman

$100 Million Penthouse

This trophy penthouse is the crown jewel set atop the celebrated City Spire condominium. Designed by the renowned Juan Pablo Molyneux, a member of Architectural Digest's AD100, this one-of-a-kind gem ranks amongst the most elite homes in America. Occupying the top three floors, this magnificent residence in the sky is the ultimate private getaway, soaring over 70 stories above Manhattan's vibrant and culturally rich Midtown neighborhood. Offering over 11,000 interior and exterior square feet, enjoy the stunning 360 degree views from the highest terraced apartment in New York City. Upon entering the home, on the 73rd floor, be warmly welcomed into a gracious, formal entry foyer adorned with beautiful inlaid marble floors, elegant columns, generous closets and a powder room. From there, classically-inspired interiors await. A Versailles patterned chestnut floor compliments the ornate crown moldings and coffered ceilings. The breathtaking panoramic views are enjoyed from the wraparound terrace, with the rivers, bridges, Central Park and more on display. Also on this floor are the luxurious living room, eat in chef's kitchen with butler's pantry, large media room, dining room with seating for 20 , silver closet and two additional powder rooms. Ascend one flight up via the striking mahogany railed staircase or by the private internal elevator, onto the 74th floor where you will find three spacious guest bedrooms, each with an en suite bathroom. This floor also includes another wraparound terrace further showcasing Manhattan's picturesque views. A formal gallery, conference room and elegant private study with en suite bathroom complete this level. The grand master suite on the 75th floor, with extraordinary views north over Central Park and a gracious sitting room, is the ideal retreat from the bustling city below. The master bath is crafted with hunter green marble, mahogany finishes and bronze fixtures highlighting the double sink vanity, deep soaking tub and extra-large steam shower for two. Also on this level is yet a third private wraparound terrace to enjoy from the privacy of your master bedroom floor. Another added luxury is the penthouse's separate guest or staff apartment on the 72nd floor which can be accessible via a service entrance, and is complete with kitchenette and en suite bath. Also on this level is a large wine cellar with ample bottle capacity. Creatively designed in a circular configuration, literally every room of this exclusive property feature dramatic vistas of the city and beyond. The home is equipped with state-of-the-art Crestron and Lutron systems, integrated speakers, electronically time-controlled shades and very generous storage throughout. A private, internal elevator services the 73rd, 74th and 75th floors. The external common elevators can be locked at your discretion for added security. The City Spire condominium, designed by Helmut Jahn, conveniently sits in the true heart of New York City. This full-service building offers impressive amenities such as a 24-hour doorman/concierge, live-in Resident Manager, fitness center with 50-foot pool, play room, conference room, and garage. Neighboring Carnegie Hall, Central Park, Fifth Avenue's famed shopping and some of the world's finest restaurants, practically everything New York has to offer is at your doorstep. This listing courtesy of Douglas Elliman

$100 Million Penthouse

This trophy penthouse is the crown jewel set atop the celebrated City Spire condominium. Designed by the renowned Juan Pablo Molyneux, a member of Architectural Digest's AD100, this one-of-a-kind gem ranks amongst the most elite homes in America. Occupying the top three floors, this magnificent residence in the sky is the ultimate private getaway, soaring over 70 stories above Manhattan's vibrant and culturally rich Midtown neighborhood. Offering over 11,000 interior and exterior square feet, enjoy the stunning 360 degree views from the highest terraced apartment in New York City. Upon entering the home, on the 73rd floor, be warmly welcomed into a gracious, formal entry foyer adorned with beautiful inlaid marble floors, elegant columns, generous closets and a powder room. From there, classically-inspired interiors await. A Versailles patterned chestnut floor compliments the ornate crown moldings and coffered ceilings. The breathtaking panoramic views are enjoyed from the wraparound terrace, with the rivers, bridges, Central Park and more on display. Also on this floor are the luxurious living room, eat in chef's kitchen with butler's pantry, large media room, dining room with seating for 20 , silver closet and two additional powder rooms. Ascend one flight up via the striking mahogany railed staircase or by the private internal elevator, onto the 74th floor where you will find three spacious guest bedrooms, each with an en suite bathroom. This floor also includes another wraparound terrace further showcasing Manhattan's picturesque views. A formal gallery, conference room and elegant private study with en suite bathroom complete this level. The grand master suite on the 75th floor, with extraordinary views north over Central Park and a gracious sitting room, is the ideal retreat from the bustling city below. The master bath is crafted with hunter green marble, mahogany finishes and bronze fixtures highlighting the double sink vanity, deep soaking tub and extra-large steam shower for two. Also on this level is yet a third private wraparound terrace to enjoy from the privacy of your master bedroom floor. Another added luxury is the penthouse's separate guest or staff apartment on the 72nd floor which can be accessible via a service entrance, and is complete with kitchenette and en suite bath. Also on this level is a large wine cellar with ample bottle capacity. Creatively designed in a circular configuration, literally every room of this exclusive property feature dramatic vistas of the city and beyond. The home is equipped with state-of-the-art Crestron and Lutron systems, integrated speakers, electronically time-controlled shades and very generous storage throughout. A private, internal elevator services the 73rd, 74th and 75th floors. The external common elevators can be locked at your discretion for added security. The City Spire condominium, designed by Helmut Jahn, conveniently sits in the true heart of New York City. This full-service building offers impressive amenities such as a 24-hour doorman/concierge, live-in Resident Manager, fitness center with 50-foot pool, play room, conference room, and garage. Neighboring Carnegie Hall, Central Park, Fifth Avenue's famed shopping and some of the world's finest restaurants, practically everything New York has to offer is at your doorstep. This listing courtesy of Douglas Elliman

$100 Million Penthouse

This trophy penthouse is the crown jewel set atop the celebrated City Spire condominium. Designed by the renowned Juan Pablo Molyneux, a member of Architectural Digest's AD100, this one-of-a-kind gem ranks amongst the most elite homes in America. Occupying the top three floors, this magnificent residence in the sky is the ultimate private getaway, soaring over 70 stories above Manhattan's vibrant and culturally rich Midtown neighborhood. Offering over 11,000 interior and exterior square feet, enjoy the stunning 360 degree views from the highest terraced apartment in New York City. Upon entering the home, on the 73rd floor, be warmly welcomed into a gracious, formal entry foyer adorned with beautiful inlaid marble floors, elegant columns, generous closets and a powder room. From there, classically-inspired interiors await. A Versailles patterned chestnut floor compliments the ornate crown moldings and coffered ceilings. The breathtaking panoramic views are enjoyed from the wraparound terrace, with the rivers, bridges, Central Park and more on display. Also on this floor are the luxurious living room, eat in chef's kitchen with butler's pantry, large media room, dining room with seating for 20 , silver closet and two additional powder rooms. Ascend one flight up via the striking mahogany railed staircase or by the private internal elevator, onto the 74th floor where you will find three spacious guest bedrooms, each with an en suite bathroom. This floor also includes another wraparound terrace further showcasing Manhattan's picturesque views. A formal gallery, conference room and elegant private study with en suite bathroom complete this level. The grand master suite on the 75th floor, with extraordinary views north over Central Park and a gracious sitting room, is the ideal retreat from the bustling city below. The master bath is crafted with hunter green marble, mahogany finishes and bronze fixtures highlighting the double sink vanity, deep soaking tub and extra-large steam shower for two. Also on this level is yet a third private wraparound terrace to enjoy from the privacy of your master bedroom floor. Another added luxury is the penthouse's separate guest or staff apartment on the 72nd floor which can be accessible via a service entrance, and is complete with kitchenette and en suite bath. Also on this level is a large wine cellar with ample bottle capacity. Creatively designed in a circular configuration, literally every room of this exclusive property feature dramatic vistas of the city and beyond. The home is equipped with state-of-the-art Crestron and Lutron systems, integrated speakers, electronically time-controlled shades and very generous storage throughout. A private, internal elevator services the 73rd, 74th and 75th floors. The external common elevators can be locked at your discretion for added security. The City Spire condominium, designed by Helmut Jahn, conveniently sits in the true heart of New York City. This full-service building offers impressive amenities such as a 24-hour doorman/concierge, live-in Resident Manager, fitness center with 50-foot pool, play room, conference room, and garage. Neighboring Carnegie Hall, Central Park, Fifth Avenue's famed shopping and some of the world's finest restaurants, practically everything New York has to offer is at your doorstep. This listing courtesy of Douglas Elliman