Brit actor Tom Hardy has accepted heavyweight boxing champ David Haye's challenge to get in the ring with him.
The boxer challenged The Dark Knight Rises baddie to a scrap at the weekend when he told The Sun: "Me and Tom Hardy, that would be a good fight for sure. He has got in fantastic shape — he looks like an absolute tank. He can be my next opponent."
Tom Hardy and David Haye
And now, the Hollywood star has accepted the offer - or at least we think he has - on the condition any money raised goes to Help for Heroes, the Prince's Trust, Breakthrough Breast Cancer, Bowel Cancer Research and homeless charity FLACK.
Tom told The Sun: "Hardy v Hayemaker? No problem. Let me take my make-up off first. I'll fight him as soon as I get back from the Congo with my mates if he wants.
"I've never fought a professional heavyweight, it'll be an experience.
"I would obviously prefer my first professional fight to be against someone in my weight category but hey-ho."
"Let's have it. We all know how this is going to end don't we... not good for Tommy."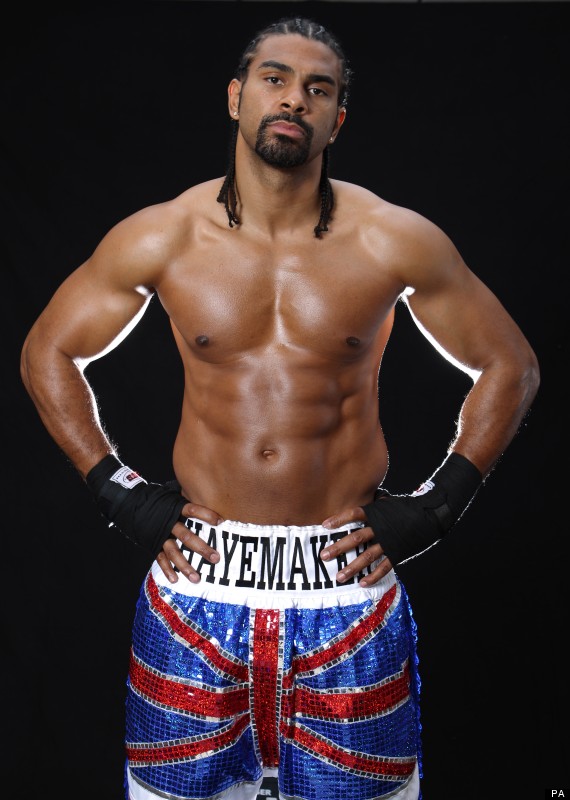 David Haye. Don't mess.
The actor has played several roles that have required him to bulk up, including the violent prisoner Charles Bronson, a cage fighter in Warrior and as Bane in current box office smash, The Dark Knight Rises.
Meanwhile, Tom has admitted that he was never a fan of the Batman films.
In an interview with The Telegraph, he said: "I wasn't a fan of Batman as a child, not at all, really. I know that sounds a bit strange, but I was more into The Littlest Hobo and things like that."
Just don't tell the Haymaker that, eh Tom?
Also on HuffPost: