Zara Phillips and Team GB managed to win a much deserved silver medal at the equestrian on Tuesday after being beaten into second place by the gold winning Germans.
Tina Cook brought home the medal with a flawless final round which won a standing ovation from the crowd.
Earlier there were resounding cheers as Zara, the Queen's granddaughter, put in a confident performance on her horse High Kingdom.
She is believed to be the first member of the royal family to win a medal at the Olympic games.
@CamillaTominey

Camilla Tominey
TEAM GB GET SILVER AT
#greenwichpark
Zara first royal in history to win Olympic medal...(Dad Mark doesn't count!)
Supporters who had braved gloomy skies in Greenwich, south-east London, fell into a hushed silence as she tackled the course, which included jumps featuring a miniature Nelson's column and bright red post boxes. Zara Phillips put in a fantastic performance on High Kingdom
But they erupted into delighted cheers once she had finished, waving Union flags.
Members of the Royal Family turned out again to support her, with the Duke and Duchess of Cambridge and Prince Harry cheering her on.
There were still a small number of empty seats in the arena, even though organisers sold extra tickets to fill unused spaces.
Today was the decisive stage in the equestrian eventing in Greenwich Park.
Team GB began the day in second place after Phillips and her four team mates put in fantastic performances in the cross country yesterday.
A number of riders fell on the tricky course in historic Greenwich Park, but Phillips, Nicola Wilson, Mary King and Kristina Cook all avoided penalties by finishing within a tough time limit. Mary King led the charge for the medal
William Fox-Pitt just missed out when his horse tired towards the end of the course.
Phillips follows in the footsteps of her Olympian parents the Princess Royal, who competed in the 1976 games in Montreal, and Mark Phillips, currently the US team's coach, who won a team gold in Munich in 1972.
The 31-year-old, who was again watched by her mother today, said the crowd gave her a boost as she competed.
She said: "It's incredible, it gives you a massive lift as you come into the arena. We're really grateful to everyone who've come here to cheer us on."
Phillips recovered well after making an initial mistake and knocking a bar down on an early jump on her horse High Kingdom.
She said: "It was a bit slow in the beginning but after that he got faster, it was my fault, not his. I'm really proud of him."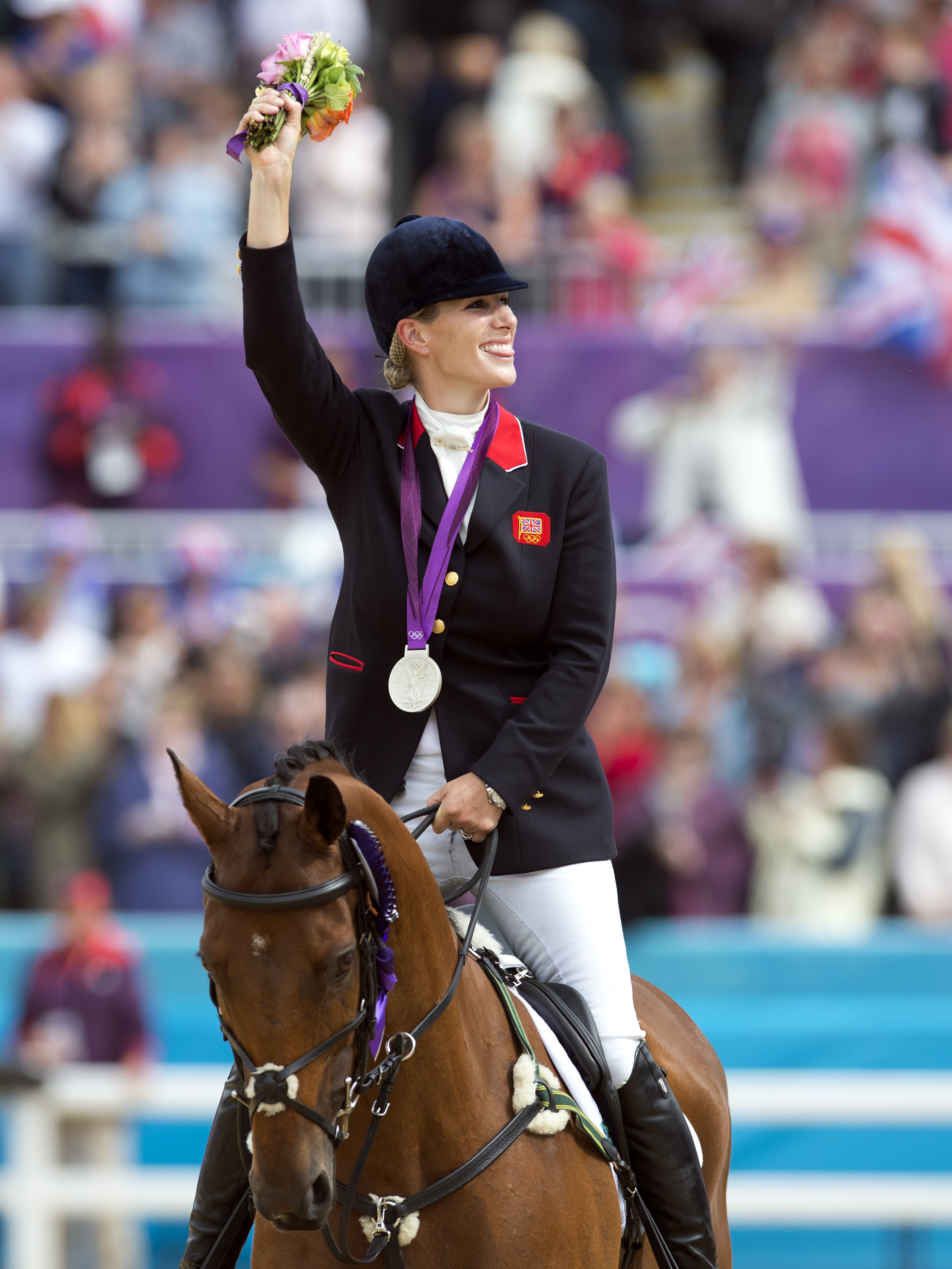 Zara Phillips salutes the crowd atop High Kingdom
She said performing in front of a home crowd did not increase the pressure on her.
"It's the pressure that you put on yourself trying to get the best score you can for your team."
Yesterday was the first anniversary of her wedding to rugby player Mike Tindall, but when asked if she had had a chance to celebrate, she laughed and said: "No."
High Kingdom lost both his front shoes in the cross-country yesterday but recovered well, she said.
"I'm really happy with him to be able to do that today."
Phillips entered the arena to rapturous applause, quickly followed by silence as she tackled the jumps.
She said: "It makes the noise of the poles falling even louder."
This is King's sixth Olympic games, making her the most experienced member of the team. She won medals in 2004 and 2008, but she was in no way blase about this triumph, punching the air with delight after she cleared the last fence on Imperial Cavalier.
No one would have blamed her for giving up horse-riding altogether after she broke her neck in 2001, but the accident seems only to have made her more determined.
Afterwards she told The Independent: "I just tried to blank everything out and pretend I was in a training session at Addington, in Buckinghamshire, where we had our training camp."
Audience members today included former prime minister Sir John Major.
Phillips added: "There was a mistake that we shouldn't have had because he's a good jumper and obviously it's disappointing for a team sport, but generally I'm really happy with him."
When asked if the competition had been an emotional experience for her, she joked: "It's like an emotional rollercoaster."
Family members have come to support her every day of the eventing.
She said: "It's nice that they've managed to come and watch."
Also on HuffPost: