Director Lyndsey Turner and the cast at the Donmar Warehouse in Covent Gardens have revisited Brian Friel's Philadelphia, Here I Come! to throw new light on an age-old dilemma: when is starting a new life the right thing to do?
25-year-old Gar (Paul Reid) cannot wait to say goodbye to his dull small-town life in 1960s Ireland and jet set to Philadelphia, where a job in a hotel awaits, along with a world of Cadillacs and girls: his American dream is about to become a reality.

Emotionally neglected by his uncommunicative father, S.B. O'Donnell (James Hayes), and humiliated by a dead-end grocery job in hometown Ballybeg, Gar thinks he has nothing to lose by turning his back on everything - but the night before his departure brings mixed feelings and nagging doubts.
The audience is not left to guess at the source of Gar's angst thanks to a clever character device - a double on stage playing Gar's inner voice (Rory Keenan).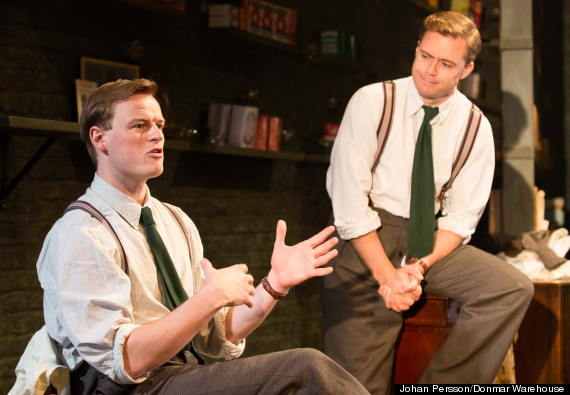 Paul Reid (Gar in Public) and Rory Keenan (Gar in Private)
Dressed in identical clothing, Gar's inner voice has all the carefree articulation and wit that the outer Gar wishes he could express. Energetically singing and dancing on stage, Rory Keenan excels as the unguarded Gar, buzzing with excitement at the prospect of America, berating himself at his mistakes and muttering self-confessions: "Admit it, you don't want to go [to Philadelphia]."

Taking a while to get into full swing in the first half, the double act are soon belting out slick punchy exchanges after the interval.

Philadelphia, Here I Come! - the play that put writer Brian Friel on the map of classic modern drama in 1964 - is about the pain of a family living together as strangers. It is Gar's relationship with his emotionally stunted father that is at the heart of his reason for leaving.

Gar's inner voice pleads with his father to say something unpredictable, something to change his mind about leaving; a revived memory of fatherly love.

For a fleeting moment, we see the inner-self of Gar's father, as a white light pierces down, penetrating through his veneer of cold indifference to show a father in private despair. Further flashes would have allowed the character to develop, however, James Hayes does a good job as the desperately repressed older man.

Gar feels homesick before he has even left Ballybeg, clinging on to his final memories of family and friends, knowing that they will become "precious, precious gold" to him, as he will remember them as "a film you'll run over and over again."

Friel's theme of memory is represented by the bare brick wall at the back of the stage, festooned with shelves and bright bulbs. The symbolic clutter gives the stage a dazzling modern edge - a triumph by Designer Rob Howell and Lighting Designer Tim Lutkin.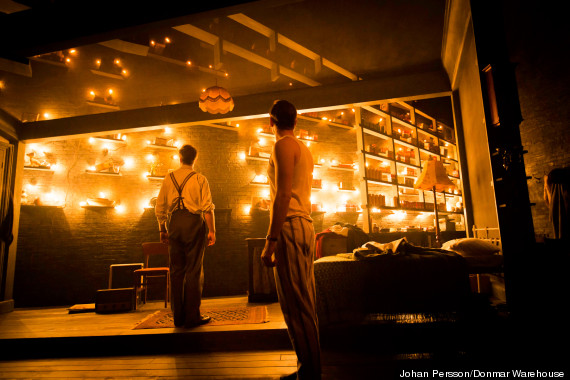 Rory Keenan (Gar in Private) and Paul Reid (Gar in Public)
Alongside the versatile Rory Keenan, other stand out performances include Valerie Lilley playing the sort of surrogate mother no one would want to abandon, and Julia Swift in a scene stealing appearance as the Aunt who lives in her own glamorous bubble of an American dream.
Philadelphia, Here I Come! is at the Donmar Warehouse until 22 September.
Click below for pictures from Philadelphia, Here I Come!:
Philadelphia, Here I Come!
Take a look at all of HuffPost UK's theatre reviews:
HuffPost UK Theatre Reviews
Philadelphia, Here I Come!
Review of Philadelphia, Here I Come! at the Donmar Warehouse
Donmar Warehouse in Covent Gardens, London, revisits the play that put writer Brian Friel on the map of classic modern drama: Philadelphia, Here I Come!

Written by:

Matthew Tucker

Philadelphia, Here I Come!

Date published: 08/01/2012
SUBSCRIBE TO & FOLLOW UK DAILY BRIEF