Kim Kardashian is using the old 'I want to show people what my unphotoshopped body is like' excuse as a way to get semi-naked on the internet.
The star has posted yet another MySpace-style picture of herself in a bikini on Twitter to show off her unairbrushed body alongside the caption "#nofilter #nophotoshop".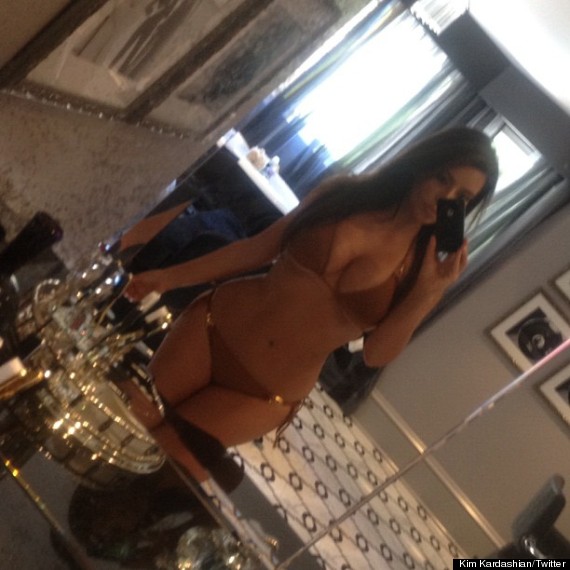 Just hours earlier she was seen squeezing her curves into a tight pair of leather trousers, which showed off her famous asset.
We can only assume she got so hot in them she had to take all her clothes off? Despite having one of the most enviable figures we've ever seen, Kim has recently been receiving some flak over her weight from Twitter trolls.
But her sister Khloe has been on hand to defend her, taking to Twitter to blast them.
"Still get disgusted by how people judge others by weight. Either 'fat' or 'skinny'. Nothing is ever good enough..." she wrote.
"Throwing stones behind a screen. If you must judge a person. Try judging their soul. My brick walls are getting higher and higher.
"U can't love any1 else until u know how to love urself first. The good, bad, ugly, beautiful.... Love yourself deeply. The rest is easy."
> IN PICS: KIM KARDASHIAN'S STYLE HISTORY

Loading Slideshow
2007

Kim Kardashian walks the runway.

2008

Kim Kardashian wears wide leg trousers and black vest.

2008

Kim Kardashian wears a yellow top and shoes with jeans.

2008

Kim Kardashian wears a green print dress.

2008

TV Personnality Kim Kardashian wears a printer top over jeans.

2009

Kim Kardashian poses wearing a white waistcoat and trousers.

2009

Kim Kardashian wears denim shorts and a zebra print jacket.

2009

Kim Kardashian wearing a pink animal print dress.

2010

Kim Kardashian walks the runway at the Heart Truth Fall 2010 Fashion Show.

2010

Kim Kardashian and her mother Kris Jenner are seen in Italy. Kim wears a purple playsuit.

2010

Khloe and Kim Kardashian a basketball match. Kim wears an all black outfit with a fur sleeve.

2010

Kim Kardashian attends Heidi Klum's 2010 Halloween Party.

2010

Kim Kardashian promotes her new book <em>Kardashian Konfidential</em> wearing a statement necklace.

2011

Kardashian attends adds attitude to her dainty floral skirt with black jacket, tights and boots.

2011

Kim Kardashian wears a gold number with Louboutin heels at the Grammy Awards.

2011

Kim Kardashian wears a black fishtail gown.

2011

Kim Kardashian wearing wet-look leggings and cream jacket.

2011

Kim Kardashian wears a black playsuit with embellished shoulder detail.

2011

Kim Kardashian wears a waterfall cream jacket with thigh-high boots.

2011

Kim and Kourtney Kardashian in New York.

2011

Kim Kardashian attends the Vera Wang Spring 2012 fashion show wearing blue dress with red lips.

2011

Kim Kardashian wears a short gold dress to a birthday party.

2012

TV personality Kim Kardashian wears a silver dress.

2012

Kim Kardashian arrives at the annual White House Correspondents' Association dinner wearing a green dress with embellished shoulder detail.

2012

Kim Kardashian wears a figure hugging navy dress with thin straps.

2006

Kim Kardashian arrives at launch wearing a floral print dress.

2012

Kim Kardashian wears a floor-length yellow gown with thigh-high split.

2012
Also on HuffPost: