As far as odd celeb friendships go, it doesn't get much more random than Jedward and Tara Reid.
Yeah we know they were in Celebrity Big Brother together, but most people come out of that bungalow in Elstree spewing venom about their fellow housemates.
However, the trio's blossoming friendship seems to be going from strength to strength, so much so that Tara now fancies herself as the third member of the pop duo, attempting to join the boys on stage in Sweden.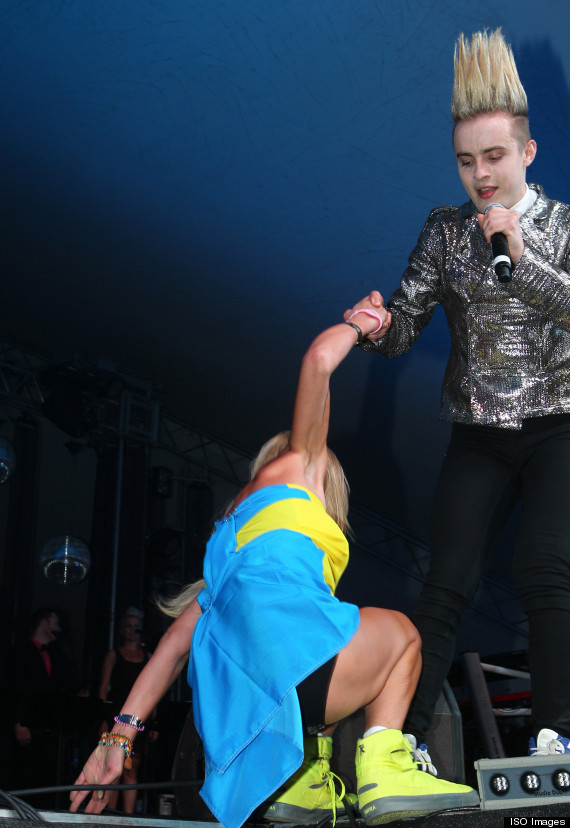 But the crowd got a little more than they bargained for (and then some) at the Stockholm Pride Festival.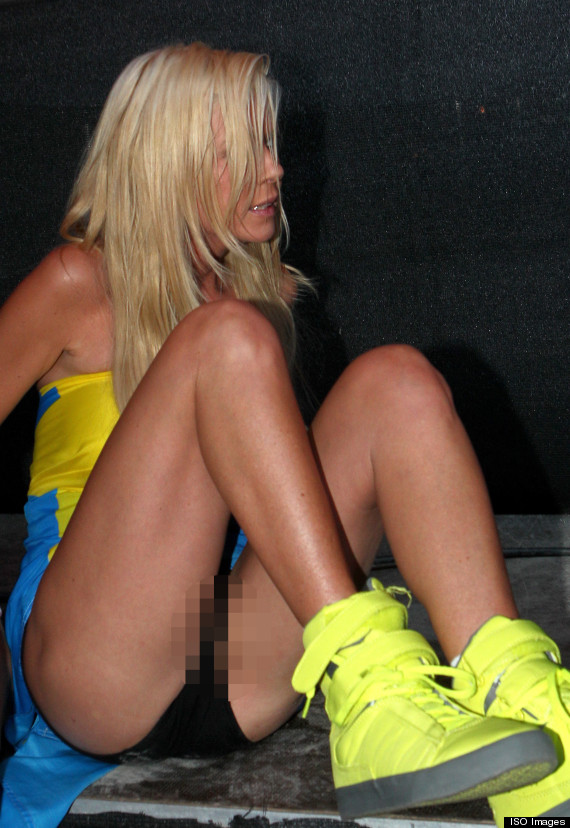 The American Pie star ended up falling over and flashing the crowd as she tried to join the excitable twins.
Appearing dressed in a Swedish flag and neon trainers, she pulled on to John (or is that Edward? We can never tell) as she tried to style out the mishap.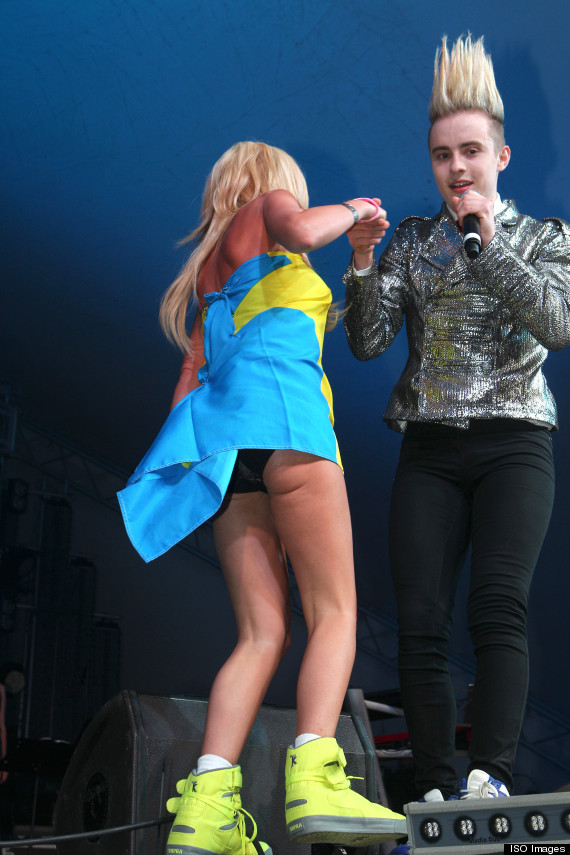 Tara appeared undeterred by the incident though, as afterwards she took to Twitter to say how much fun she had with the boys. "Goodnight everyone you guys are amazing in sweden we had so much fun with you! Your awesome loved you all! Have sweet dreams xoxo," she tweeted.
> IN PICS: UNLIKELY CELEB PALS

Loading Slideshow
Melanie C and Jodie Harsh

Melanie C and Jodie Harsh <b>Unlikeliness:</b> This is, without a doubt, the most bizarre celeb friendship in the entire world <b>How did it happen?</b> Jodie is a DJ and produced Melanie C's album <em>The Night</em> <b> Will they be BFFs?</b> There seems to be A LOT of potential here. They are always tweeting eachother and just look how happy they are in this pic. Bless

Eminem and Sir Elton John

Eminem and Sir Elton John</br> <b>Unlikeliness:</b> One is the angry bad boy of hip-hop and the other is the angry grandfather of piano pop. So likely and unlikely at the same time.</br><b>How did it happen?</b> They first crossed paths when Elt was ticking Em off about some of his comments on homosexuality - but they struck up a friendship anyway and Sir Elton has supported Eminem in his battle to stay off prescription drugs.</br><b>Will they be BFFs?</b> Probably not, Sir Elton has a habit of falling out with most celebs at one point or another. (credit: PA)

David Beckham and Snoop Dogg

David Beckham and Snoop Dogg</br> <b>Unlikeliness:</b> One is a boy from Essex who became one of the world's most famous footballers, another is a drug-dealer turned rapper from the mean streets of Los Angeles. Not an obvious match.</br><b>How did it happen?</b> Becks and Snoop have been best buds since they met backstage at <em>Live8</em> in 2005. Dave is known to enjoy a bit of hip-hop and probably asked Snoop for his autograph.</br><b>Will they be BFFs?</b> Well, Victoria was rumoured to disapprove but Dave has been giving Snoop's kids football lessons and Snoop reportedly taught him how to rap in return. (credit: PA)

Jay Z and Chris Martin

Jay Z and Chris Martin</br> <b>Unlikeliness:</b> Jay Z is cool as a cucumber and known as the CEO of hip-hop, while Chris leads an English stadium rock band. So not very likely at all.</br><b>How did it happen?</b> They met at a charity event in 2003, as Jay-Z explains: "We clicked right away and it was like we were instant best friends. He is a fantastic person, very passionate about what he does, and also very analytical and intelligent."</br><b>Will they be BFFs?</b> Well Chris and Gwynnie's kids already call him "Uncle Jay", so it looks that way. (credit: PA)

Lance Armstrong and Matthew McConaughey

Lance Armstrong and Matthew McConaughey</br> <b>Unlikeliness:</b> It's not that far-fetched for a sportsman and actor to be buddies, but these two Texas natives have got such a serious bromance going that they felt the need to tell the world they were not gay.</br><b>How did it happen?</b> Lance said: "Our friendship just kind of developed. He got out of a relationship; I'd just gotten out of a relationship" and Matt added: "I'd do anything he asked me to, even though he'd probably never ask me to, and he feels the same way."</br><b>Will they be BFFs?</b> Hell yeah! (credit: PA)

Liz Hurley and Pamela Anderson

Liz Hurley and Pamela Anderson</br> <b>Unlikeliness:</b> We'd never have pegged posh English rose Liz and brash American pin-up Pammy as potential pals.</br><b>How did it happen?</b> Legend has it that they met at an Oscars party a few years ago and hit it off instantly. Liz even helped fix the inevitable wardrobe malfunction that ensued from Pammy wearing that top.</br><b> Will they be BFFs?</b>Disappointingly they haven't been snapped together out on the razz for ages, so regrettably it looks like the answer could be no. (credit: PA)

Mariella Frostrup and George Clooney

Mariella Frostrup and George Clooney</br> <b>Unlikeliness:</b> Well you'd never have guessed if we hadn't told you (or you didn't already know).</br><b>How did it happen?</b> Husky-voiced telly film critic-turned-agony aunt Mariella struck up a friendship with gorgeous George at the Cannes Film Festival years ago and regularly visit one another. She has always denied that they've ever been more than friends though.</br><b>Will they be BFFs?</b> George is the "godfather" to her two kids, so they'd better be! (credit: Rex Features)

Mel Gibson and Britney Spears

Mel Gibson and Britney Spears</br> <b>Unlikeliness:</b> Let's be honest, this has to be one of the weirdest celeb friendships of all time.</br><b>How did it happen?</b> They are reported to have struck up a friendship when Britters was going through one of her bad patches - with Mel offering help and support in the form of personal chats and a stay at one of his holiday homes.</br><b>Will they be BFFs?</b> If they've stayed in touch then they've been very secretive about it. We may never know. (credit: PA)

Natalie Cassidy and Nikki Grahame

Natalie Cassidy and Nikki Grahame</br> <b>Unlikeliness?</b> A former <em>EastEnders</em> star and a former <em>Big Brother </em>contestant - it's not that unlikely really - but you're forgetting how incredibly annoying "Princess" Nikki is.</br><b>How did it happen?</b> They could have met at one of hundreds of D-list celeb bashes.</br><b>Will they be BFFs?</b> We'd love to think so, wouldn't you? No idea though, unfortunately. (credit: Rex Features)

Reese Witherspoon and Kate Winslet

Reese Witherspoon and Kate Winslet</br> <b>Unlikeliness:</b> It's surprising we know, but genuine friendships between A-list actresses are rare as hen's teeth.</br><b>How did it happen?</b> Reese tells it brilliantly: "Imagine my good fortune when Kate Winslet moved into my neighborhood, rang my door bell and said, 'Dahling Sam [Mendes] is off shooting, and I believe our children are the same age. Could they possibly have a play date and oh, by the way, it's almost 9 o'clock and I've had nothing to drink, do you have any wine?</br><b>Will they be BFFs?</b> We really, really hope so. (credit: PA)

Willow Smith and Lady Gaga

Willow Smith and Lady Gaga</br> <b>Unlikeliness:</b> Willow is a wholesome 10-year-old girl and Gaga is a decidedly unwholesome 24-year-old party animal - so highly unlikely.</br><b> How did it happen?</b>We don't know if they first met there, but they were first spotted hanging out together at the Grammys - with Willow sitting on Gaga's lap.</br><b> Will they be BFFs?</b>They are said by Willow's mum Jada Pinkett Smith to have a strong "affinity" for one another - so we can imagine them swapping wardrobe and hair whippin' tips for years to come. (credit: WireImage)
Also on HuffPost: