Andy Murray has beaten Roger Federer to secure Great Britain's 16th gold medal at the London 2012 Olympics in a victory he described as: "the biggest win of my life."
The Scot won in straight sets 6-2 6-1 6-4 four weeks after he had uncontrollably cried on the same turf after losing to the Swiss in the SW19 final.
Murray has also become the first Briton to win the men's singles title in Olympics tennis since Josiah Ritchie in 1908. The venue? London. Romanticism blooms for the Brits.
Afterwards he told the BBC: "It's number one for me - it's the biggest win of my life." Golden boy:Andy Murray shows off his Olympic winning medal at Wimbledon Murray showed his emotions after winning an Olympic gold at Wimbledon Murray kisses his girlfriend, Kim Sears, in a rare public show of happiness

His victory will also go some way to compensating for his third final loss to Federer in July and could now act as a turning point in his future Grand Slam hopes.
Afterwards Federer said he was "happy" for Murray because "he's had a tough few years".
The duo had faced one another 16 times before Sunday's Olympics final, with each man emerging victorious on eight occasions apiece prior to their second Wimbledon final in the space of a month.
Boasting 17 Grand Slam titles, 30-year-old Federer had however never competed in an Olympic final. Murray cited the even keel factor as a boost prior to the match, having only got as far as the second round at his first Games in Beijing four years ago.
Murray hadn't reached the first of his four Grand Slam finals then, though. Three of his four subsequent defeats at the US and Australian Open (twice) finals, as well as Wimbledon, had come at the hands of Federer.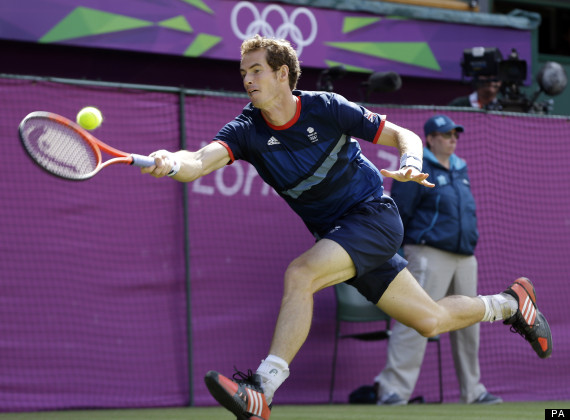 Murray gave one of his most commanding performances
And the Scot's desire not to fall at the hand's of the Swiss was evident as he stormed through the first set, winning 6-2 and displaying the same momentum and surge he began the SW19 final with four weeks ago.
That recent experience stood Murray in good stead as he absorbed the fervent atmosphere. Although it was not a Grand Slam, the arena and intensity of the duo mimicked that of one of the four majors, with the set maximum elevated to five for the final occasion.
Murray caught Federer off guard when he broke his first service game in the second set, having already held serve. A marathon third game, in which Murray saved several break points, was ended when Federer hit long. The Scot now enjoyed a 3-0 cushion.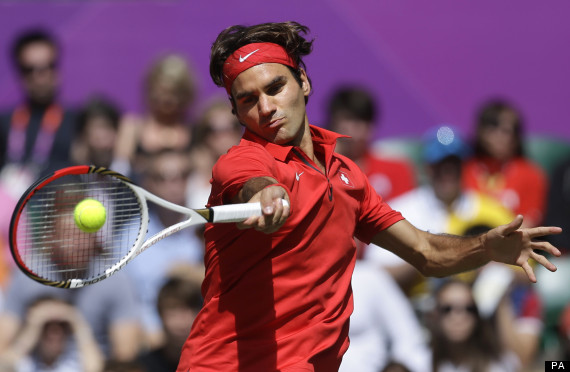 Federer flustered against the Scot
It got worse for the Swiss. Murray broke again and then held serve to extend his lead to 5-0, as the contest appeared in danger of becoming surprisingly one-sided.
Federer eventually won his first game of the second set, but it was merely a stay of execution. Murray held serve to go two-sets up, having lost just three games. Most tellingly, he had upgraded on his one-set final performance at this year's Wimbledon Championships.
Belatedly, the world number one began to exhibit his measured game. But only briefly. Federer held serve in his first two games, but so did Murray - who then broke Federer again, before commandingly hitting a love service game for a 4-2 deficit.
With Murray two games away from victory, Federer edgily reduced the deficit to one - saving two break points in the process. Murray held serve comfortably before the game's most successful men's player produced a love service game which was ultimately a fruitless glimpse of his ingenuity.
The interval arrived to intensify the nerves within the crowd. Murray, like his coach Ivan Lendl, remained stoic. Murray aced twice in succession. Two match points. Murray, serving for gold, won gold. With an ace.
He'll be going for gold again soon, as he pairs up with Laura Roberts for the mixed doubles final this evening. With the medal draped round his neck, even hearing God Save the Queen didn't dampen the Scot's joy. Because he sang it.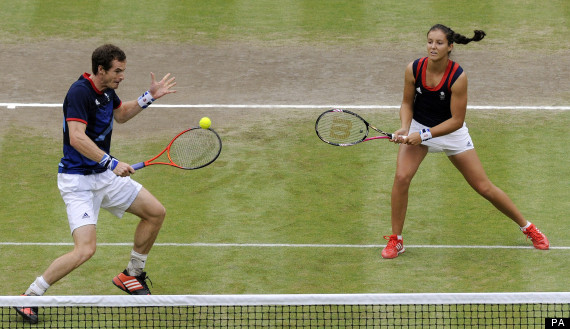 Two in a day?
Loading Slideshow
Britain's Andy Murray returns a shot to Switzerland's Roger Federer during the men's singles gold medal match at the All England Lawn Tennis Club at Wimbledon, in London, at the 2012 Summer Olympics, Sunday, Aug. 5, 2012. (Photo credit: AP Photo/Victor R. Caivano)

Switzerland's Roger Federer returns the ball to Great Britain's Andy Murray during the men's singles gold medal match of the London 2012 Olympic Games, at the All England Tennis Club in Wimbledon, southwest London, on August 5, 2012. (Photo credit: LUIS ACOSTA/AFP/GettyImages)

Ben Ainslie of Great Britain celebrates overall victory after competing in the Men's Star Sailing Medal Race on Day 9 of the London 2012 Olympic Games at the Weymouth & Portland Venue at Weymouth Harbour on August 5, 2012 in Weymouth, England. (Photo by Getty Images)

Great Britain's Ben Ainslie lights flares as he celebrates winning the Gold Medal after the Men's Finn Medal Race in Weymouth. (Photo credit: PA)

Competitors run in front of Big Ben and the Palace of Westminster during the women's marathon at the London 2012 Olympic Games, on August 5, 2012. (Photo credit: DANIEL GARCIA/AFP/GettyImages)

Britain's Victoria Pendleton sets a new Olympic record as she competes in the women's cycling sprint qualifying in the velodrome at The Olympic Park at The 2012 Olympic Games in London on August 5, 2012. (Photo credit: ODD ANDERSEN/AFP/GettyImages)

Song-Yi Han #12 of Korea reacts to a lost point in the first set against China during Women's Volleyball on Day 9 of the London 2012 Olympic Games at Earls Court on August 5, 2012 in London, England. (Photo by Elsa/Getty Images)

Brazil's leftwing Fernanda Silva Rocha reacts after a goal during the women's preliminary Group A handball match Brazil vs Angola for the London 2012 Olympics Games on August 5, 2012 at the Copper Box hall in London. Brazil won 29-26. (Photo credit: MIGUEL MEDINA/AFP/GettyImages)

The lead runners in the Women's Marathon pass Parliament on their penultimate circuit on August 5, 2012 in London, England. (Photo by Peter Macdiarmid/Getty Images)

Jianfei Ma of China competes against Yuki Ota of Japan during the Men's Foil Team Fencing quarterfinal on Day 9 of the London 2012 Olympic Games at ExCeL on August 5, 2012 in London, England. (Photo by Hannah Johnston/Getty Images)

US Venus Williams serves as she plays along sister Serena Williams against Czech Republic's Andrea Hlavackova and Lucie Hradecka during the women's doubles gold medal match of the London 2012 Olympic Games, at the All England Tennis Club in Wimbledon, southwest London, on August 5, 2012. (Photo credit: LUIS ACOSTA/AFP/GettyImages)

Young Rae Choi of Korea competes in the Men's 50m Pistol Shooting final on Day 9 of the London 2012 Olympic Game at the Royal Artillery Barracks on August 5, 2012 in London, England. (Photo by Lars Baron/Getty Images)

A spectator uses an umbrella to shield himself from the downpour during the men's field hockey preliminary round match between South Africa and Pakistan at The Riverbank Arena in London on August 5, 2012, during the London 2012 Olympic Games. (Photo credit: INDRANIL MUKHERJEE/AFP/GettyImages)

Italy's Andrea Baldini celebrates scoring the winning point against Britain's Richard Kruse to qualify his team during the men's foil team quarterfinals as part of the fencing event of London 2012 Olympic games, on August 5, 2012 at the ExCel centre in London. (Photo credit: ALBERTO PIZZOLI/AFP/GettyImages)

US fencer Alexander Massialas celebrates scoring the winning point against France's Erwan le Pechoux to qualify his team during the men's foil team quarterfinals as part of the fencing event of London 2012 Olympic games, on August 5, 2012 at the ExCel centre in London. (Photo credit: ALBERTO PIZZOLI/AFP/GettyImages)

Czech Republic's Andrea Hlavackova (L) and Lucie Hradecka plan their next move during the women's doubles gold medal match of the London 2012 Olympic Games against US Venus Williams and Serena Williams, at the All England Tennis Club in Wimbledon, southwest London, on August 5, 2012. (Photo credit: LUIS ACOSTA/AFP/GettyImages)

Competitors run up The Mall in front of Buckingham Palace during the women's marathon at the London 2012 Olympic Games, on August 5, 2012. (Photo credit: PAUL HACKETT/AFP/GettyImages)

Lithuania's Simona Krupeckaite is pictured with a helmet bearing a panther design before the women's sprint qualifying track cycling event in the velodrome at The Olympic Park at The 2012 Olympic Games in London on August 5, 2012. (Photo credit: CARL DE SOUZA/AFP/GettyImages)

Ukraine's Lyubov Sulika wears a gold necklace in the shape of the Olympic rings before the women's sprint qualifying track cycling event at the velodrome venue in the Olympic Park, during the London 2012 Olympic games in London on August 5, 2012. (Photo credit: CARL DE SOUZA/AFP/GettyImages)

Competitors take part in the Women's Marathon in the rain on Day 9 of the London 2012 Olympic Games near St Paul's Cathedral on August 5, 2012 in London, England. (Photo by Matthew Lloyd/Getty Images)

Spectators wait in the rain for the Women's Marathon to pass by on Day 9 of the London 2012 Olympic Games near St Paul's Cathedral on August 5, 2012 in London, England. (Photo by Matthew Lloyd/Getty Images)

South Korea's Lee Yong Dae (L) and Chung Jae Sung (R) hug their coach after beating Koo Kien Keat and Tan Boon Heong of Malaysia during the bronze medal men's doubles badminton match at The London 2012 Olympic Games in London on August 5, 2012. South Korea won the match 23-12, 21-10. (Photo credit: ADEK BERRY/AFP/GettyImages)

French guard Florence Lepron (R) vies with Russian centre Natalya Vieru during the women's preliminary round group B basketball match France vs Russia of the London 2012 Olympic Games on August 5, 2012 at the basketball arena in London. France won 65 to 54. (Photo credit: SERGIO PEREZ/AFP/GettyImages)

Competitors take part in the Women's Marathon in the rain on Day 9 of the London 2012 Olympic Games near Parliament on August 5, 2012 in London, England. (Photo credit: Peter Macdiarmid/Getty Images)

Brazil's leftwing Fernanda Silva Rocha jumps to shoot during the women's preliminary Group A handball match Brazil vs Angola for the London 2012 Olympics Games on August 5, 2012 at the Copper Box hall in London. (Photo credit: MIGUEL MEDINA/AFP/GettyImages)

Team Japan celebrates defeating Team China during the men's foil team quarterfinals as part of the fencing event of London 2012 Olympic games, on August 5, 2012 at the ExCel centre in London. (Photo credit: TOSHIFUMI KITAMURA/AFP/GettyImages)

South Korea's Lee Yong Dae (L) and Chung Jae Sung (2L) celebrate their victory over Koo Kien Keat (R) and Tan Boon Heong (2R) of Malaysia during the bronze medal men's doubles badminton match at The London 2012 Olympic Games in London on August 5, 2012. South Korea won the match 23-12, 21-10. (Photo credit: ADEK BERRY/AFP/GettyImages)

Russia's Vladimir Isakov (L) and German's Florian Schmidt compete in the men's 50m pistol qualification at the London 2012 Olympic Games at The Royal Artillery Barracks in London on August 5, 2012. (Photo credit: MARWAN NAAMANI/AFP/GettyImages)

French centre Isabelle Yacoubou (R) and French guard Florence Lepron vie with opponents during the women's preliminary round group B basketball match France vs Russia of the London 2012 Olympic Games on August 5, 2012 at the basketball arena in London. France won 65 to 54. (Photo credit: TIMOTHY A. CLARY/AFP/GettyImages)

South Korea's Lee Yong Dae and Chung Jae Sung (foreground) celebrate their victory over Koo Kien Keat and Tan Boon Heong of Malaysia during the bronze medal men's doubles badminton match at the London 2012 Olympic Games in London on August 5, 2012. South Korean won the match 23-12, 21-10. (Photo credit: ADEK BERRY/AFP/GettyImages)

Russia's Renal Ganeev (L) reacts wwith Germany's Benjamin Kleibrink during the men's foil team quarterfinals as part of the fencing event of London 2012 Olympic games, on August 5, 2012 at the ExCel centre in London. (Photo credit: TOSHIFUMI KITAMURA/AFP/GettyImages)

Victoria Pendleton of Great Britain competes during the Women's Sprint Track Cycling Qualifying on Day 9 of the London 2012 Olympic Games at Velodrome on August 5, 2012 in London, England. (Photo by Jeff Gross/Getty Images)

German's Florian Schmidt competes in the men's 50m pistol qualification at the London 2012 Olympic Games at The Royal Artillery Barracks in London on August 5, 2012. (Photo credit: MARWAN NAAMANI/AFP/GettyImages)

Florian Schmidt of Germany competes in the Men's 50m Pistol Shooting on Day 9 of the London 2012 Olympic Game at the Royal Artillery Barracks on August 5, 2012 in London, England. (Photo credit: Lars Baron/Getty Images)
Loading Slideshow
Great Britain's Andy Murray with his gold medal after beating Switzerland's Roger Federer in the final at Wimbledon, London.

Great Britain's Andy Murray with his gold medal after beating Switzerland's Roger Federer in the final at Wimbledon, London.

Great Britain's Andy Murray with his gold medal after beating Switzerland's Roger Federer in the final at Wimbledon, London.

Great Britain's Andy Murray with his Olympic Gold Medal, after winning the Men's Singles match at the Olympic Tennis Venue, Wimbledon.

Great Britain's Andy Murray with his Olympic Gold Medal, after winning the Men's Singles match at the Olympic Tennis Venue, Wimbledon.

Gold medalist Andy Murray of Great Britain poses during the medal ceremony for the Men's Singles Tennis match on Day 9 of the London 2012 Olympic Games at the All England Lawn Tennis and Croquet Club on August 5, 2012 in London, England. Murray defeated Federer in the gold medal match in straight sets 2-6, 1-6, 4-6. (Photo by Clive Brunskill/Getty Images)

Andy Murray of Great Britain celebrates defeating Roger Federer of Switzerland in the Men's Singles Tennis Gold Medal Match on Day 9 of the London 2012 Olympic Games at the All England Lawn Tennis and Croquet Club on August 5, 2012 in London, England. Murray defeated Federer in the gold medal match in straight sets 2-6, 1-6, 4-6. (Photo by Clive Brunskill/Getty Images)

Great Britain's Andy Murray celebrates after winning the men's singles gold medal match of the London 2012 Olympic Games by defeating Switzerland's Roger Federer, at the All England Tennis Club in Wimbledon, southwest London, on August 5, 2012. (Photo credit: MARTIN BERNETTI/AFP/GettyImages)

Great Britain's Andy Murray returns the ball to Switzerland's Roger Federer during the men's singles gold medal match of the London 2012 Olympic Games, at the All England Tennis Club in Wimbledon, southwest London, on August 5, 2012. (Photo credit: MARTIN BERNETTI/AFP/GettyImages)

Switzerland's Roger Federer returns the ball to Great Britain's Andy Murray during the men's singles gold medal match of the London 2012 Olympic Games, at the All England Tennis Club in Wimbledon, southwest London, on August 5, 2012. (Photo credit: LUIS ACOSTA/AFP/GettyImages)

Great Britain's Andy Murray serves to Switzerland's Roger Federer during the men's singles gold medal match of the London 2012 Olympic Games, at the All England Tennis Club in Wimbledon, southwest London, on August 5, 2012. (Photo credit: LUIS ACOSTA/AFP/GettyImages)

Switzerland's Roger Federer returns the ball to Great Britain's Andy Murray during the men's singles gold medal match of the London 2012 Olympic Games, at the All England Tennis Club in Wimbledon, southwest London, on August 5, 2012. (Photo credit: LUIS ACOSTA/AFP/GettyImages)

Switzerland's Roger Federer returns the ball to Great Britain's Andy Murray during the men's singles gold medal match of the London 2012 Olympic Games, at the All England Tennis Club in Wimbledon, southwest London, on August 5, 2012. (Photo credit: LUIS ACOSTA/AFP/GettyImages)

Great Britain's Andy Murray returns the ball to Switzerland's Roger Federer during the men's singles gold medal match of the London 2012 Olympic Games, at the All England Tennis Club in Wimbledon, southwest London, on August 5, 2012. (Photo credit: LUIS ACOSTA/AFP/GettyImages)

Switzerland's Roger Federer returns the ball to Great Britain's Andy Murray during the men's singles gold medal match of the London 2012 Olympic Games, at the All England Tennis Club in Wimbledon, southwest London, on August 5, 2012. (Photo credit: MARTIN BERNETTI/AFP/GettyImages)

Switzerland's Roger Federer returns the ball to Great Britain's Andy Murray during the men's singles gold medal match of the London 2012 Olympic Games, at the All England Tennis Club in Wimbledon, southwest London, on August 5, 2012. (Photo credit: LUIS ACOSTA/AFP/GettyImages)

Switzerland's Roger Federer serves to Great Britain's Andy Murray during the men's singles gold medal match of the London 2012 Olympic Games, at the All England Tennis Club in Wimbledon, southwest London, on August 5, 2012. (Photo credit: LUIS ACOSTA/AFP/GettyImages)

Great Britain's Andy Murray returns the ball to Switzerland's Roger Federer during the men's singles gold medal match of the London 2012 Olympic Games, at the All England Tennis Club in Wimbledon, southwest London, on August 5, 2012. (Photo credit: MARTIN BERNETTI/AFP/GettyImages)

Roger Federer of Switzerland returns a shot against Andy Murray of Great Britain during the Men's Singles Tennis Gold Medal Match on Day 9 of the London 2012 Olympic Games at the All England Lawn Tennis and Croquet Club on August 5, 2012 in London, England. (Photo by Clive Brunskill/Getty Images)

Great Britain's Andy Murray returns the ball to Switzerland's Roger Federer during the men's singles gold medal match of the London 2012 Olympic Games, at the All England Tennis Club in Wimbledon, southwest London, on August 5, 2012. (Photo credit: LUIS ACOSTA/AFP/GettyImages)

Roger Federer of Switzerland returns a shot against Andy Murray of Great Britain during the Men's Singles Tennis Gold Medal Match on Day 9 of the London 2012 Olympic Games at the All England Lawn Tennis and Croquet Club on August 5, 2012 in London, England. (Photo by Clive Brunskill/Getty Images)

Andy Murray of Great Britain returns a shot against Roger Federer of Switzerland during the Men's Singles Tennis Gold Medal Match on Day 9 of the London 2012 Olympic Games at the All England Lawn Tennis and Croquet Club on August 5, 2012 in London, England. (Photo by Clive Brunskill/Getty Images)

Great Britain's Andy Murray returns the ball to Switzerland's Roger Federer during the men's singles gold medal match of the London 2012 Olympic Games, at the All England Tennis Club in Wimbledon, southwest London, on August 5, 2012. (Photo credit: LUIS ACOSTA/AFP/GettyImages)

Roger Federer of Switzerland returns a shot against Andy Murray of Great Britain during the Men's Singles Tennis Gold Medal Match on Day 9 of the London 2012 Olympic Games at the All England Lawn Tennis and Croquet Club on August 5, 2012 in London, England. (Photo by Clive Brunskill/Getty Images)