A British Paralympic skier has been able to walk for the first time in almost a decade with the help of a bionic exoskeleton.
Jane Sowerby, a 37 year-old Paralympic ski racer from Bedfordshire, was paralysed from the waist down after a fall in 2003.
She recovered enough to take up skiing in 2005, and compete for Team GB in the Slalom and Giant Slalom at Vancouver 2010, despite breaking her collarbone weeks before the event.
But now with the help of the UK supplier of an advance alternative to the wheelchair, she has been able to walk again.
First she worked with specialists employing Cyclone Technology's 'Functional Electrical Stimulation' therapy to regain her range of motion, and a year later was called by the company's founder, Stuart Dunne, with the offer to try out something more advanced.
The result was the ReWalk, described as an "alternative mobility solution to the wheelchair".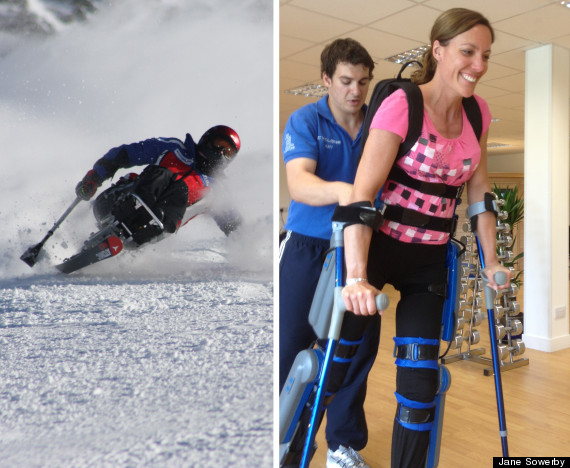 According to the company, Jane was able to walk, stand, climb stairs and move freely outside on grass and curbs, within just four days.
She said: "It's such an amazing feeling to be standing for the first time in five years, and walking for the first time in nine years. ... ReWalk has already given me more independence than I could have imagined, and it feels incredible to be so tall!"
The ReWalk is a complex system which employs motion sensors, a wearable brace support and a computer 'brain' to take a wearer's movements and balance and adjust in real time. The ReWalk has already been available in the UK for use in rehab centres, but as of the second half of 2012 models for personal use will also be going on sale.
The company asks interested parties to contact them about price - but it is believed to be in the region of £20,000 to £45,000.
Invented by the Israeli entrepreneur, Dr. Amit Goffer, who became a quadriplegic in 1998, ReWalk provides individuals with user-initiated mobility through the integration of a light wearable brace support, a computer-based control system and motion sensors. By a shift in the wearer's balance, the sensors recognise a change in position and trigger the desired knee or hip movement to take a step forward, making 'walking' relatively easy for the user.

There are two models of the ReWalk - the 'I' and 'P' model. The 'personal' or 'P' model is intended for daily use by individuals with lower-limb disabilities such as spinal cord injury (SCI) and spina bifida, following training with Cyclone. The 'I' model of the ReWalk is currently available for training and therapy purposes within 'institutions' such as an SCI centre or a dedicated medical facility.
Take a look at the ReWalk, below.