In a last-ditch attempt for Games glory, Australia's tabloid media have tried different tactics to boost the nation's sporting achievements - including creating a new country "AusZealand".
Sydney's Daily Telegraph has decided to combine Australia's success with its neighbour, which is in a respectable ninth place. Australia has only won a single gold medal, compared to the Kiwis' three.
The combined country would be a respectable ninth in the medals table - 15 places above the Aussies' current standing, and sandwiched between North Korea and Kazakhstan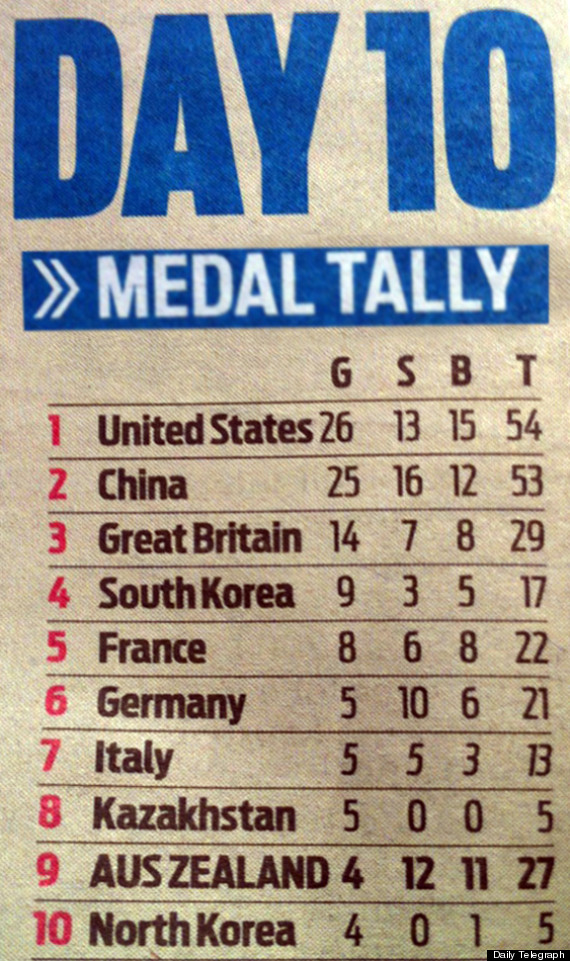 The new medals table - with AusZealand in ninth

The newspaper's Richard Hinds wrote: "In London, Australians are finding themselves constantly compared to the buoyant British who, by Friday night, had won eight gold medals.
"Losing the so-called Olympic Ashes should not be unbearable given the British - heavily funded by lottery money and making the most of home field advantage - had been expected to do well, just as Australia excelled in Sydney.
"Although, with Australia so often second best, the jubilation of the Brits was becoming a touch hard to stomach.
"About the only place the Team GB has failed is at the pool, where local heroine Rebecca Adlington finished third in the 800m freestyle.
"That left the British without a swimming gold medal. Otherwise, with even traditionally demure BBC commentators bellowing their support, the change of sporting fortunes between Australia and Britain seems complete.
"The real challenge to Australia's sporting self-esteem has been issued by the Kiwis who, with three gold medals (all from rowing), were perched seven places higher than Australia on the medal table.
"Which, in time-honoured tradition, will prompt us to embrace the spirit of great Australasians Neil Finn, Russell Crowe and Phar Lap and to note that, with four gold medals, Team Oceania is doing quite well." Best of friends? Australia's silver medalists Sarah Tait and Kate Hornsey, Great Britain's gold medalists Heather Stanning and Helen Glover, and New Zealand's bronze medalists Rebecca Scown and Juliette Haigh
The fierce rivalry between the neighbours has led Australia's Channel 9 to only show the top nine places in the Olympic medal table, cutting off New Zealand who were at the time in tenth place.
New Zealand has just a fifth of Australia's population - just four million people.
On a medal table based on national population New Zealand would be in first place.
Brisbane's MX has created an alternative medals table - listing silver ahead of gold - which puts Australia fourth.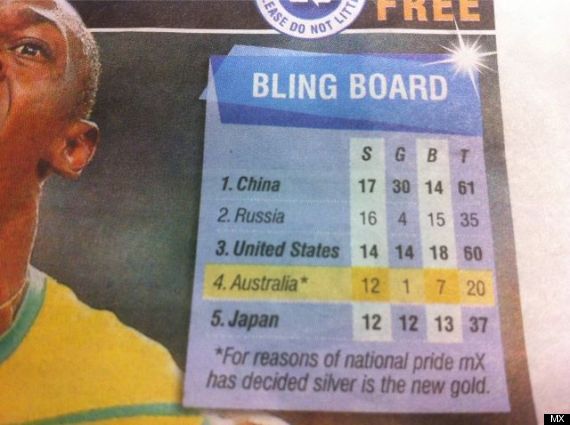 An Australian tabloid has also mocked up a "silver" medals table
The tabloid has had some fun with its medal table throughout the Games, when it renamed North Korea "Naughty Korea" and South Korea "Nice Korea".
The Huffington Post UK's Paul Vale asked last week if the turnaround meant a new era for British-Australian sporting rivalry: "Failure to win has become an emblem for the green and gold at the London Olympics, with several high-profile competitors failing to live up to their pre-Games billing as favourites.
"The lacklustre performance of the Aussies is even more noticeable when contrasted with the performance of Team GB, who seem to be increasing their medal haul daily."
@Broncos_NRL

〽ike
Aus Zealand is good but we are getting smashed by Americhina
@causeniall

kelsey
'Aus Zealand' is stupid ok just because you can't handle the fact that our country beating you, Australia. LET US HAVE OUR MOMENT.
The Australian tabloids had previously mocked Team GB's slow start to the Games, with the Perth News reporting a week ago: "It's a sad and sorry state of affairs. Except that we're neither sad nor sorry.
Forget the fact Australia has one gold medal and Britain has none. Nada. Donuts. The really amazing thing is that while Britain has, just to reiterate, no gold medals, Kazakhstan has three."