It's a centuries-old Japanese tradition and for $500 you too can enjoy the decidedly sensual experience of eating raw fish off a naked woman.
Nyotaimori, which roughly translates as "female body presentation", sees diners nibble sushi and sashimi – no fingers, you have to use chopsticks – off the prone body of a woman.
And one Miami Beach sushi restaurant has thrown itself into the practice with gusto.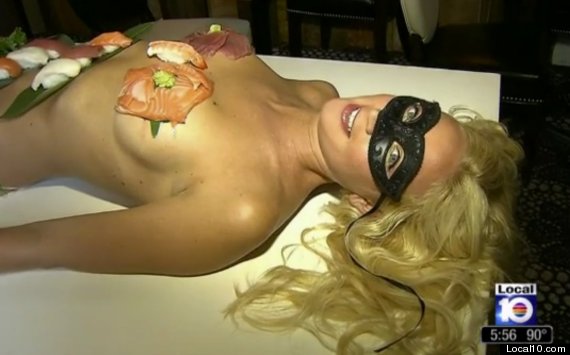 'Melissa', a staff member at the Kung Fu Kitchen And Sushi restaurant, is 'ready for reservation'

"It's mostly for groups, parties, bachelor parties, bachelorette parties, birthday parties. You call in advance or pop in and hopefully we have someone that wants to take their clothes off and lie on a table."
A recognised art form, nyotaimori is said to have roots in Geisha culture, and in most cases sees some form of garnish applied to prevent the food from making direct contact with the naked flesh.
It's adoption by Western cultures had inevitably led to an emphasis on the sexual connotations of the experience, and it is perhaps unsurprising the male equivalent – nantaimori – translating as "male body presentation", is less popular.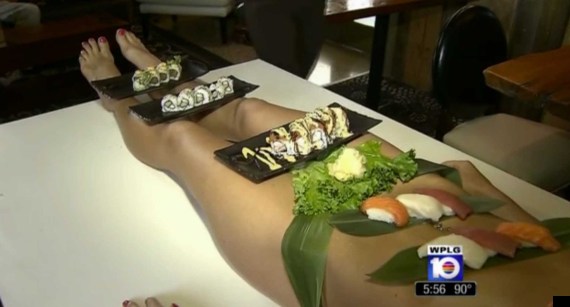 Time to eat: Up to six feet of sushi is served on these unique platters
Naked and spread-eagled across a table, with only titbits of sushi to hide her modesty, waitress Melissa, turns languidly to the camera and purrs: "Yep, I'm ready for reservation".
Meanwhile, if you really are in it for the sushi, chef Glenn Lopez is happy to share his secret to a good spicy tuna roll.
He confides: "I use a kimchee based spicy tuna. I actually use sesame seeds but I use wasabi sesame seeds. It's a very simple roll but it packs a good punch."
According to China's Xinhua news agency, serving meals on naked bodies was banned in 2005, with authorities claiming it "insults people's moral quality".
Kung Fu Kitchen & Sushi Offers Naked Sushi Eating
SUBSCRIBE TO & FOLLOW UK DAILY BRIEF