Stanley Tucci has secretly married Emily Blunt's sister Felicity.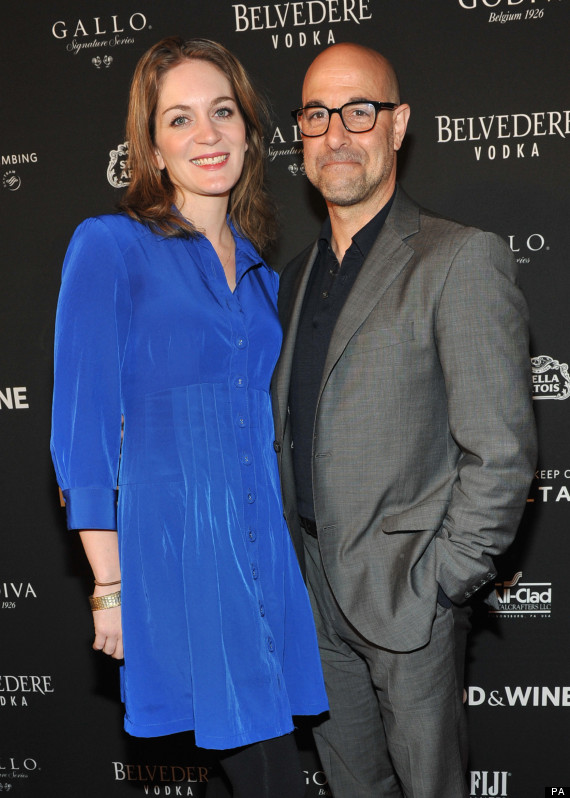 Stanley Tucci was introduced to his new wife Felicity by his Devil co-star Emily Blunt
The pair became engaged last year and the actor confirmed he is a married man after his new bride was spotted wearing a wedding band at a screening of new movie Hope Springs in New York on Monday.

A source tells the New York Daily News that Tucci and literary agent Felicity are planning a formal wedding for friends and family later this year.

Tucci was introduced to his new wife by actress Emily Blunt after they grew close on the set of their 2006 fashion hit The Devil Wears Prada.
The actor was widowed when his wife Kate lost her battle with cancer in 2009.
SLIDESHOW: 21 "They Really Dated?" Celebrity Couples
Yes, They Dated: Surprising Celebrity Hook-Ups
The hunky heartthrob and funny girl were together from 2002 to 2003. "I had two of the greatest girlfriends of all time. I haven't met anybody who could top them," Gosling told Us Weekly in 2011 (about Bullock and Rachel McAdams, whom he dated afterward). We wonder what current amour Eva Mendes might have to say about that?

Roger Ebert and Oprah went on two dates way back when the two were just starting out in Chicago -- and Ebert counts himself as her mentor. "Yes, it is true, I persuaded Oprah to become the most successful and famous woman in the world," Ebert wrote in 2005.

Nowadays, it's hard to imagine that one of the most high-profile couples in the '90s was tennis star Andre Agassi and actress Brooke Shields. The couple dated for six years before marrying in 1999; they divorced just two years later.

In 2007, then 21-year-old Olsen was spotted making out with Armstrong, 15 years her senior, at Rose Bar in New York. Yeah, we don't really get it either.

George Clooney may be the ultimate bachelor, but he did get married, just once, to actress Talia Balsam. (Balsam is now married to John Slattery of "Mad Men"). "I was married, so I gave it a shot," Clooney told Piers Morgan in 2011. "I've proven how good I was at it, and I just...I'm allowed one."

The "Friends" star and "Batman" actor dated from 1989 to 1995. (Getty)

These two funny people dated when he was a writer for "Saturday Night Live" and she was working as a comedian in Los Angeles. "He was really smart, really funny and he thought I was funny, but found we were better as friends," Kudrow said of their brief romance.

By his own admission, Robert Downey Jr. was less than a model boyfriend to Sarah Jessica Parker, whom he dated from 1984 to 1991. "I liked to drink, and I had a drug problem, and that didn't jibe with Sarah Jessica, because it is the furthest thing from what she is," Downey Jr. said of their relationship.

These two Hollywood staples were briefly linked in 1991 -- eight years before they starred together in 1999's "Never Been Kissed."

Before Blake, before Scarlett, there was Alanis: Reynolds dated fellow Canadian Morissette from 2002 until 2007, when they called off their engagement. Morissette later admitted that her album "Flavors of Entanglement" was about their breakup.

Cutest -- and weirdest -- double date ever? Carson Daly/Tara Reid and Katie Holmes/Chris Klein are the epitome of the '90s here.

According to Moby, his fling with Portman caused a lot of nerd wrath. "You don't date Luke Skywalker's mom and not have them hate your guts," he said about their romance.

The unlikely couple had an on-again, off-again relationship from 1999-2006.

The couple broke up in 2002, but there were no hard feelings. "I love Owen. He's so talented, and a great, great person," Crow said about the actor the same year.

The telegenic "There's Something About Mary" co-stars dated for three years before splitting in 1998 -- the same year the hit comedy hit the big screen.

It seems like ages ago, but Kunis split from rumored fiance Culkin only last year, in September 2011. They began dating in 2002.

The "X Factor" judge and '80s pop star were once a power couple in the U.K. Even more surprisingly, Sinitta also dated Brad Pitt in the late '80s.

There are a lot of crazy rumors surrounding this unlikely pair, among them that Madonna desperately wanted to be impregnated by the former basketball star in the early '90s.

The romance between the Smashing Pumpkins frontman and reality star came out of nowhere, and left just as quickly as it arrived.

LaBeouf and Duff, who just gave birth to her first child, went on an epically bad date -- according to LaBeouf himself. "Probably the worst date either of us have ever had," the "Transformers" star told Details of their failed connection.

After meeting on the set of 2009's "Paper Man," Stone and Culkin were rumored to be dating . Stone is now currently dating "Spiderman" co-star Andrew Garfield.