UPDATE: Laura Trott's glad she was papped at the beach volleyball
@LauraTrott31

Laura Trott
So yes its out there me and
@JasonKenny107
are dating. Been a little while now just didnt want the distraction before the games x
Two of Team GB's double gold-medal winning cyclists had dream beach volleyball tickets, sat with David Beckham and Prince Harry, but appeared to only have eyes for each other.
Laura Trott and Jason Kenny's budding romance was on show at Horse Guards' Parade, with the pair opening smooching in the row behind David Beckham,as they watched the final between two American teams.
Trott, 20, won gold in the team pursuit and the women's omnium and Kenny, 24, won gold in the sprint cycling and team sprint.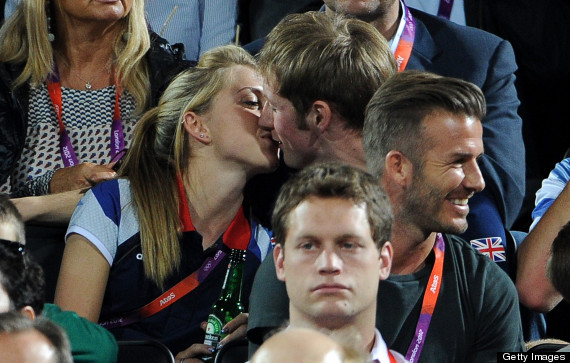 British cyclists Laura Trott and Jason Kenny kiss during the Beach Volleyball
Harry, wearing a blue polo shirt, was seated next to Trott, and was seen chatting and laughing with the cyclist during the bronze medal match earlier in the day.
But by the evening, watching the final between two teams from the USA, Kenny and Trott were more focussed on each other than the game unfolding, with Misty May-Treanor and Kerri Walsh Jennings beating April Ross and Jennifer Kessy.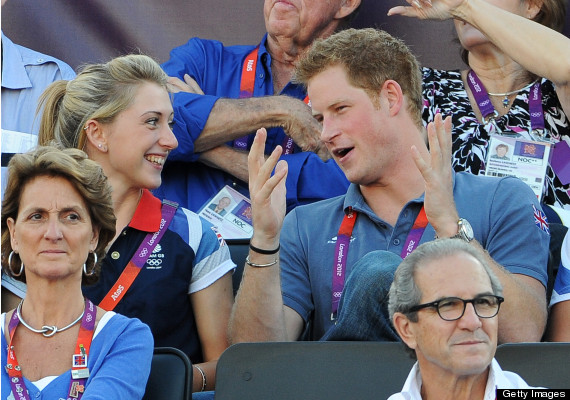 Laura Trott chats with Prince Harry at the Beach Volleyball
The beach volleyball event has become a crowd favourite, with music, dance and audience participation creating a party atmosphere at the Whitehall venue.
The finals were no different, as fans got into the spirit with flag-waving, cheering and Mexican waves, as well as an interval performance by British pop star Mika.
Loading Slideshow
LONDON, ENGLAND - AUGUST 08: British cyclists Laura Trott and Jason Kenny kiss during the Beach Volleyball on Day 12 of the London 2012 Olympic Games at Horse Guards Parade on August 8, 2012 in London, England. (Photo by Pascal Le Segretain/Getty Images)

Olympics Day 12 - Beach Volleyball

LONDON, ENGLAND - AUGUST 08: British cyclists Laura Trott (L) and Jason Kenny during the Beach Volleyball on Day 12 of the London 2012 Olympic Games at Horse Guards Parade on August 8, 2012 in London, England. (Photo by Pascal Le Segretain/Getty Images)

Olympics Day 12 - Beach Volleyball

LONDON, ENGLAND - AUGUST 08: British cyclists Laura Trott (L) and Jason Kenny during the Beach Volleyball on Day 12 of the London 2012 Olympic Games at Horse Guards Parade on August 8, 2012 in London, England. (Photo by Pascal Le Segretain/Getty Images)

LONDON, ENGLAND - AUGUST 08: British cyclists Laura Trott and Jason Kenny kiss during the Beach Volleyball on Day 12 of the London 2012 Olympic Games at Horse Guards Parade on August 8, 2012 in London, England. (Photo by Pascal Le Segretain/Getty Images)

LONDON, ENGLAND - AUGUST 08: British cyclists Laura Trott and Jason Kenny kiss during the Beach Volleyball on Day 12 of the London 2012 Olympic Games at Horse Guards Parade on August 8, 2012 in London, England. (Photo by Pascal Le Segretain/Getty Images)

LONDON, ENGLAND - AUGUST 08: British cyclists Laura Trott and Jason Kenny kiss during the Beach Volleyball on Day 12 of the London 2012 Olympic Games at Horse Guards Parade on August 8, 2012 in London, England. (Photo by Pascal Le Segretain/Getty Images)

LONDON, ENGLAND - AUGUST 08: British cyclists Laura Trott and Jason Kenny kiss during the Beach Volleyball on Day 12 of the London 2012 Olympic Games at Horse Guards Parade on August 8, 2012 in London, England. (Photo by Pascal Le Segretain/Getty Images)

LONDON, ENGLAND - AUGUST 08: British cyclists Laura Trott and Jason Kenny kiss during the Beach Volleyball on Day 12 of the London 2012 Olympic Games at Horse Guards Parade on August 8, 2012 in London, England. (Photo by Pascal Le Segretain/Getty Images)

LONDON, ENGLAND - AUGUST 08: British cyclists Laura Trott and Jason Kenny kiss during the Beach Volleyball on Day 12 of the London 2012 Olympic Games at Horse Guards Parade on August 8, 2012 in London, England. (Photo by Pascal Le Segretain/Getty Images)

LONDON, ENGLAND - AUGUST 08: British cyclists Laura Trott and Jason Kenny kiss during the Beach Volleyball on Day 12 of the London 2012 Olympic Games at Horse Guards Parade on August 8, 2012 in London, England. (Photo by Pascal Le Segretain/Getty Images)

LONDON, ENGLAND - AUGUST 08: British cyclists Laura Trott and Jason Kenny kiss during the Beach Volleyball on Day 12 of the London 2012 Olympic Games at Horse Guards Parade on August 8, 2012 in London, England. (Photo by Pascal Le Segretain/Getty Images)

LONDON, ENGLAND - AUGUST 08: British cyclists Laura Trott and Jason Kenny kiss during the Beach Volleyball on Day 12 of the London 2012 Olympic Games at Horse Guards Parade on August 8, 2012 in London, England. (Photo by Pascal Le Segretain/Getty Images)

LONDON, ENGLAND - AUGUST 08: British cyclists Laura Trott and Jason Kenny kiss during the Beach Volleyball on Day 12 of the London 2012 Olympic Games at Horse Guards Parade on August 8, 2012 in London, England. (Photo by Pascal Le Segretain/Getty Images)

LONDON, ENGLAND - AUGUST 08: British cyclists Laura Trott and Jason Kenny kiss during the Beach Volleyball on Day 12 of the London 2012 Olympic Games at Horse Guards Parade on August 8, 2012 in London, England. (Photo by Pascal Le Segretain/Getty Images)

LONDON, ENGLAND - AUGUST 08: British cyclists Laura Trott and Jason Kenny kiss during the Beach Volleyball on Day 12 of the London 2012 Olympic Games at Horse Guards Parade on August 8, 2012 in London, England. (Photo by Pascal Le Segretain/Getty Images)

LONDON, ENGLAND - AUGUST 08: British cyclists Laura Trott and Jason Kenny kiss during the Beach Volleyball on Day 12 of the London 2012 Olympic Games at Horse Guards Parade on August 8, 2012 in London, England. (Photo by Pascal Le Segretain/Getty Images)