A light aircraft's harrowing plunge into woodland was captured by two men using handheld cameras
Posted on LiveLeak by SplitAtomsSoul, the clip sees the plane's descent in the Frank Church—River of No Return Wilderness area in Idaho, filmed from inside the cockpit.
The two men and their pilot had flown into the mountains for a hike and had been planning on flying to a small mountain town for dinner.
Scroll down for the video (WARNING: Contains scenes of injury some readers may find upsetting)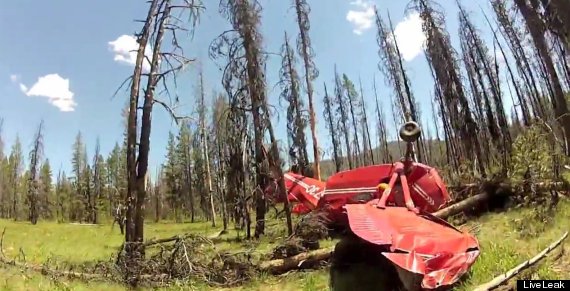 All seems well until around 2mins 44 seconds into the clip when the plane suddenly dips into the trees and the screens go blank as the passengers are hurled from their seats.
When the cameras come back to life, a voice calls out "is everybody alright?" and one of the passengers is seen sitting on the ground, seemingly uninjured, with shock and fear etched on his face.
The pilot has not fared so well and lies bloodied by a log, his face severely bruised.
A description reads: "Miraculously, everyone survived. The pilot will make a full recovery and the rest of us escaped with superficial injuries and feel very lucky to be alive."
We're very relieved to hear that.
It adds: "Due to warming temperatures we had a hard time gaining altitude. After taking off we hit an air pocket that made us rapidly loose altitude, pushing us down into the trees."