A ginger tomcat called Spongebob, who once tipped the scales at a whopping 33lbs, has died.
The nine-year-old moggy had only recently been rehomed via New York City's rescue centre Animal Haven. Newlyweds Courtney and Matt Farrell became enamoured with the enormous feline after spotting him at a benefit gala to raise money for the centre in July.
He was given a clean bill of health by vets at the time of his adoption, after which his health was monitored during regular vet visits.
Spongebob's mammoth physique was the result of over-feeding by his previous owner and less than a week ago his new family proudly revealed they had managed to slim him down to 26lbs.
Scroll down for more pictures of Spongebob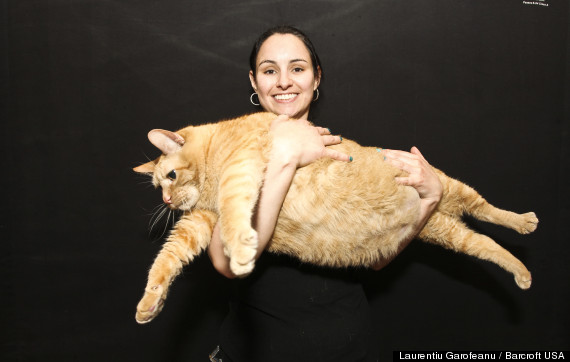 Much-loved: Spongebob and Kendra Mara, Associate Director at Animal Haven
But illness suddenly took hold of Spongebob, and while his weight was not the cause of his poor health, his size did make it too dangerous to operate.
About two weeks before slipping away on August 3, Spongebob developed coughing fits attributed to asthma.
Vets tried antibiotics and an inhaler, but his breathing problems worsened and an X-ray revealed a growth surrounding and putting pressure on his heart.
Sadly, because of his weight Bob was in danger of dying on the operating table from the anaesthesia.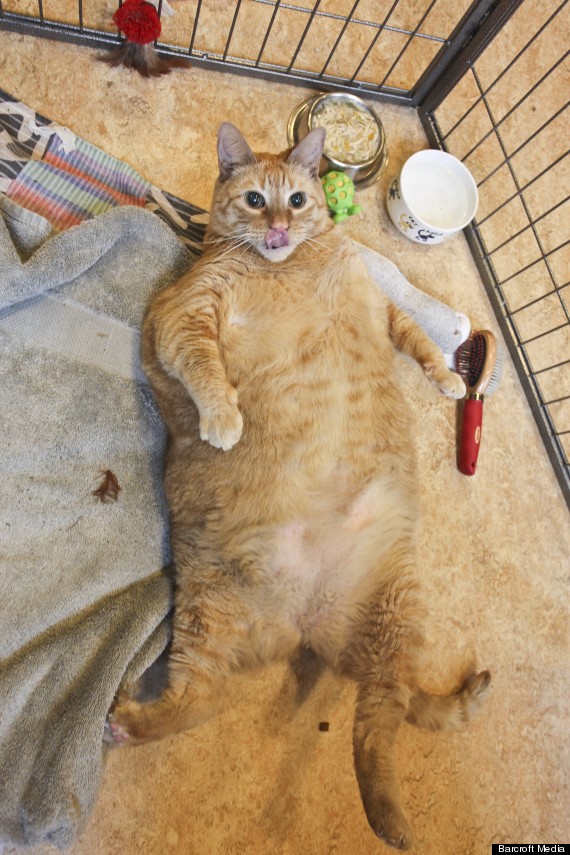 Spongebob's immense size was down to overfeeding - but his new owners were managing to slim him down
Matt and Courtney made the decision to let Bob go and remained with him as he passed, giving him love to the end.
Writing on a blog dedicated to Spongebob, Courtney said: "This has been one of the hardest things I have ever experienced, and certainly the most difficult thing Matt and I have had to endure as a couple.


SEE ALSO:

"I'm sure it's evident to all of you that we treated 'Sponge' like he was our first baby.
"We loved this cat so tremendously and had so many plans for him as part of our family.
"As profoundly sad as we are, we can only try to focus on how much love we were able to give him during his last couple of months.
"We gave him a family, we gave him room to run around, and we showered him with love all the way to the end."
Loading Slideshow
Fifi is 107% overweight

Fat cat Fifi Bottomley (8), was found nearly starved to death as a kitten before being taken in by her current owner. Her difficult start in life left her with a tendency to gorge herself at any opportunity. The greedy feline would steal food from other cats, even directly from people's plate's, and despite all attempts to help her, she continued to pile on the pounds.

Mini Moo is 94% overweight

Mega moggy Mini Moo, from Basildon, is undergoing a complete diet overhaul thanks to the vets and nurses at Basildon PDSA PetAid hospital. Mini Moo will eat anything she can get her paws on, from Wotsits to cheese and even butter! And she regularly steals the other cats' food, making it difficult for Sharon to judge just how much food the colossal cat is putting away!

Bailey is 80% overweight

Sweet treats and extra portions have been the dietary downfall of Bailey, a rather round Border Collie from Wishaw in Glasgow.

Billy is 93% overweight

Black-and- white tom cat Billie (10) was nominated for the fat fighting competition by his retired owners. Billie loves his food and always had a bigger and unhealthier appetite than his housemate Bobby, who recently passed away. Devouring his own meals he also had no problem helping himself from Bobby's bowl too!

Billy is 34% overweight

Billy, a cuddly Cocker spaniel with a passion for food, food and more food, has been selected to slim down and shape-up with help from staff at the PDSA PetAid hospital in East Glasgow. Billy started piling on the pounds about two years ago and developed a problem climbing the stairs. He was getting very exhausted after a walk so his owners cut down his extra portions and treats right away but the weight stayed on

Ottis is 41% overweight

Ottis, an overweight Cavalier King Charles Spaniel from Edinburgh, who eats everything in sight and has even been known to steal food from the bin.

Bobby is 49% overweight

Flabby rabbit Bobby, from Richmond in North Yorkshire. Bobby has gradually piled on the pounds over the last few years until her owner noticed that her large dewlap (the fold under her chin) was making it difficult for Bobby to groom herself properly.

Casper is 91% overweight

Sneaky food thief Casper the cat, from Stockbridge, Edinburgh. Over the years, the pounds piled on, despite the owner trying her hardest to help him lose weight.

Jack is 105% overweight

Cavalier King Charles Spaniel Jack (7) was rehomed earlier this year by his current owner, and is undergoing a complete life transformation

Dexter is 90% overweight

Podgy pooch Dexter, from Cheshire, weight problems began after he was neutered and he soon piled on the pounds.

Maverick is 85% overweight

Mighty cat Maverick, from Leith, Edinburgh, is the biggest cat ever seen by PDSA Vets in Edinburgh.

Alfie is 22% overweight

Big Alfie, from Strood, Kent, the weight problems began after he started limping at the age of three. He suffers from both arthritis and hip dysplasia and the excess weight he is carrying is adding to his misery

Merlin is 111% overweight

Merlin's weight problems began after he was neutered and his extra bulk is causing him mobility problems and he has developed arthritis.

Molly is 64% overweight

Rotund Rottweiler Molly, from Barnsley, the weight problems started when the pair began serving Molly their food leftovers and visitors couldn't resist giving her a treat from the jar when they popped round.

Skippy is 45% overweight

Spoilt Springer Spaniel Skippy weight problems began after he was neutered and his greedy appetite does not help matters.